2023 Softball Ticket Information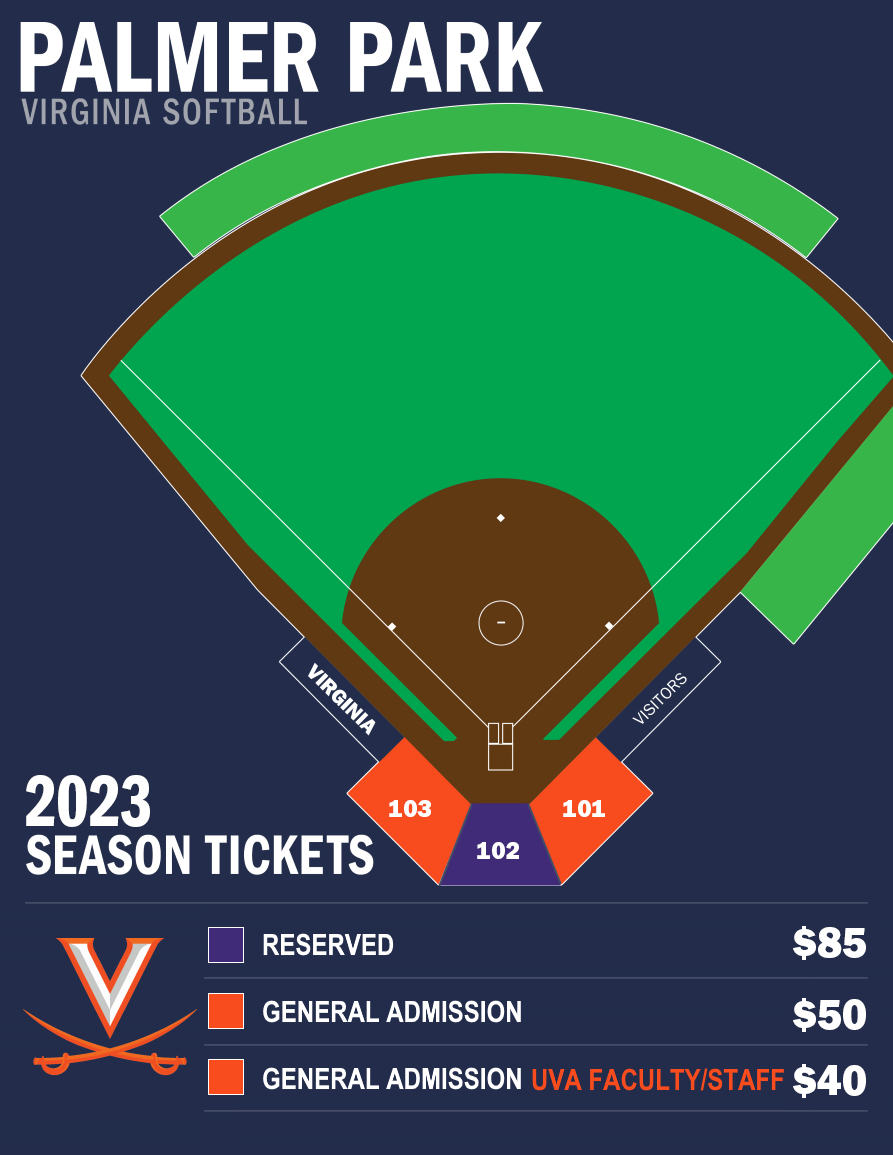 Season Tickets
Join Virginia Softball all season long by reserving your seat as a season ticket member!
New Season Tickets
General admission seats are on sale now for $50 each.  Click here to purchase.  Reserved seats are sold out for this season. Fans should purchase 2023 general admission season tickets to be considered for 2024 reserved seats.
---
Reserved Seating
Reserved seats are located behind home plate in section 102.
General Admission
General Admission seats are located in sections 101, 103 and on the grassy hillside along the right field line.
Faculty/Staff Discount
Full-time University of Virginia faculty and staff are eligible to purchase a maximum of 4 discounted season tickets.
Single Game Tickets
Tickets – Home Games
Tickets are on sale now!  Click here to purchase.
Weekday Games
Seating Area
Reserved
General Admission
Advance
$12
$6
Game Day
$14
$8
Weekend Games
Seating Area
Reserved
General Admission
Advance
$12
$8
Game Day
$14
$10
Tickets – Away Games
Virginia Athletics does not sell tickets for regular season away softball games. Please check with the host institution for availability.
Group Tickets
Tickets on sale now!
Virginia softball group tickets are the perfect way for family, friends, co-workers, church groups, companies and civic groups to enjoy a fun day at the ballpark! Tickets for groups of 20 or more are $2 off per ticket for the single game pricing for general admission seating. To qualify for group discounts, fans must purchase group tickets in advance of the game by calling the Virginia Athletics Ticket Office at (434) 924-UVA1 .
Parking
Single Game Parking
Click here to view information on single game parking for softball home games.
Inclement Weather
Occasionally, games may be affected by inclement weather. Tickets for all softball games affected by weather will be accepted according to the Inclement Weather Policy established by the Athletics Department. Click here to read the Inclement Weather Policy.