Virginia Cavaliers Official Athletic Site
Brian McGuire
Associate Athletic Trainer (Baseball)
Position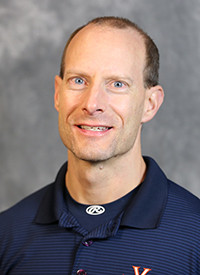 Brian McGuire has been a staff athletic trainer at Virginia since 2002, where he handles care of the Cavalier baseball program. In 2019, he was elevated to an associate athletic trainer. McGuire is responsible for the overall daily health care of UVa student-athletes, including prevention, evaluation, treatment, and rehabilitation for injuries and illnesses. He is also an instructor in the graduate program in sports medicine and his other responsibilities include equipment calibration/maintenance and CPR/AED training.
In his time at Virginia, McGuire has been recognized for his work by UVA's Cyrus Society and the Z Society. In addition he was honored by the National Athletic Trainers Association (NATA) as a clinical scholar.
McGuire has over 20 years of experience working with overhead athletes and has extensive training in the area of improving efficient movement patterns, with a specific interest in the kinematics and kinetics of pitching. He uses skills learned from many clinical specialty areas when designing and implementing prevention and rehabilitation programs including training in CES, SFMA, 3-D MAPS (Movement Analysis and Performance System), and AFS (Applied Functional Science through the Gray Institute.)
He has served as the USA Baseball National Team Athletic Trainer in 2007 and 2008 and was part of the World Collegiate Baseball Championship gold-medal team in 2008. He most recently worked with the 17u and 14u developmental programs as well.
Prior to coming to UVa, McGuire worked in a sports medicine clinic in Connecticut from 1994-97 as a high school athletic trainer. He was the clinical director of physical therapy at the Virginia Commonwealth University Sports Medicine Center in Richmond from 2000-02. Before working at VCU, McGuire worked internships with the Pittsburgh Steelers and the Baltimore Ravens. In addition he worked overseas as an athletic trainer for the Scottish Claymores of NFL-Europe League
McGuire received his bachelor's degree in 1993 from Slippery Rock University in Pennsylvania, where he graduated first in his class and was a presidential scholar. He earned a master's degree in sports medicine in 1994 from Virginia and a master's degree in physical therapy from Old Dominion in 1999.
Brian was married to the former Allison Beightol on November 7, 2009. They reside in Palmyra.