Virginia Cavaliers Official Athletic Site
Henry Godbout
Baylor School (TN)
High School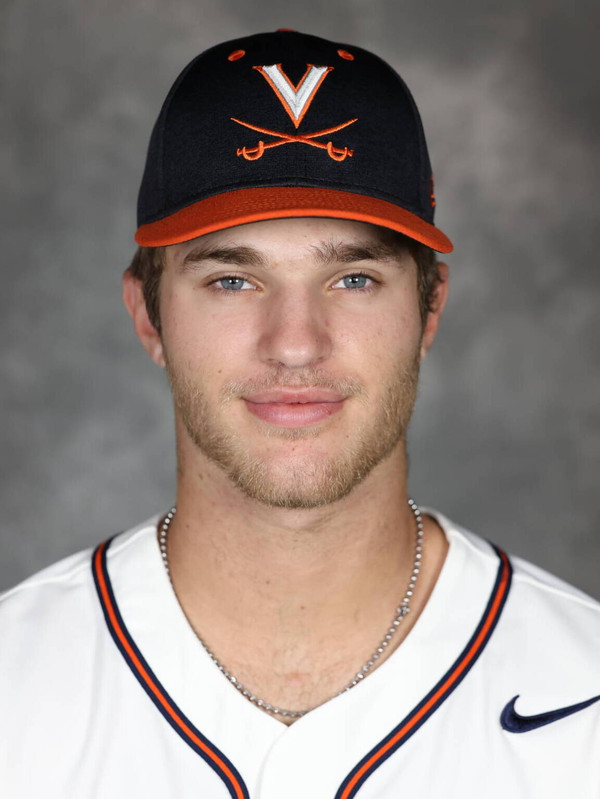 Henry Godbout Pronunciation
SUMMER 2023: Played 20 games for the Kalamazoo Growlers of the Northwoods League … 18 of his 19 starts came at shortstop, the other at 3B … played alongside UVA teammate Anthony Stephan … batted .338 (27-for-80) with five doubles, two triples, two homers and 22 RBI … in his Growlers debut went 2-for-4 with a double and two runs scored and an RBI … had two triples in a game at the Kokomo Jackrabbits on July 21 … in the 20-10 win over over Kokomo on July 21, combined with Stephan to go 6-for-12, 2B, 2 3B, 11 RBI, 4 R, BB.
2023
• Appeared in 56 games and made 51 starts (43 2B, 8 DH) as a true freshman. Started the final 17 games at second base for UVA.
• Batted .286 (54-for-189) with 13 doubles, a triple, three home runs and 38 RBI. Was a perfect 9-for-9 in stolen base attempts.
• First collegiate hit came in his first at bat, a pinch-hit double down the left field line in UVA's season opener against Navy (2/18).
• Led the team with 14 hit by pitches, the sixth-most in the ACC. The 14 HBPs were the tied for eighth-most in a single season in UVA history and the most by a Cavalier since Joe McCarthy was plunked 18 times in 2014.
• Two of his three homers came in a three-game stretch early in the season. Left the yard as part of a 3-for-3, 4-RBI effort against Longwood on Feb. 21 and again in the second game of a doubleheader against Columbia on Feb. 26 where he went 3-for-4 with four RBI.
• Put together three, three-hit efforts in his first six games of collegiate career.
• Came through with a game-tying 2-RBI single in the seventh inning of an eventual 7-4 win over Liberty on April 25.
• Hit his third homer of the year in a 3-for-4, 3 RBI game against Louisville on May 12.
SUMMER 2022: Played for the Vermont Lake Monsters of the Futures League in the month of June … played in nine games, went 14-for-32 (.438) with a double and 10 RBI … collected six multi-hit efforts in the nine games he played … played alongside UVA teammate Harrison Didawick in Vermont
BAYLOR SCHOOL (TENNESSEE)
• Played at perennial Tennessee baseball powerhouse Baylor School which won the the 2021 State Championship.
• 2022 Collegiate Baseball Newspaper High School All-American (First Team).
• 2022 Prep Baseball Report Tennessee Player of the Year.
• 2022 DIV II AA East Region Player of the Year.
• Division 2 Class AA "Mr. Baseball" and 2022 First Team All-State selection.
• 2022 ABCA First Team All-Region 4.
• Hit .510 with 14 doubles, nine home runs and 35 RBI his senior season.
• Ranked as the No. 4 shortstop in and the 17th player overall in the state of New York by Perfect Game
PERSONAL
• Born in Manhattan, N.Y.
• Son of Rachel Bachner and David Godbout
• Has an older brother, Will and a younger brother, Sam
• Has yet to declare a major at UVA