Virginia Cavaliers Official Athletic Site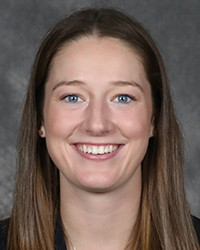 Abby (Hipp) Emmert joined the Cavaliers in April of 2022 as women's basketball's Director of Scouting and Player Development.
Emmert was a three-time captain for the Lady Bears, helping to lead her squad to two NCAA Sweet 16 appearances and garnering an honorable mention for the 2021 All-Missouri Valley Conference team. While playing, she also doubled as a student-coach, helping to clip film and tallying in-game statistics. She spent one summer working as an administrative assistant in the women's basketball office with an emphasis on assisting with recruiting. She was an active member of SAAC, serving as MSU's representative for Missouri Valley Conference Student-Athlete Advisory Committee.
She earned a bachelor's of science in business administrative management from Missouri State in 2021 and finished her master's in business administration in July of 2022.