Virginia Cavaliers Official Athletic Site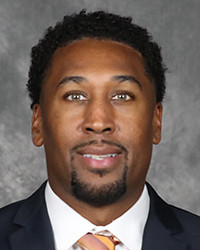 CJ Jones joined the Virginia women's basketball coaching staff in April, 2022.
Jones comes to UVA after spending two seasons as assistant coach and recruiting coordinator at Missouri State.
Jones helped the Lady Bears to a 23-3 record and NCAA Sweet Sixteen appearance in his first season on staff and saw post pupil Jasmine Franklin pick up Missouri Valley Conference Defensive Player of the Year laurels. Additionally, Brice Calip was named the MVC Player of the Year, and the Lady Bears earned a No. 5 seed in the NCAA Tournament, matching the best in program history. The Lady Bears ended the 2020-21 season ranked 14th in the USA Coaches Poll and 20th by the Association Press, took a 19-game winning streak into the Sweet 16 and posted the first unbeaten conference (16-0) and road (11-0) records in program history. Missouri State also set a school record for rebound margin at plus-10.8 and allowed 57.2 points per game, the program's lowest total in 47 years.
Jones spent six seasons at two American Athletic Conference schools prior to coming to Springfield, the last four at Temple University in Philadelphia, where he played a key role in recruiting, scheduling, camps and player development and helped the Owls to a No. 7 seed in the 2017 NCAA Tournament.
Before his stint at Temple, Jones assisted East Carolina to 35 wins in two seasons and a WNIT second-round appearance in 2015 and was an assistant men's coach at his alma mater, Francis Marion University, for five seasons from 2009-14. While at the NCAA Division II institution, Jones was pivotal in developing recruiting strategies, individual workouts, academic support and summer camps. The Patriots posted a 73-63 record during his tenure.
Jones also served as a team assistant for three years with the Detroit Pistons and one year with the Miami Heat at the NBA Summer League between 2009 and 2013. His duties included facilitating on-court drills and providing support to the head coaches and players during games.
As a player, Jones was a member of Francis Marion's basketball team from 2007-09, where he started 47 games during his two seasons. As a senior, he shot 57.6 percent from the field and ranked second in assists and sixth in steals in the Peach Belt Conference. He played his first two years at Pima Community College in Tucson, Ariz., where he averaged 15.7 points, 5.7 rebounds, 5.3 assists and 1.9 steals per game in 2006-07 and earned first-team all-conference recognition and was all-region honorable mention.
A native of Las Vegas, Jones earned a bachelor's degree in business administration from Francis Marion in 2010. He and his wife, Leeza, have three sons, Crayton "Cinco", Cayson, and Cai.