Virginia Cavaliers Official Athletic Site
Sam Brunelle
Ruckersville, Va.
Hometown
William Monroe HS
High School
Notre Dame
Previous School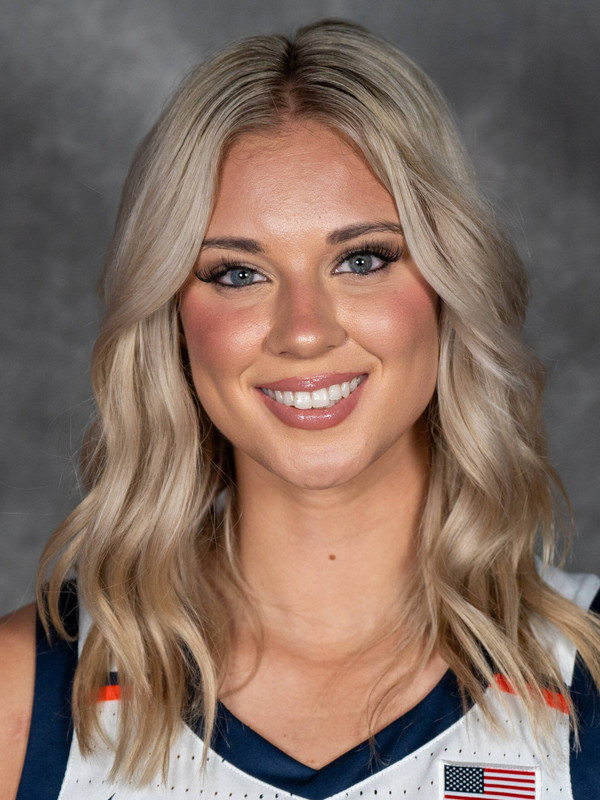 AT VIRGINIA
2023-24
Katrina McClain Award (nation's top power forward) Watch List selection
Represents UVA on the ACC's Student-Athlete Advisory Committee (SAAC) Executive Board
2022-23
Started 21 games for the Cavaliers before having her season cut short by an injury, scoring in double figures in 14 of those games
Averaged 11.0 points per game
Shot 40.0 percent from three-point range (34-of-85) and 91.2 percent from the free throw line (31-of-34)
Scored the 1,000th point of her collegiate career on Jan. 15 on a three-pointer with 1:42 remaining in the third quarter of the Boston College game. She scored 797 of her points at Notre Dame
Coach's Award of Excellence winner at the Hoos Choice Awards
Opened her UVA career with back-to-back doubles-digit scoring performances including scoring a team-high 21 points against UMBC. It was the eighth 20-point game of her career
Went 3-of-3 from three-point range in the fourth quarter against Minnesota, tallying 17 points total (11/26)
Scored 15 points to lead the team in the win against ECU, giving her an average of 16.0 point per game in the two games of the Cavalier Classic (11/27)
Scored 11 points in the first five minutes of the William & Mary game, going 4-of-4 from the field (3-of-3 from three) (12/7)
Went 17-of-17 from the free throw line to start the season without missing an attempt until the 2nd quarter at Duke (12/21)
Scored 15 points with a season-high nine rebounds in the home contest against North Carolina (1/13)
Named to the Katrina McClain Award Watch List for the top power forward in the country, her third time being named to the preseason watch list
Has another year of eligibility remaining after this season
At Notre Dame (2019-22)
Played three seasons for the Irish (2019-22) with the team advancing to the Sweet 16 her junior season
2020 and 2021 Katrina McClain Award Watch List for the top power forward in the country
2020 Naismith Trophy Watch List
2020 Preseason All-ACC
2020 ACC All-Freshman Team
ESPN W National Player of the Week (3/2/20)
Averaged 13.9 points and 5.8 rebounds per game as a freshman, starting all 31 games
Played in 80 games, starting 31, averaging 10.0 points per game and 4.0 rebounds per game
Background
Member of the U16, U17, U18 USA national basketball teams.
Three-time gold medalist with Team USA and winner of one bronze.
Won a pair of international gold medals in 2018 – winning the 3×3 title at the Youth Olympic Games in Argentina and the 5×5 title at the FIBA U17 World Cup in Belarus. Prior, she won at the 2017 FIBA Americas U16 Championship in Argentina. Won bronze at the 2016 FIBA U17 World Cup in Spain.
Played twice in the USA vs Canada Ballin' Across Boarders Global Game
Selected as one of six USA Basketball participants in the 2019 NCAA Next Generation at the NCAA Final Four in Tampa, Florida.
Ranked No. 6 overall by espnW in Class of 2019, reaching as high as No. 1.
Attended William Monroe High School.
Two-time Naismith High School All-American (Second Team in 2019 / Third Team in 2018)
2019 McDonald's High School All-American
Won the three-point contest at the McDonald's All-America game
2018 Gatorade Virginia Player of the Year
2018 USA Today Virginia Player of the Year
USA Today Second Team USA in 2018
2018 MaxPreps High School All-America Third Team
Three-time All-State selection
Finished her prep career with 2,229 points and 1,272 rebounds.
Injured for about half her senior year in 2018-19, but still averaged 17.6 ppg and 10.3 rpg. William Monroe went on to win its first regional championship since 1987, when her mother, Katie, was on the team.
As a junior, she started all 25 games and averaged 30.0 points, 15.6 rebounds and 3.5 assists per game. Guided William Monroe to its first playoff appearance since 1988 (reaching state quarterfinals with a 23-2 record), posting a trio of 40-point games along the way.
As a sophomore in 2016-17, she started in all 24 games and led her team with 25.0 ppg, 12.5 rpg, 3.3 apg, 2.2 spg and 3.4 bpg to help her team to a 16-8 record. Brunelle scored 601 points during her sophomore season, including 30+ five times and a season high of 40 points (vs. Clarke County).
As a freshman in 2015-16, she started all 26 games and averaged 25.0 ppg, 17.3 rpg, 2.5 apg, 1.8 spg and 2.9 bpg. Holds Virginia High School League records for most points by a freshman (650) and single-game rebounds (28).
Won the 2018 Hampton EYBL first session tournament with the Fairfax Star.
Personal
Recipient of the 2022-23 Thomas J. Ryan Memorial Women's Basketball Scholarship
Pursuing a master's degree in higher education