2021-22 Women's Basketball Ticket Information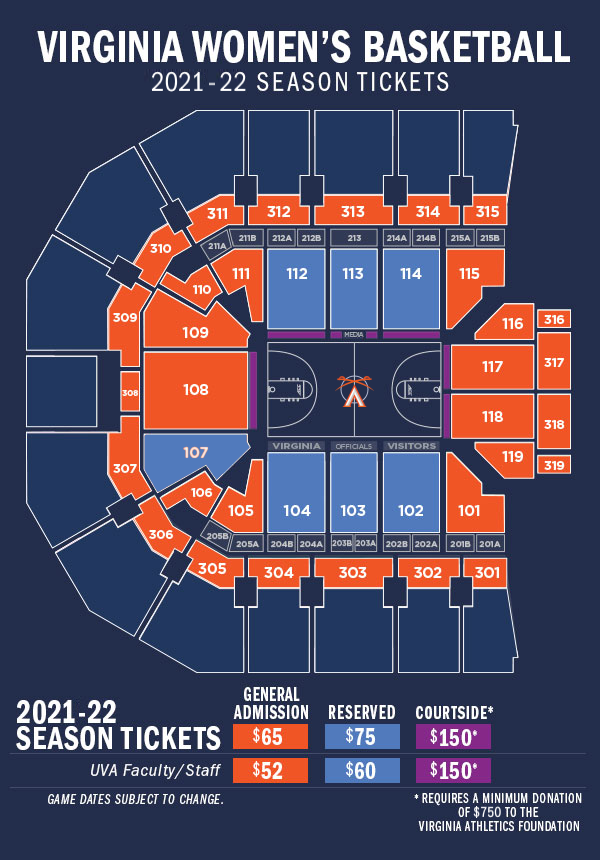 Season Tickets
Join the Hoos at John Paul Jones Arena by reserving your seat as a 2021-22 women's basketball season ticket holder!
Returning Season Ticket Holders
Priority Renewal Deadline: August 31

Beginning July 30, returning season ticket holders may sign in online to renew season tickets for the 2021-22 season. Click here to sign in to your account and complete your online ticket application.
For priority, please place your season ticket order no later than August 31. Orders not received by this date will be considered late and subject to possible seat relocation or cancellation.
Seating Requests
Seating requests may be made in the comments box on your online ticket renewal application or by calling or texting the Virginia Athletics Ticket Office at (434) 924-UVA1. The ability to handle your request is dependent on attrition and your priority point standing. All seating requests are individually reviewed in VAF priority point order. Athletics Ticket Office and/or Virginia Athletics Foundation staff will select the best possible seats for you based on your specific request and will contact you if necessary.
---
New Season Tickets
Season Tickets On Sale To The Public July 30
Fans who did not hold season tickets during the 2020-21 season may order new season tickets online at UVATix.com. To purchase new season tickets, click here.
New orders for reserved seats should be placed by the August 31 priority deadline to be included in the priority seating process. After that date, season tickets will continue to be sold until the supply is exhausted or the season begins, whichever comes first.
---
Faculty/Staff Discount
Full-time University of Virginia faculty and staff are eligible to purchase a maximum of 4 discounted (20% discount) season tickets in most seat locations.
Single Game Tickets
Tickets – Home Games
Tickets On Sale October 1
Tickets can be ordered online at UVATix.com or by phone at (434) 924-UVA1.
| 2021-22 Single Game Tickets | Advance/Online |
| --- | --- |
| Courtside Reserved | $15 |
| Reserved | $8 |
| General Admission | $5 |
Tickets – Away Games
Virginia Athletics does not sell tickets for regular season away women's basketball games. Please check with the host institution for availability.
Group Tickets & Suites
Group Tickets
Tickets On Sale October 1
Virginia women's basketball group tickets are the perfect way for family, friends, co-workers, church groups, companies and civic groups to enjoy a fun outing together! Tickets for groups of 20 or more start at just $4 per person – a savings of up to 50% off the regular game day price! To qualify for group discounts, fans must purchase group tickets in advance of the game by calling the Virginia Athletics Ticket Office at (434) 924-UVA1 beginning October 1.
| 2021-22 Group Tickets | Advance |
| --- | --- |
| General Admission – Groups (20+) | $4 |
Suites
Single-game suites are available for home women's basketball games at John Paul Jones Arena through the Virginia Athletics Foundation. For more information, please click here.
Parking
Reserved Season Parking
Reserved season parking passes offering a specific reserved space in the John Paul Jones Arena garage are available for purchase for $50 each.
General Admission Season Parking
The West Lot, located in front of the main entrance to John Paul Jones Arena, is available for parking during the season on a first-come, first-served basis. A parking pass is not required to enter this lot.
Single Game Parking
Click here to view information on single game parking for women's basketball home games.
Postseason Tickets
ACC Tournament
The 2022 ACC Women's Basketball Tournament will be held March 2-6, 2022 in Greensboro, NC. Ticket information for the tournament will be announced in fall 2021.
NCAA Tournament
Information on NCAA Tournament tickets will be announced in March, 2022.
Important Dates
| Date | Information |
| --- | --- |
| July 30, 2021 | Season ticket sale begins for returning and new customers. |
| August 31, 2021 | Season ticket renewal priority deadline. |
| October 1, 2021 | Single game and group ticket sales begin through the Virginia Athletics Ticket Office and UVATix.com. |
| Late October, 2021 | Season tickets delivered via email. |
| March 2-6, 2022 | 2022 ACC Women's Basketball Tournament in Greensboro, NC. |