2023-24 Women's Basketball Ticket Information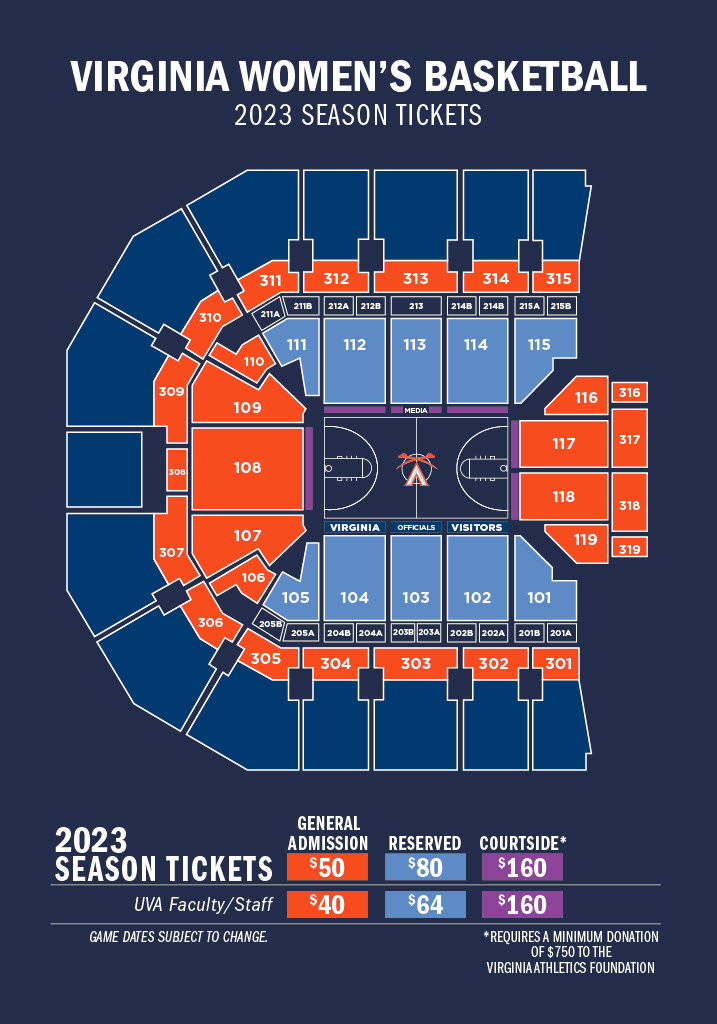 Season Tickets
Join the Hoos at John Paul Jones Arena by reserving your seat as a women's basketball season ticket member!
---
New Season Tickets
Click here to purchase.
Be a part of the action all-season long at the lowest price per game.
---
Faculty/Staff Discount
Full-time University of Virginia faculty and staff are eligible to purchase a maximum of 4 discounted (20% discount) season tickets in most seat locations. To purchase at the discounted rate, please call the UVA ticket office at (434) 924-UVA1 and provide your computing ID.
Single Game Tickets
Tickets – Home Games
Tickets will go on sale in the fall prior to the start of the season. Check for specific dates and ticket prices.
Tickets – Away Games
Virginia Athletics does not sell tickets for regular season away women's basketball games. Please check with the host institution for availability.
Group Tickets & Suites
Group Tickets
Virginia women's basketball group tickets are the perfect way for family, friends, co-workers, church groups, companies and civic groups to enjoy a fun outing together! Discounted tickets are available for group sizes of 20 or more! To qualify for group discounts, fans must purchase group tickets in advance of the game by calling the Virginia Athletics Ticket Office at (434) 924-UVA1 .
Suites
Single-game suites are available for home women's basketball games at John Paul Jones Arena through the Virginia Athletics Foundation. For more information, please click here.
Parking
Reserved Season Parking
Reserved season parking passes offering a specific reserved space in the John Paul Jones Arena garage are available for purchase for $50 each.
General Admission Season Parking
The West Lot, located in front of the main entrance to John Paul Jones Arena, is available for parking during the season on a first-come, first-served basis. A parking pass is not required to enter this lot.
Single Game Parking
Click here to view information on single game parking for women's basketball home games.
Postseason Tickets
ACC Tournament
Please check back in the winter regarding information.
NCAA Tournament
Information on NCAA Tournament tickets will be announced in March 2024.