Virginia Defeats Pittsburgh, 24-19
Story Links
Box Score Oct. 4, 2014
Box Score | Quotes | Notes | Photo Gallery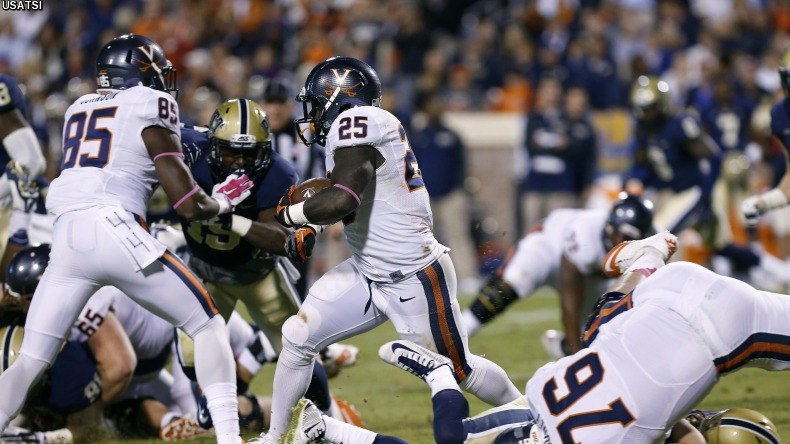 CHARLOTTESVILLE, Va. (AP) – Kevin Parks ran for a career-best 169 yards and a touchdown and Virginia slowed Pittsburgh's running game and added a defensive touchdown in a 24-13 victory against the Panthers on Saturday night.
The Cavaliers (4-2, 2-0 Atlantic Coast Conference) earned a key victory against a Coastal Division opponent. Virginia built a 24-3 lead by halftime, then held on after the Panthers mounted a comeback in the third quarter.
Pittsburgh (3-3, 1-1) lost its third straight as James Connor, who came into the game third in the country with an average of 158 yards per game and second with nine touchdowns, was held to 83 yards and was stuffed on two runs near the goal line.
Pittsburgh got a long punt return from Tyler Boyd and a touchdown pass from Chad Voytik to J.P. Holtz with 1:27 remaining to get within 24-19, but Voytik's 2-point conversion pass attempt was batted down.
Virginia seemed well on its way to a big victory until its momentum evaporated in the third quarter.
They took the kickoff, were forced to punt and it was blocked by Dontez Ford, and the Panthers took possession at Virginia's 31. Five plays later, Voytik hit Manasseh Garner for 17 yards and the touchdown.
Virginia drove to midfield on the ensuing possession, but when Matt Johns rolled right and tried an off-balance throw downfield to Taquan Mizzell, Pat Amara intercepted and Pitt took over at its 33.
The Panthers drove to a first-and-goal at the Cavaliers 4, but Virginia's defense stiffened with the aid of a false start penalty, and Chris Blewitt's 24-yard field goal pulled Pittsburgh to within 24-13.
The stand seemed to be the wake-up call the Cavaliers' defense needed.
Virginia had seemingly broken the game open with 21 points in a span of 8:11 in the second quarter.
Parks followed Johns' 19-yard completion to Miles Gooch with a 48-yard run off the left side for a touchdown. It was Parks' longest run of the year and put him on his way to 115 yards by halftime.
After the Panthers' fourth punt of the half, Virginia drove 78 yards in nine plays. The drive was highlighted by a lateral that Johns threw to Gooch, a former quarterback, and Gooch's 28-yard pass to Zach Swanson that moved the ball to the Pitt 4. Johns' swing pass for 3 yards to Khalek Shepherd three plays later pushed the lead to 17-3, and Virginia's pressure on Voytik helped it grow again a minute later.
Pressured, Voytik threw for Conner, but Max Valles stepped in front of the pass for the interception and ran 35 yards untouched to the end zone. It was the Cavaliers' 19th takeaway of the season, and the ensuing extra point gave them 72 points off those plays; Last year, they scored 13 off 21 takeaways.
Voytik completed passes of 34 yards to Tyler Boyd and 23 to Kevin Weatherspoon on the Panthers' lone first-half scoring drive, which ended with Chris Blewitt's 36-yard field goal that tied the game at 3.
The Cavaliers drove 57 yards to Ian Frye's 32-yard field goal with their first possession.