Anderson Leads No. 7 Virginia Past VCU, 74-57
Story Links
Box Score Dec. 06, 2014
Box Score | Notes | Photo Gallery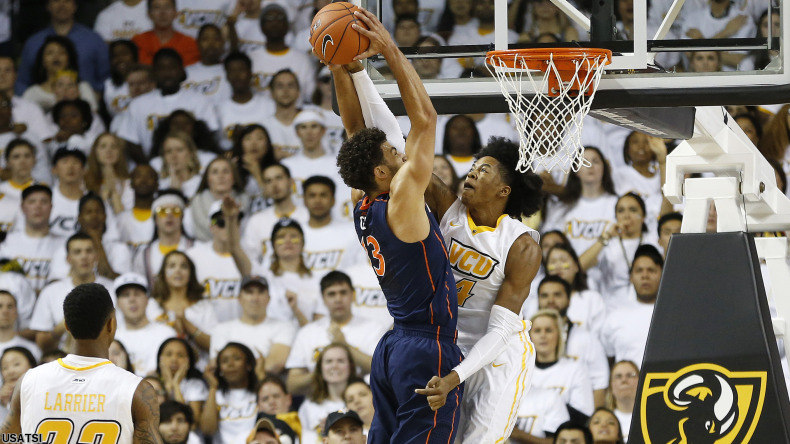 RICHMOND, Va. (AP) – Virginia was locked in a tight one on the road. The Siegel Center was rocking, and VCU was turning up the pressure on the No. 7 Cavaliers.
Treveon Graham's third 3-pointer in a span of less than 2 minutes pulled the Rams to 59-55 with 6:51 to play, and Virginia coach Tony Bennett called a timeout to get his team back on track.
The Cavaliers listened, and then put away the Rams.
Justin Anderson scored 21 points, including a key 3-pointer in a late 15-0 run, and Virginia ended VCU's 22-game home winning streak with a 74-57 victory on Saturday.
"I told our guys before the game, `Play against the game. Don't get caught up in the circumstances and the emotion of it,"' Bennett said. "That can distract you. If you come in here and get caught up in, `Hey, they got us last year,' or `Hey, they're so good' – I said, `Just play."'
Anderson, who didn't warm up with the team, showed no signs of the twisted right ankle that knocked him out of Virginia's victory at Maryland on Wednesday night. He hit 6 of 7 shots – including three 3-pointers – while helping Virginia get to 9-0 for the first time since 2001-02.
"We're going to sprain his other ankle if we can get him to play like that," Bennett said.
Anthony Gill added 18 points and Malcolm Brogdon had 15 for the Cavaliers.
Graham scored 17 points for the Rams (5-3), including three consecutive 3-pointers from the left corner that helped trim Virginia's lead to 59-55.
After the Cavs took a timeout with 6:51 left, London Perrantes scored on a drive, Evan Nolte hit a 3-pointer, Gill hit a pair of free throws and Anderson just beat the shot clock with his third 3-pointer.
"I think it was we realized it was just time," Gill said. "We all decided together as a team to just go out there and do it, play our defense and make them work on the defensive end, too."
Rams coach Shaka Smart said a carrying call against JeQuan Lewis may have helped take some momentum away from his team, and it was made worse when Perrantes' shot beat the shot clock. On the play, Perrantes drove inside and scored on a running one-hander from the right.
"Teams are not going to make enough of those to beat you, but I think just a combination of those things that maybe took some of the wind out of our sails," Smart said.
The Cavaliers' lead was 74-55 before VCU scored again.
Virginia shot 68.3 percent (28 for 41), including 73.7 percent (14 for 19) in the second half. It committed 16 turnovers against the Rams' celebrated pressure defense, but VCU converted the miscues into 16 points.
The Cavaliers managed 11 points off seven turnovers by the Rams, who shot just 38.3 percent (23 for 60). The Rams also were outrebounded 35-21.
Melvin Johnson scored 15 points for VCU, but had only four after halftime.
TIP INS
VIRGINIA: The Cavaliers have held opponents under 70 points for 15 consecutive games, the longest such streak in the country. … Anderson, a career 29.8 percent shooter from 3-point range coming into the season, is 20 of 34 from beyond the arc this year.
VCU: Briante Weber had five steals and is 61 away from breaking the NCAA career record, held by John Linehan, who had 385 at Providence from 1998-2002.
UP NEXT:
VIRGINIA doesn't play again until Dec. 18 when it hosts Cleveland State.
VCU hosts Northern Iowa next Saturday.