Virginia Volleyball Spring Blog
Story Links
Feb. 2, 2015
During the course of the spring semester, members of the Virginia volleyball program will check in with VirginiaSports.com about how spring practice is going, what they are up to this semester and more.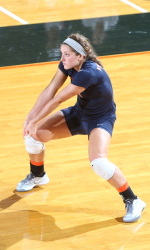 February 2 – Rising junior Lexi Riccolo
Annnnndddddd…We're back!
Your favorite UVa women's volleyball team has returned to the lovely C-Ville to start the spring semester off right with conditioning, lifting and of course, school. Our first week back we were #blessed and got to spend some quality time with Bill (Miller) in the weight room. Everyone worked on finalizing their class schedules before conditioning started. In our second week back, everyone had settled into their new class schedules and we started conditioning. We started off conditioning with some fun ball drills, working on accelerating forward. We are pushing ourselves to do everything "the right way." We have made a commitment to excellence and are focusing on quality.
This week we started individuals. We are pumped to use our individual sessions to rid bad habits and develop new skills. Soon we will be having team practices again. Our team is so close on and off the court so I know everyone can't wait to get the whole squad back in the gym to show off some new individual skills! WAHOOWA!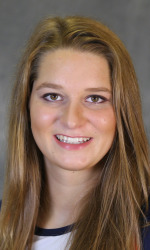 February 4 – Rising sophomore Haley Fauntleroy
Coming into the spring I knew I had an excellent opportunity to sharpen my volleyball skills, get stronger, and become an all-around better volleyball player. After just the first few weeks, I can attest that this season has already been more helpful that I could have guessed. Our early morning conditioning sessions are hard, but I think I speak for us all when I say we feel super accomplished once we've completed the hour. Conditioning is different than lifting to me because when we condition, we're right there next to our teammates doing the same thing as them, at the same time. We're all in it together when we condition. When we lift, however, we are more focused on our own reps and now how our teammates are doing. That is why as hard as conditioning is, I think it brings the team a lot closer. I'd be happy to go through it any day with the awesome group that we have.
As far as our individual sessions have gone, I think that we are all refining our skills. We are able to stop and focus on the little things rather than accomplishing drills as a team. Being my first spring season, I have benefitted immensely from the individual sessions. It's so helpful to be able to watch Natalie (Bausback) in the middle and learn from her, and have the coaches there to help me get better as well. I'm looking forward to seeing the overall heights we reach individually and as a team by the end of the spring season!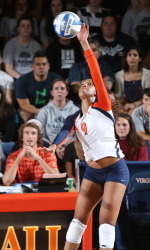 February 11 – Jasmine Burton
Not entirely sure what's more exciting… Our men's basketball team only having one loss or the new spring break body that I'm getting because of lift and conditioning!
So far, spring training has been severely tough but very rewarding. We have taken on the prowlers, stairs, ladders, boxing and a bunch of other workouts that made me want to call home to my mother and tell her that I should've played croquet. Although these workouts have been tough, they have brought us way closer has a team and is helping us achieve our ultimate goal: winning the ACC Championship and making it to the NCAA tournament. It's been a long time since this program has visited the NCAA tournament and I think that we have the right group of girls to do it this coming year. We have a will to win and a desire to succeed. We are completely sold out, we believe in the process and we are willing to work as hard as it takes to get there… and I guess it's a plus that we get incredible spring break bodies on the way!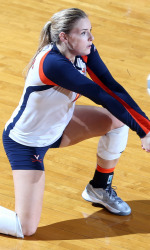 February 18 – Manon Fuller
Snow is coming to Charlottesville! As a result, conditioning is cancelled tomorrow morning and the coaches have scheduled a quieter week of rest and rehab. As for individuals this morning, Coach Ross was stuck in Chicago over the night sodefensive playerpractice will be re-scheduled for later in the week (perfect timing as I decided to give myself two days to finish a twelve-page paper #procrastination). Other than that, we are all scheduled to practice twice this week as well as get in a few extra open gyms as a team. Conditioning will be held on Thursday and our lift schedule will continue per usual today, Wednesday, and Friday.
Although this spring has been tough and has pushed many of us to the edge, I am so happy and thankful that I get to share my last spring season with this great group of girls. We are so excited for spring tournaments to start up and overall cannot wait to see what this season has in store for us! Go Hoos!
P.S. Patiently awaiting team baby… Good luck and congratulations to the Hohenshelt family!!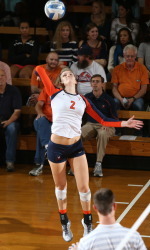 February 25 – Haley Kole
The team baby has arrived!! The past few weeks for the UVa volleyball team have been buzzing with the excitement for the long-awaited arrival of Axl Connor Hohenshelt (or as the team and Reese like to call him, Elsa). Congratulations to the entire Hohenshelt family!
In other less exciting volleyball news, the team has continued to work hard inside and outside of the gym this past week. We all managed to stay safe and warm over the weekend, after surviving the C-Ville Snopocalypse. With midterms upon us, the team's schedule has been stretched even thinner than normal. However, despite our academic stress, we have remained focused, using our time in the gym as an escape. We continue to push each other in lifting and conditioning, seeing our improvement every week. Individuals have taken a more group work feel, now that we have mastered the basic skills our coaches wanted us to improve on. In my opinion, the most impressive overall improvement for the team this spring is our vocal presence. We encourage and push each other to get better every day. This new mentality will be key in our future success as a team, that we will hopefully carry into our 2015 season. In the meantime, I know we are all patiently awaiting the arrival of warm weather and Spring Break!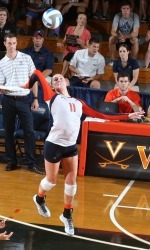 March 4 – Kayla Sears
One more week until Spring Break! With eight-hour weeks coming to an end, I have to say that the team has come a long way since the beginning of the semester. Our individual practices have helped us improve so many aspects of our game; I can't wait to come back as see it all come together for our tournaments. This week we begin maxing in the weight room, which is one of my favorite times. I love seeing how hard people push themselves individually as well as encourage teammates. For today, we maxed the power clean and bench press and everyone did an awesome job! I am so proud of how hard we are all working and I'm so excited to see all of our hard work pay off.
Academically, we are all taking a heavier load of classes which has its advantages. It allows us take classes that would involve a lot more time, because our schedule in the fall is pretty packed. We are also able to take some that are at night because we get all of our practices and workouts done in the morning. But now with midterms this week, we are all working very hard to finish off this last week strong so we can feel good about what we have accomplished so far. It will also make our spring break even more relaxing.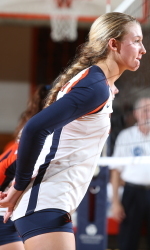 March 17 – Meghan McDowell
The 'Hoos are back in business! After a relaxing week away from C-Ville, your favorite lady 'Hoos returned to Mem Gym bright and early, excited to get the remaining part of our spring season underway. While some of us spent our spring breaks together, it was nonetheless nice to see the whole gang back together in the locker room this morning.
At 6:30, we all headed up to the gym to set up shop and get warmed up. Right at 7 a.m., the coaches got us going with some defensive work. This morning's practice involved a lot of emphasis on fundamentals. We worked primarily on defense and out-of-system setting. Coach Hohensheltis also implementing a competitive element into all of our drills. Wins and losses for each player and are going to be tracked throughout the rest of the spring to show who competes and wins the most. This competitive nature in practice is already proving to help us stay focused and disciplined throughout the longer practices. We had a great first day, I can't wait to get back in the gym tomorrow!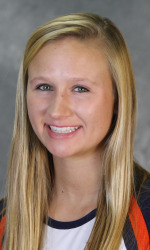 March 26 – Haley Lind
Spring season is back in action! Now that we're all finally back in C-Ville and looking tan after a relaxing week off for spring break, we were ready to get back in Mem Gym and get better! Last Monday morning, bright and early at 7:00 a.m., we had our first team practice of the spring. It was exciting getting to play with everyone and compete against each other again. Even just a few practices in, everyone has already shown so much improvement from all of our hard work with individuals and conditioning in the winter. At practice we've been splitting time focusing on different specific skills like defense, passing and bail out setting. We have also gone through more competitive drills. Even when we slow things down, we stay competitive and keep our intensity up by recording our wins and loses on the whiteboard.
After a great week of practices, we hosted our first home tournament at Mem Gym on Saturday. We played three-game matches with Liberty and JMU. We ended the day with 2-1 wins in both matches! For only a week of practices, we had great team chemistry on the court and everyone played well. There is always room for improvement and today (Monday), we got back in the gym and are ready for another great week of practice! My first spring season has been amazing so far, I personally can feel myself improve after each and every practice. After being injured for most of the fall season, this spring has been a great way for me to get my game back. I also definitely feel like our team as a whole has gotten better in every aspect of our game as well. And with four weeks left of spring season I can't wait to see what the future holds for us! This weekend we travel to Virginia Beach to compete and win some more! Go 'Hoos!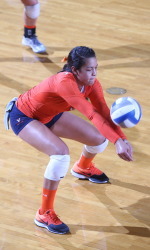 April 1 – Karlie Suber
After our opening spring tournament last weekend, we went into this past week dedicated to becoming better volleyball players and ready to work on the weaknesses that showed in our play during the previous two games. This week we worked a lot more on serve receive and defense than before and focused on being better for longer periods of time. We knew that our competition this weekend would not be a walk in the park and that if we wanted to win, we would have to fight for each and every point.
At Virginia Beach this weekend, we opened up the morning with Norfolk State. Though we had never played them before, we knew we could not take them lightly. The first game was a bit of a struggle as we adjusted to the new environment and shook off our three-hour drive from that morning. However, once we got the jitters out in the first game, the rest of the day went very well. As we have a few players recovering from injury and are trying to work out a new lineup and find everyone a place, our team adjusted well and found a way to work together and split games with NC State and Duke. Our spring conditioning definitely played off, as we showed in our last game of the day against UNC. We fought hard for every point and gave UNC a run for their money.
Just as we did last week, we will learn from our games this weekend and workout the kinks that are holding us back. This spring has been exhausting and challenging but also extremely beneficial. The struggle of finishing 6 a.m. workouts throughout the spring has definitely brought our team closer together and is becoming very evident on the court. We are working together as a team to get better and I think that is a huge step in the right direction.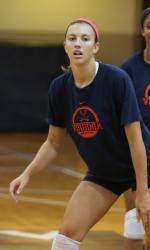 April 9 – Alex Thorson
With our Spring season more than halfway finished, it's time for the team to grind. Last week after our tournament in Virginia Beach we were given Monday off to rest, recuperate, and get treatment to allow us to play to the best of our abilities for the remainder of the Spring. While we worked hard and were very diligent this past week, we went back to the basics and worked through our defensive moves, blocking, and serve receive. With a few of our players out due to injury, the team has responded positively to players moving positions, and other changes on the court.
Last week was light in the sense that we tried not to jump too much and our lifts were mostly upper body in order to save our legs. As a team, we are coming into this week after a relaxing Easter weekend prepared to train and work on certain aspects of our game that the coaches have had us diligently working on after our last tournament. In order to prepare for this upcoming weekend we need to work hard and be 100% everyday in practice so that we can be successful at our tournament in Richmond on Saturday, April 11th.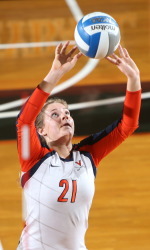 April 15 – Lauren Fuller
Hey Hoos!
As spring play comes to a close, I would just like to reflect on some of the things we have covered in preparation for our upcoming fall season. Even though this has been a long and challenging few months, I feel as though our team practices, conditioning and individuals have brought us one step closer to what we would like to accomplish in the fall. Spring play has provided us with the opportunities to challenge and compete with one another on the court and there definitely seems to be a different attitude in the gym in terms of not just wanting to compete, but wanting to win. As the coaches have reminded us again and again, winning matters, and in order to win, we must establish a mindset that can only develop with and during practice. Though we are not quite there yet, each challenge presented this spring has provided us with valuable lessons which have brought us that much closer to the mentality and results that we hope to establish during the Fall.
Of course, the training will not stop after spring and we have an entire summer to keep getting better and stronger! Woo! I have mixed feelings about ending my last spring season. I am sad that this time seems to be passing too quickly, but at the same time, I am almost too excited for summer and regular season training to be thinking too hard about the time passed now. There's so much to look forward to! Anyway, I hope you enjoyed my spring update and can't wait to see all your faces back in the gym come Fall season.
Go Hoos!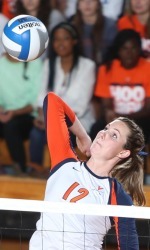 April 22 – Natalie Bausback
Wow! I have officially completed my last spring season and I am filled with mixed emotions. I am happy that I no longer have to wake up when it is still dark out, but I will miss pushing through those last set of sprints with my teammates by my side. The one thing that sticks out the most about this spring for me is how much stronger we have all become both mentally and physically. We all got in the mindset that we were going to sprint the 20th sprint just as fast as we sprinted the first one. There was never an "I can't do this" mentality and we all helped push each other past our limits. There was always a desire and drive to push through the pain and exhaustion for your teammates. We all want to make the NCAA tournament more than anything next year, and we most definitely trained like wanted it this Spring.
Last week we did testing in the weight room for power cleans, bench press, back squat, incline and deadlift. If you have ever witnessed somebody maxing it weights, you know that it is a fun and thrilling environment to be in. For maxing, we keep going up in weight until we can't go up anymore. We are all cheering each other on which really helps instill confidence in the person maxing. The only way to do well when it comes to maxing is to be mentally tough and have confidence in yourself that you can do it. Before every rep, I like to tell myself that the weight is really easy and that I will have no problem knocking out that rep. It works! Strength Coach Bill (Miller) was very proud of how tough we were last week in the weight room because many of us jumped significantly in our numbers. It is exciting to see everybody improve both in the weight room and on the court because it just shows how much better we will be come time next season. Kayla, Lauren, Manon and I have one last chance to leave a lasting impression on the program and we confidently believe that next year is our year. The whole team has proved this spring that we have what it takes to be the best, now we just have to believe we can and execute.
As the school year is coming to and end, the whole student body looks forward to one particular event: Foxfield. All of us will be dressing up in sun dresses and sun hats, and enjoying a day at the races and a nice sunny day this coming Saturday! It is the last hooray before the dreadful weeks of finals. Can't wait until next season and to see all of our fans cheering us on at Mem Gym! Go Hoos!