No. 2 Virginia Outlasts NC State, 51-47
Story Links
Box Score Feb. 11, 2015
Box Score | Notes | Photo Gallery

VIDEO: Coach Bennett Post Game Press Conference

RALEIGH, N.C. (AP) Second-ranked Virginia survived its first test without injured starter Justin Anderson.
Malcolm Brogdon scored 15 points to help the Cavaliers hold off North Carolina State 51-47 on Wednesday night.
Mike Tobey scored nine of his 11 after halftime for the Cavaliers (22-1, 10-1 Atlantic Coast Conference), who had to fight to the final horn to improve to 9-0 in true road games this season.
"To kind of struggle along and have to grind it out … validates that, hey, look you can do this," coach Tony Bennett said. "We've just got to do it a little better."
The Cavaliers missed Anderson, their No. 2 scorer at 13.4 points and the league's top 3-point shooter at 48 percent. He broke a finger on his shooting hand last weekend against Louisville, an injury that required surgery and left him sitting on the bench with his left hand heavily bandaged as junior Evan Nolte started in his spot.
"I think in the beginning of the game it was a little bit of an adjustment for us to play without him, but as the game went on we kind of got into a little bit of a groove," Tobey said. "And going forward it's a tough win for us and I think it kind of gives us confidence to play without him."
Tobey had a three-point play that pushed Virginia to a 42-37 lead with 4:44 left, then threw down a dunk off pass from Brogdon to make it 45-42 with 1:18 left.
Finally, after Trevor Lacey missed a drive in the final seconds for the tie, Tobey came down with the rebound in traffic and hit two free throws with 7 seconds left to make it a two-possession game again. Brogdon hit two more with 1.4 seconds left to seal the win.
Lacey scored 14 points to lead the Wolfpack (14-11, 5-7), but outside shooter Ralston Turner managed just four and missed all six 3-point tries while playing with a balky knee – a critical lack of production on a night when neither team led by more than six.
N.C. State also blew a huge opportunity to bolster its NCAA tournament chances.
"We've put ourselves behind in a great way, and now we've got to figure out how to finish in a flurry," coach Mark Gottfried said. "We know where we are."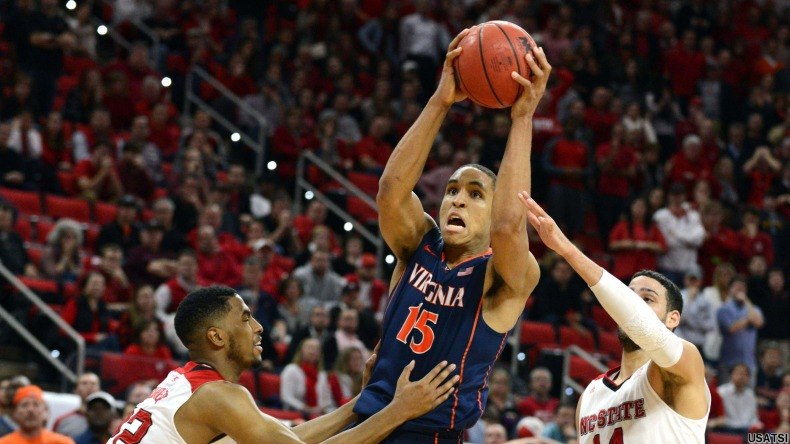 TIP-INS
Virginia: Nolte's only basket was a 3-pointer, though Bennett praised his defense on Turner. … Virginia finished with a 43-31 rebounding advantage. … Virginia shot 37 percent and went 11 for 18 at the foul line, but made its last six.
N.C. State: The Wolfpack committed six turnovers. … Anthony "Cat" Barber finished with 11 points. … N.C. State shot 33 percent and went 3 for 17 from 3-point range.
FLAGRANT?
Gottfried said he disagreed with a flagrant foul call on freshman Caleb Martin, who was whistled for running into Nolte and knocking him to the court after a Wolfpack basket.
Brogdon hit a free throw, then Tobey followed with his three-point play.
"We go from being down one to down five," Gottfried said. "In a game of this magnitude at that point in the game, that is just huge."
MOMENT OF SILENCE
The three people killed in a shooting in Chapel Hill were among five people honored with a pregame moment of silence.
Deah Shaddy Barakat, 23, his wife Yusor Mohammad, 21, and her sister Razan Mohammad Abu-Salha, 19, died in Tuesday's shooting. Barakat and Mohammad were newlyweds who met while running the Muslim Student Association at N.C. State, while Abu-Salha was a N.C. State student who was visiting them at the condominium complex.
N.C. State students wore green ribbons in their honor. And Wolfpack freshman Abdul-Malik Abu, also a Muslim, knew Barakat and Mohammad.
"It was pretty hard," Abu said. "I just wanted to go out here and just play basketball. I didn't want to grieve too much during the game."
The school also honored retired Hall of Fame coach Dean Smith, who coached rival North Carolina and died Saturday at age 83; and former area and Wolfpack sports broadcaster Don Shea, who died last week.
UP NEXT
Virginia hosts Wake Forest on Saturday.
N.C. State travels to No. 9 Louisville on Saturday.