Story Links
May 16, 2015 Box Score
VIDEO: NCAA Sweet 16 vs. Baylor Press Conference
WACO, Texas – Rachael James-Baker defeated Skylar Morton (Bethesda, Md.) 6-7, 7-5, 6-1 to lift No. 8 seed Baylor past No. 9 seed Virginia 4-3 in a round of 16 match at the NCAA Women's Tennis Championship on Friday (May 15) night at Hurd Tennis Center in Waco.
Baylor earned the crucial doubles point and Kelley Anderson (No. 6), Blair Shankle (No. 3) and James-Baker (No. 4) earned singles wins for the host Bears.
Reigning NCAA singles champion Danielle Collins (St. Petersburg, Fla.), Julia Elbaba (Oyster Bay, N.Y.) and Maci Epstein (Winter Park, Fla.) posted singles wins for the Cavaliers (23-6) who advanced to the round of 16 for the fifth consecutive year. Baylor (28-6) will play top-seeded USC in the NCAA quarterfinals on Sunday.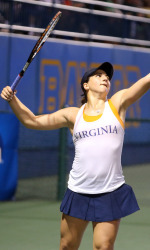 "It's always great to be in the round of 16," Virginia head coach Mark Guilbeau said. "You kind of get so hungry when you're there that, obviously, it hurts a lot when you don't advance. But, I'm happy for the kids to be able to get this experience and to be in this round."
UVa'a streak of five consecutive doubles points came to an end as Baylor posted wins on courts two and three. Baylor's Kelley Anderson and Theresa Van Zyl recorded an 8-3 win over Stephanie Nauta (Galveston, Texas) and Cassie Mercer (Huntington, W.Va.) on court two. No. 28 Elbaba and Skylar Morton (Bethesda, Md.) answered with an 8-3 win over No. 62 Ema Burgic and James-Baker on court one. Collins and Epstein fell behind 4-1 before rallying to force a tiebreaker and eventually losing 8-7 (7-4) to Shankle and Kiah Generette on court three.
Anderson gave Baylor a 2-0 lead after a 7-5, 6-2 win over Mercer on court six. No. 15 Collins put the Cavaliers on the scoreboard with a 6-2, 6-1 win over No. 80 Generette on court two and Elbaba evened the score at 2-2 with a 6-1, 6-2 win over No. 22 Burgic on court one. No. 41 Shankle topped No. 40 Nauta 6-4, 3-6, 6-1 on court three before Epstein rallied in three sets over Theresa Van Zyl 3-6, 6-2, 6-3.
"I give them a lot of credit," Guilbeau added. "I give our girls a lot of credit. I feel like this is part of a bigger picture process for us. We had an up and down season. We had some incredible moments and I think we're very fortunate and happy to win the ACC Tournament title."
Notes: Elbaba, Collins and Nauta will compete in the NCAA Singles Championship, which begins on May 20.
NCAA Championship Round of 16
#9 Baylor 4, #8 Virginia 3
Friday, May 15, 2015
Hurd Tennis Center
Singles
1. #6 Julia Elbaba (UVa) def. #22 Ema Burgic (BU) 6-1, 6-2
2. #15 Danielle Collins (UVa) def. #80 Kiah Generette (BU) 6-2, 6-1
3. #41 Blair Shankle (BU) def. #40 Stephanie Nauta (UVa) 6-4, 3-6, 6-1
4. #113 Rachael James-Baker (BU) def. Skylar Morton (UVa) 6-7 (3-7), 7-5, 6-1
5. Maci Epstein (UVa) def. Theresa Van Zyl (BU) 3-6, 6-2, 6-3
6. Kelley Anderson (BU) def. Cassie Mercer (UVa) 7-5, 6-2
Order of Finish: 6,2,1,3,5,4
Doubles
1. #28 Elbaba/Morton (UVa) def. #62 Burgic/James-Baker (BU) 8-3
2. Anderson/Van Zyl (BU) def. Nauta/Mercer (UVa) 8-3
3. Shankle/Generette (BU) def. Collins/Epstein (UVa) 8-7 (7-4)
Order of Finish: 2,1,3