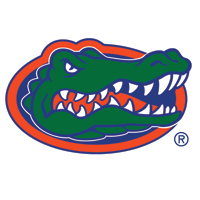 Next Game:
vs. Florida
6/20/2015 | 8:00 PM
June 19, 2015
Final Stats | Photo Gallery

Game Notes | Virginia Quotes | Florida Quotes | Twitter: @UVaBaseball | Coach O'Connor Twitter | Facebook | Instagram
OMAHA, Neb. – The Virginia baseball team lost to No. 4 national seed Florida, 10-5, Friday afternoon in front of 19,015 spectators in the College World Series at TD Ameritrade Park Omaha. With one loss apiece in the CWS, the Cavaliers (41-23) and Gators (52-17) will play a decisive bracket championship game on Saturday.
The Saturday game will be played at 3 or 8 p.m. ET. If TCU defeats Vanderbilt tonight to force a second bracket championship, the UVa-Florida game will be at 3 p.m., while the TCU-Vanderbilt game will be contested at 8 p.m. If Vanderbilt clinches its bracket this evening, the UVa-Florida game will be played at 8 p.m.
Virginia suffered its first defeat in the NCAA tournament as it fell to 7-1 in the field.
"Florida's got a really good ballclub – a good offensive club with good pitching depth," Virginia head coach Brian O'Connor said. "I thought their starter, Logan Shore, was pretty darn good today. We had opportunities there in the second through the sixth inning with runners on and just couldn't capitalize, and that's to his credit. Certainly he buckled down. He does as good a job as you'll see in changing speeds and locating and pitched a very, very good ballgame.
"I was proud of our guys that we didn't go away. We hung in there and mounted a fight there toward the back part of the game. But it just wasn't enough. You know, they got nine of their 10 runs in two innings and that's to their credit. We just couldn't put them away in a couple of those innings. We were able to do that the other night against them, but we have another opportunity tomorrow, and we are looking forward to that chance."
Virginia finished with 10 hits as eight starters recorded at least one hit each. Adam Haseley (Fr., Windermere, Fla.) and Daniel Pinero (So., Toronto, Ontario) each posted a pair of hits, while Matt Thaiss (So., Jackson, N.J.) and Kenny Towns (Sr., Burke, Va.) each drove in two runs.
In his first start in nine weeks after suffering a strained left lat muscle on April 17, UVa starter Nathan Kirby (Jr., Midlothian, Va.) worked 2 2/3 innings, allowing four runs (three earned), four hits and a walk while striking out one. He took the loss and dropped to 5-3 on the year. Florida starter Logan Shore (11-6) pitched 6 1/3 innings, allowing four earned runs, eight hits and a walk while striking out four in earning the win.
UVa took a 1-0 lead just three batters into the game. Haseley hit an infield single on the game's first pitch and advanced to second on a Pinero sacrifice bunt. Thaiss then ripped a single up the middle to bring Haseley around for the early lead.
After Kirby shut down the Gators over the first 2 1/3 innings, Florida sent eight batters to the plate in a four-run third inning. After Kirby retired the leadoff batter, five of the next six batters recorded hits. After back-to-back singles from Dalton Guthrie and Ryan Larson, Harrison Bader grounded out to bring in the tying run. Richie Martin doubled to right to score Larson, and Josh Tobias followed with an RBI single, prompting UVa to bring in Alec Bettinger (So., Woodbridge, Va.). A passed ball then allowed Tobias to score and push the lead to 4-1.
The Gators broke the game open with a five-run sixth inning as they sent 10 batters to the plate. With the bases loaded and one out, Florida scored a run from each of its next five at bats, including RBI singles from Mike Rivera, Bader and Martin.
UVa got three runs back in the seventh inning. The Cavaliers loaded the bases with one out on singles from Kevin Doherty (Jr., Laytonsville, Md.), Ernie Clement (Fr., Rochester, N.Y.) and Pinero. Facing reliever Bobby Poyner, Thaiss hit a sac fly to left field. Towns then doubled to right-center, scoring Clement and Pinero to cut the Gators' lead to 9-4. He upped his career RBI total in NCAA tournament play to 24, a program record.
Florida added an unearned in its half of the seventh when Rivera doubled home JJ Schwarz. UVa scored an unearned run in the eighth when Doherty hit a sac fly to bring in Robbie Coman (Jr., Lake Worth, Fla.).