Virginia Defeats In-State Foe William & Mary, 35-29
Story Links
Box Score Sept. 19, 2015
Box Score | Quotes | Notes | USATSI Photo Gallery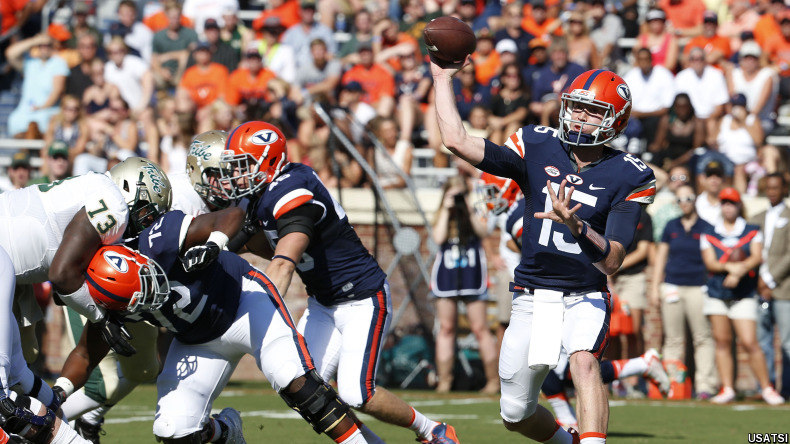 CHARLOTTESVILLE, Va. (AP) – Matt Johns threw three touchdown passes and Virginia survived a huge fourth-quarter scare and beat William & Mary 35-29 on Saturday.
The Cavaliers (1-2) led 21-20 at halftime and used big plays on consecutive touches to pull away in the third quarter. Johns and Taquan Mizzell started it by teaming up for a short pass that Mizzell turned into an 80-yard touchdown, and Maurice Canaday returned a punt 74 yards for another score about 2 1/2 minutes later.
Trailing 35-20, the Tribe (1-1) scored on a fourth-down play with 5:18 left, forced the Cavaliers into a three-and-out and took over near midfield. They got a break when Canady was called for holding on a fourth-and-10 pass that fell incomplete, extending the drive, but lost eight yards on a fumble on the next play and faced a fourth-and-7 from Virginia's 30 when Steve Cluley's 36th pass of the game sailed high and into an empty end zone.
Johns completed 17 of 23 passes for 263 yards. He also found Connor Wingo-Reeves for a 3-yard touchdown and Canaan Severin for a 26-yarder, but couldn't get the offense untracked again after the third quarter burst.
The Cavaliers held William & Mary scoreless after a 19-play drive inside the Cavaliers 5, but the Tribe turned their fortunes around four plays later, blocking a punt from in the end zone and then getting the ball back, too.
Cluley's third scoring pass, a 4 yarder to DeVonte Dedmon with 5:18 to play, put them in position to win with one more touchdown, especially when the Tribe sacked Johns and forced another three-and-out by Virginia.
Cluley finished 23 of 36 for 226 yards, and Dedmon also caught a 41-yard touchdown pass.
Andrew Caskin caught the third from 37 yards away and would likely have had a second TD, but slipped after catching a fourth-down pass at Virginia's 3 yard-line. The Tribe was 2 for 4 on fourth down.
Virginia took its first lead 1:46 before halftime on Johns' 26-yard pass to roommate Canaan Severin. It came one play after Johns hit David Eldridge for 43 yards, the freshman's first career catch.
Cluley hit DeVonte Desmon for a 41-yard touchdown on the fifth play of the game, and hit wide open tight end Andrew Caskin for a 37-yard score on a fourth-and-3. The play, which had Cluley rolling right and throwing back to his left, almost worked for another touchdown later, but Caskin fell down after a catch at Virginia's 3 yard-line.