Klckner Stadium: College Soccer Field of Year
Story Links
Nov. 30, 2015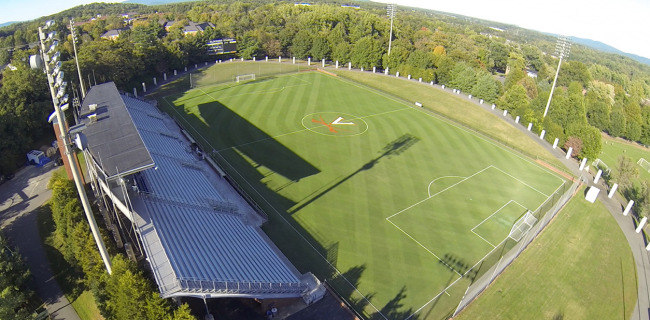 CHARLOTTESVILLE, Va. – The pitch at Klöckner Stadium has been tabbed as college soccer's 2015 Field of the Year by the Sports Turf Managers Association (STMA).
"Each year, we look forward to hand-picking the best natural grass athletic surfaces in the country through the Field of the Year Award," said Kim Heck, CEO of STMA. "With a record number of applicants in 2015, the selection process has become more rigorous, which serves as a testament to the high-quality fields our 2,600-plus members produce across the U.S."
Virginia's grounds crew is led by sports turf manager Jesse Pritchard and assistant sports turf manager Phil Bathalon.
Klöckner Stadium plays host to Virginia's soccer and lacrosse teams and is considered one of the nation's premier facilities in each of those sports.
Fifty-three games were contested at Klöckner Stadium in 2015, including 10 NCAA tournament contests as well as all seven games in the ACC Women's Lacrosse Championship. In addition to the busy competition schedule, Klöckner Stadium also was the site of several exhibition games and practice sessions.
A panel of 15 judges independently scored entries based on playability, appearance of surfaces, utilization of innovative solutions, effective use of budget and implementation of a comprehensive agronomic program. Judges may not award a field in each category. Winning fields will be featured in a 2016 issue of Sports Turf Magazine, the official monthly publication of STMA.
Awards will be presented at the 27th annual STMA Conference & Exhibition in San Diego, Calif., Jan. 19-22, 2016.
Since 1992, STMA's Field of the Year Award is presented to members who manage baseball, football, soccer, softball and other sporting grounds at the professional, collegiate, schools (K-12) and parks and recreation level. The 2015 winners are listed below:
College and University
Soccer – Klöckner Stadium at University of Virginia (Charlottesville, Va.): Jesse Pritchard, CSFM, Sports Turf Manager; Phil Bathalon, Assistant Sports Turf Manager
Football – Davis Wade Stadium at Mississippi State University (Starkville, Miss.): Brandon Hardin, Sports Turf Superintendent
Softball – Cyrill Softball Stadium at University of South Carolina Upstate (Spartanburg, S.C.): Bruce Suddeth, Director of Building & Landscape Services
Sporting Grounds – Fifth Third Bank Stadium at Kennesaw State University (Kennesaw, Ga.): Shane Hohlbein, CSFM, Sports Turf Manager
Professional
Baseball – Ed Smith Stadium at Baltimore Orioles (Sarasota, Fla.): Daniel Thomas, Head Groundskeeper
Soccer – MAPFRE Stadium at Columbus Crew SC (Columbus, Ohio): Weston Appelfeller, CSFM, Director of Grounds
Schools and Parks
Baseball – Ivey-Watson Field at Gainesville City Schools (Gainesville, Ga.): David Presnell, CSFM, Turf Manager
Football – North Area Athletic Complex Field at Jefferson County School District (Golden, Colo.): Sun Roesslein, Stadium Manager; Christi Clay, Stadium Manager
Softball – Blue Eagle Softball Complex at Clover School District (Clover, S.C.): Will Rogers, CSFM, Sports Turf Manager
Soccer – Varsity Soccer Field at Collegiate School (Goochland, Va.): Allison Moyer, Grounds Manager
Sporting Grounds – Championship Field at Pleasant View Sports Complex (Boulder, Colo.): John Cogdill, Park Turf & Irrigation Manager