Record Crowd Attends 2016 Step Up to the Plate
Story Links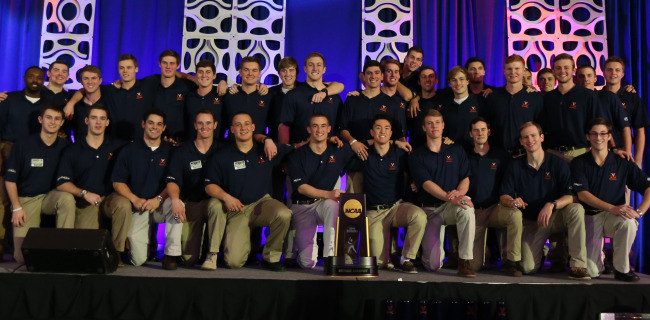 Jan. 31, 2016
Step Up to the Plate Photo Gallery
Twitter: @UVABaseball | Coach O'Connor Twitter | Facebook | Instagram
CHARLOTTESVILLE, Va. — The Virginia baseball program hosted the 14th annual Step Up to the Plate fundraiser Saturday night, with a record crowd of over 1,000 packing the floor of John Paul Jones Arena. While the annual event is best known for kicking off the upcoming season, the 2016 version was highlighted by the presentation of rings to the 2015 National Championship team.
In addition to the NCAA Championship team, more than 50 Virginia Baseball alumni were in attendance, as were University of Virginia President Teresa Sullivan and Athletics Director Craig Littlepage.
The evening was punctuated by a roundtable discussion with six members of the team who graduated or moved on to professional baseball — College World Series Most Outstanding Player Josh Sborz, Nathan Kirby, Joe McCarthy, Kenny Towns, Brandon Waddell and Thomas Woodruff. All six were critical figures in Virginia's magical run in Omaha at the CWS.
Virginia won its first NCAA championship in program history in June, taking out reigning champion Vanderbilt in the third and final game of the College World Series Finals. The Cavaliers went on a remarkable ride to the title, going on the road as a No. 3 regional seed and winning the Lake Elsinore (Calif.) Regional before taking out Maryland in the NCAA Super Regional to punch their ticket to Omaha, Neb., for the College World Series.
Competing in their fourth CWS in the last seven years, the Cavaliers knocked off Arkansas and twice defeated SEC champion Florida to move on to the CWS Finals, where they bounced back from an opening-game loss to win the final two games and earn their first national title.
"We were living proof that when you play together, anything can happen," McCarthy said. "We barely made the tournament. We weren't playing good baseball in the ACC Tournament. But we just came together, we played good baseball and beat everyone."
Virginia opens its 2016 season on Friday, Feb. 19, in Myrtle Beach, S.C., against Kent State. The Cavaliers' home opener at Davenport Field is slated for Tuesday, Feb. 23, against VMI.