No. 4 UVA Tops No. 11 Miami to Reach ACC Title Game
Story Links
Box Score March 11, 2016
Final Stats | Notes | USATSI Photo Gallery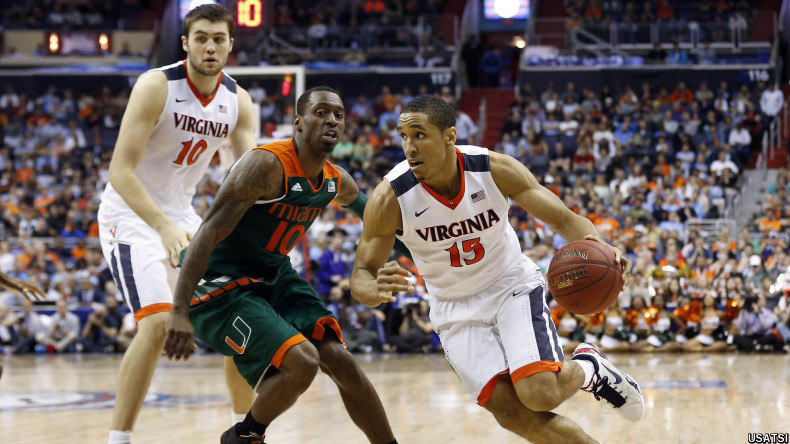 WASHINGTON (AP) – Atlantic Coast Conference player of the year Malcolm Brogdon scored 24 points and No. 4 Virginia beat 11th-ranked Miami 73-68 Friday night to set up a showdown with North Carolina in the conference title game.
Virginia (26-6) and No. 7 UNC could each become NCAA Tournament No. 1 seeds after impressive showings this week. Against Miami (25-7), the Cavaliers led wire-to-wire to the delight of the crowd that made Verizon Center feel like a home game.
Ja'Quan Newton had 19 points off the bench to lead Miami.
Beginning with Brogdon's 3-pointer 48 seconds in, Virginia led the entire first half. The Cavaliers went up by as many as 11 as eight different players scored but watched as Miami went on a 6-0 run to end the half and cut the margin to five.
Facing the same kind of hostile environment as Thursday night against Virginia Tech, Miami cut it as close as three points. A series of turnovers stunted the comeback bid, and Brogdon went to work scoring and playmaking.
With help from Marial Shayok (10 points) and London Perrantes (11 points), Virginia pulled away to lead by 13 with 3:10 left. The Hurricanes must now turn their attention to the NCAA Tournament, where they're expected to be a high seed.
UNC routed Notre Dame Friday to make it to the title game. Virginia won the teams' only meeting Feb. 27 in Charlottesville. The game features the top two seeds after the top four reached the semifinals.
"The ACC is a great conference," UNC forward Justin Jackson said. "So at the end of the day, that's what you expect in the championship game: to have two really good teams."
TIP-INS
Miami: Ivan Cruz Uceda did not play in the quarterfinal victory because of Virginia Tech's speed, according to coach Jim Larranaga, who said the big forward would be a "major player" against Virginia. Cruz Uceda scored all eight of his points in the first half. … Senior guard Sheldon McClellan fouled out with 46.2 seconds left. He finished with 15 points on 5 of 11 shooting.
Virginia: Brogdon went 10 of 11 from the free throw line. … Virginia reached the ACC final for the sixth time in school history. … Last won the conference tournament in 2014. … The last time Virginia played in a game where each team shot over 50 percent was Dec. 7, 2013, against Green Bay.
UP NEXT
Virginia: Faces seventh-ranked North Carolina for the conference title Saturday.
Miami: NCAA Tournament.