Virginia Falls to UNC in ACC Title Game, 61-57
Story Links
Box Score March 12, 2016
Final Stats | Quotes | Notes | USATSI Gallery

| Interactive Bracket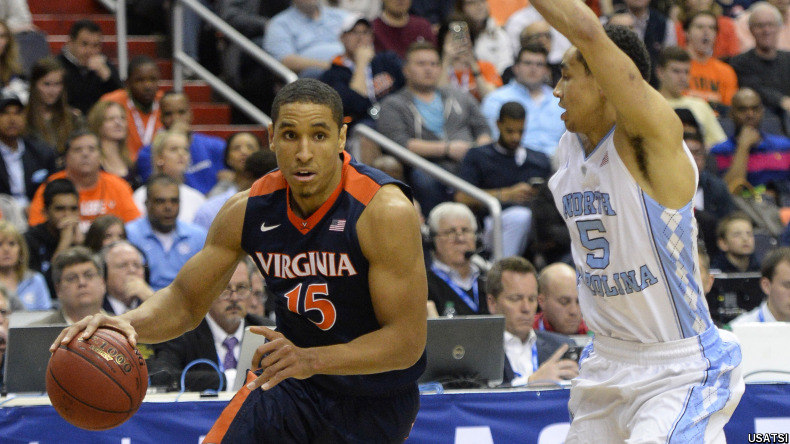 WASHINGTON (AP)– Malcolm Brogdon led Virginia (26-7) with 15 points, but North Carolina came away with the win in Saturday's ACC Championship game, 61-57.
Marcus Paige only scored four in the first half but he took over at the beginning of the second for UNC, continuing the resurgence he began in Friday's semifinal.
Then Joel Berry II got going on offense, while the entire Tar Heels squad displayed the sort of defensive toughness and will that Williams has been begging to see consistently.
"Absolutely," Virginia coach Tony Bennett said, "their defense was ratcheted up."
After Anthony Gill put Virginia ahead 44-40 with a little under 10 minutes left in regulation, the Cavaliers missed their next 12 shots, part of a larger 2-for-20 rut. That allowed UNC to go on a 15-2 run capped by Brice Johnson's putback layup for a 55-46 lead with under 2 minutes to go – the largest margin for either team.
Virginia would cut it to two in the closing moments, but UNC held on.
It was a similar defensive shutdown to the one North Carolina used to fuel a 24-point run that put away Notre Dame in the semifinals Friday.
These were the top two seeds in the conference tourney – UNC finished atop the standings, UVA was No. 2 – and both teams are capable of playing shutdown defense.
Virginia, best known for that aspect of its game, ranks second nationally in opponents' scoring average at a hair under 60 points, while UNC only allowed one foe to shoot better than 50 percent all season and held semifinal opponent Notre Dame scoreless for 9 1/2 minutes.
So not surprisingly, they were quite good at forcing the other into problems on offense right from the outset Saturday.
North Carolina turned the ball over eight times in the first 12 1/2 minutes. Virginia missed its first four shots and started 4 for 13 on field-goal attempts.
All in all, it was evenly matched, high-level basketball. For a half-plus, anyway.
The teams were tied at 28 at halftime, and were each other's equal in various other ways to that point. Each had 14 rebounds. Each had 16 points in the paint. Each held the other under 30 percent on 3-point tries.
Very clean, too: Only six combined fouls were whistled in the opening half, providing the sort of continuity that's a rarity these days in college basketball.
HE SAID IT
"You have to keep shooting, even on tough shooting nights," Brogdon said. "You have to believe the next shot is going in."
TIP-INS
Virginia: This was the Cavaliers' eighth ACC final; they beat UNC in 1976 and Duke in 2014. … Beat North Carolina 79-74 on Feb. 27.
UP NEXT
Virginia: NCAA Tournament.