Jeff White's Twitter | Subscribe to UVA Insider Articles | UVA Football Schedule | Photo Gallery from Meet the Team Day | 2018 Fact Book
CHARLOTTESVILLE – The football sounded different when it came off A.J. Mejia's right foot in practice Saturday afternoon – louder, with more pop — than it did last season.
 
There was a reason for that. Mejia's right leg is stronger than when he kicked for Virginia as a true freshman in 2017, and that's extended his range on field goals.
 
"I've been working a lot on flexibility, hitting the ball more consistently, and all that's translating," Mejia said after practice. "It's not really about how hard you swing. It's about making contact. Solid contact is the most important thing."
 
A graduate of Paul VI Catholic High School in Fairfax, Mejia attempted about 20 field goals in practice Saturday, from a variety of distances. He missed only once. At the end of the practice, he connected from 44 yards.
 
"He had a good day," said Ricky Brumfield, whom head coach Bronco Mendenhall hired as special teams coordinator after the 2017 season.
 
"I'm just having fun," Mejia said. "Just trying every day to get better."
 
In two seasons under Mendenhall, the Wahoos have not made a field goal longer than 38 yards, and that's added to the offense's struggles. Among ACC teams, Virginia ranked last in scoring offense in 2017 and 12th in 2016.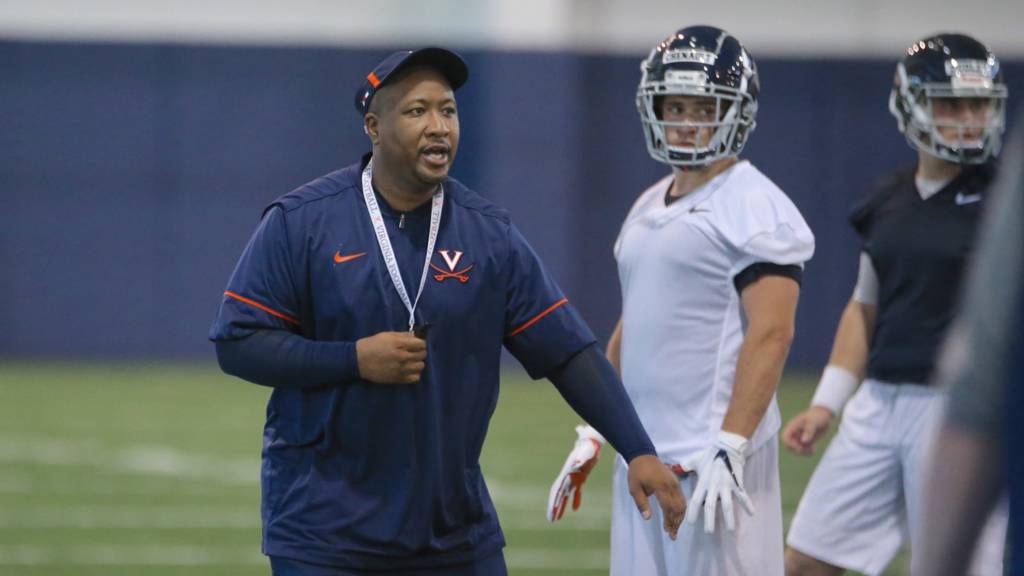 Ricky Brumfield
 
As a true freshman last season, the 5-10, 175-pound Mejia was 8 for 12 on field goals, connecting from 20, 22, 23, 27, 28, 33, 36 and 38 yards. He was 0 for 4 on attempts of 41 yards or longer.
 
"I hit it straight every time," said Mejia, who was 37 for 37 on extra points. "My misses were always short. Looking back, I'm not happy. It was a good start. It was really nice to get that experience, for sure, but I'm definitely looking to build on it."
 
He didn't work this summer with a kicking coach, Mejia said. Instead, in sessions with Kelli Pugh, UVA's associate athletic trainer for football, and Shawn Griswold, UVA's director of football development and performance, Mejia focused on trying to improve the flexibility in his hips and increase his leg strength.
 
"I think in the spring it was stronger than in the fall, and now it's even stronger," Mejia said.
 
Graduate assistant Drew Meyer, a former All-Big Ten punter at Wisconsin, works with the Cavaliers' kickers, punters, holders and long-snappers. That group includes true freshman Hunter Pearson, who made a 49-yard field goal as a senior at Seneca High in South Carolina last fall and is expected to challenge Mejia for the starting job this year.
 
The 6-3, 210-pound Pearson is recovering from an injury and has yet to practice this month, but Brumfield expects him to be cleared soon.
 
Mejia said he welcomes the challenge.
 
"I know Coach always says competition breeds clarity," Mejia said. "I think every year there's going to be a kicker coming at you."
 
Brumfield said: "That's exactly what we want. We want kids that understand that their job is on the line. My job is on the line. If I don't get my job done right, then Coach is going to bring somebody else in. It's the same thing with field goal kickers: If you don't get your job done the way it's supposed to be done, then we have to bring somebody else in."
 
Before coming to UVA in January, Brumfield had coordinated special teams at five other schools: Union College, Fairmont State, Nicholls State, Western Kentucky, and the University of Texas at San Antonio.
It's common for young kickers such as Mejia to increase their leg strength and expand their range, Brumfield said, "because they come in as freshmen and think they know what to do, but they don't. They don't have the workout regimen or the meal [plans] and the Muscle Milk and the different things that they can get on a college level. And with the specified workouts that Coach Griz has them doing, that can't help but build their core up, build their leg strength up, and it only helps them in the long run."
 
Brumfield has reviewed videotape of Mejia's 2017 kicks and sees noticeable improvement.
 
"I think his leg strength is better, and his leg swing has gotten higher," Brumfield said. "Drew Meyer has done a good job with him from a mechanical standpoint, and I've got to remind myself he was a freshman last year. This year he has more experience, he has a stronger leg, and it showed today. I thought he showed some accuracy, and on that last [attempt] he made a 44-yard field goal right down the middle, with enough to spare."