NCAA Tournament Bracket | Video Highlights | Jeff White's Twitter
By Jeff White (jwhite@virginia.edu)
VirginiaSports.com
 
MINNEAPOLIS – During his days as a sweet-shooting guard, Tony Bennett played for several coaches. He'll forever be tied, of course, to his father, Dick Bennett, who coached him at Wisconsin-Green Bay. But his dad isn't the only one who has proudly followed Tony Bennett's journey to the Final Four.
 
After graduating from Green Bay, Bennett spent three seasons with the NBA's Charlotte Hornets, whose head coach was former Virginia Tech star Allan Bristow. The Hornets drafted Bennett early in the second round in 1992 to back up point guard Muggsy Bogues.
 
"He was a terrific little point guard," Bristow said of Bennett. "He was just fundamentally sound, solid."
 
Bennett played in 75 games for Charlotte in 1992-93 and 74 the next season, despite suffering from plantar fasciitis in his left foot. He appeared in only three games in 1994-95 after having surgery on his foot.
 
"Every coach dreams of coaching guys like Tony," said Bristow, who now spends most of the year in Naples, Fla., but also has a home near Yorktown in Virginia.
 
"Always at practice. Always attentive. Never an attitude. Never any excuses. Always the first in the gym for practice. Always the last to leave. Always doing community things."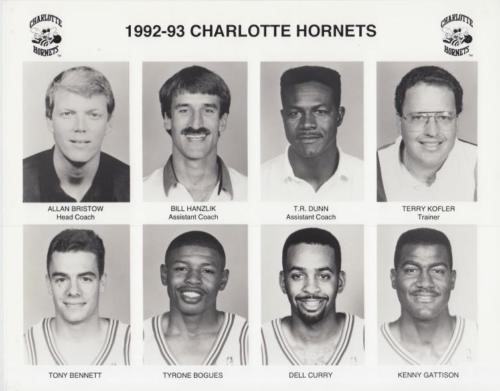 It was easy to see, Bristow said, that Bennett had grown up around the game.
 
"You could tell that he knew what to do, especially off the court, and he know how to put in the time," Bristow said. "He was always one of those kind of guys you want your daughter to marry, and I mean that sincerely."
 
Bristow laughed. "I wish I could say something bad about him, but I can't."
 
After his NBA career ended, Bennett played and coached in New Zealand before joining his father at the University of Wisconsin, where the younger Bennett served as a volunteer manager on the team that reached the Final Four in 2000.
 
Bennett became one of the Badgers' assistants in 2000-01 and later succeeded his father as head coach at Washington State.
 
That Bennett went into coaching did not surprise Bristow, who grew up in the Richmond area and still has family in Virginia.
 
"I was probably surprised how quickly he rose up the coaching ladder," Bristow said. "He had success [at Washington State], and of course I know about the University of Virginia and the standard of the ACC.
 
"I guess I'm not shocked, but it's hard to turn a program around. Very few coaches can do what Tony did, a very select few, and Tony has that ability."
 
Bristow also remembers his conversations with Dick Bennett, a revered coach who would attend the Hornets' games when his schedule permitted.
 
"You just felt like you were talking to a 25-year-older Tony," Bristow said. "They were almost exactly alike."
 
Bristow's daughter and her husband are William & Mary graduates who lived for a year in Charlottesville. His son-in-law is in the U.S. Army and worked at the Judge Advocate General's Legal Center and School, which is located in the University's North Grounds area.
 
"We spent as much as time as we could visiting them in Charlottesville," Bristow said. "What a neat place to live."
 
This is Bennett's 10th season at UVA. In each of the past six he's guided the Cavaliers to the NCAA tournament, where they've had mixed results. In 2018, as the basketball world knows, UVA became the first No. 1 seed to lose to a No. 16 seed, falling to UMBC in Charlotte, of all places.
 
Bristow was among those who marveled at Bennett's grace after that stunning defeat. 
 
"I was amazed," Bristow said. "I sat there in awe, and I was so proud that I knew him, and I told him that. I told him he could win championships — and he will — and I could never be more proud than I was about the way he handled himself after the game."
 
This is the Wahoos' first Final Four appearance since 1984, and they advanced to Minneapolis in unbelievable fashion. In the Elite Eight, Mamadi Diakite forced overtime with a buzzer-beating jump shot, and UVA went on to beat Purdue in Louisville, Ky.
 
"Tony needs to patent that last-second play to tie game," Bristow said, laughing.
 
The Cavaliers' next challenge comes Saturday night. At 6:09 p.m. Eastern, in the first NCAA semifinal, UVA (33-3) meets Auburn (30-9) at U.S. Bank Stadium. The winner will take on Michigan State (32-6) or Texas Tech (30-6) for the NCAA title Monday night.
 
"We'll be watching," Bristow said.