Jeff White's Twitter | Subscribe to UVA Insider Articles | Video Highlights | Box Score | ACC Championship Site | Matt Riley Photo Gallery
By Jeff White (jwhite@virginia.edu)
VirginiaSports.com
 
CHARLOTTESVILLE – The new coaches who arrived at the University of Virginia in the summer of 2016 knew all about the storied history of its men's lacrosse program. They knew, too, that much work awaited them at UVA.
 
From Brown, head coach Lars Tiffany brought with him his two assistants: Kip Turner and Sean Kirwan. Turner had been part of the Cavaliers' glory days, starting in goal on the unbeaten team that in 2006 captured the program's fourth NCAA title. (Virginia won its fifth in 2011). 
 
Turner, who made the All-ACC team in 2007, returned to UVA, he said, because "I wanted to do whatever it takes to help bring this program back to where it was."
 
On a steamy afternoon at Klöckner Stadium, the Wahoos took another step toward that goal Saturday. In the ACC championship game, top-seeded UVA thrashed third-seeded Notre Dame, 10-4, before an appreciative crowd of 4,489.
 
"We just left everything out on the field in this game," said senior midfielder Ryan Conrad, who was named the tourney's MVP. "We deserved that win."
 
The ACC tournament title was the Cavaliers' first since 2010. They also defeated Notre Dame during the regular season, but this win was considerably more satisfying. In last year's ACC championship game, also at Klöckner, the Fighting Irish had humbled the Hoos, 17-7.
 
"It just means that we're on the right track," said Turner, who oversees Virginia's goalies and faceoff specialists. "We're not perfect. We're not really that close to perfect, but we've got a gritty group of guys that care about each other, and that's why it means a lot for me to be back with this group."
 
One of those guys is defenseman Logan Greco, a fifth-year senior from New York. In each of Greco's first three seasons in the program, UVA went 0-4 in ACC play. 
 
"To get from there to this point has been truly special," Greco said Saturday, "and that's just a testament to the culture change we've undergone here under Coach Tiffany, and to the guys in the locker room. I know it's cliché to say, but we've really become a brotherhood."
 
In 2018, their second season under Tiffany, the Hoos finally broke through in the ACC, defeating North Carolina during the regular season.
 
"The relief we felt was just like a giant weight that came off our shoulders and allowed us to play more freely," Greco said.
 
Virginia went on to defeat Syracuse in last year's ACC semifinals before stumbling against Notre Dame in the championship game. This year, after winning the ACC's regular-season title, the Cavaliers defeated UNC and Notre Dame in the conference tourney.
 
"It just shows how far we've come," said junior midfielder Dox Aitken, one of four Cavaliers named to the all-tournament team, along with Conrad, junior defenseman Jared Conners and sophomore attackman Matt Moore.
 
"I remember being on the outside [of the ACC tournament] looking in my freshman year," Aitken said. "Last year we made a pretty big stride. We were in this game. I just think we didn't have the energy last year, and it was new to us. So I think that memory definitely gave us a couple mental scars, and we tried to embrace that all week and make that a strength and not a weakness, and I think we did that."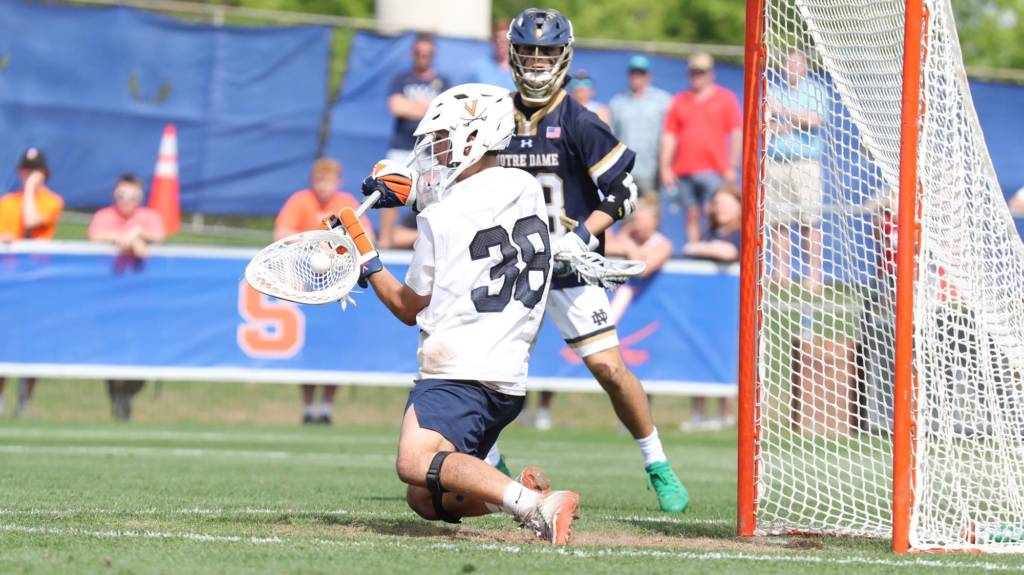 Alex Rode
Aitken led the Hoos (13-3) with three goals Saturday, and Conrad added two. Junior Michael Kraus, an All-ACC attackman, had a game-high two assists for UVA. The story of this game, however, was the Cavaliers' defensive effort against an opponent that came in averaging 11.6 goals per game.
 
"Top to bottom, our defense stood on their head," Conrad said. "We would not have won that game if they hadn't done what they did."
 
Virginia forced 23 turnovers and relentlessly rode the Irish (8-6), who were only 15 of 22 on clears. In the cage, sophomore Alex Rode made 11 saves for the Hoos.
 
"Huge effort by Alex," Tiffany said.
 
Nearly three months earlier, in its season opener, Virginia had allowed 17 goals in a one-sided loss to Loyola in Baltimore. Nine days later, the Cavaliers gave up 14 goals in a loss to High Point at Klöckner Stadium, a defeat that dropped their record to 1-2.
 
"Something that Coach Tiffany really harps on is, who can improve the fastest?" Conners said. "It's a race to improve. The beginning of the season, we knew that wasn't going to define us, and we knew that we had a lot of ground to cover and a lot of work to do. So it was back to the grindstone from there. We knew we could it, and we knew we had the talent to do it. It was just whether or not we were going to put in the work to get there."
 
Greco said: "We thought we were going to be a good defense at the beginning of the year, and we didn't show it right away. But I think this game shows we can be a good defense."
 
Tiffany agreed, calling it "a major statement for our team defense."
 
He referenced the struggles of 2017, when opponents regularly shredded the Cavaliers' defense. Virginia gave up 20 goals to Duke, 18 to Johns Hopkins, 18 to Cornell, 17 to Penn, and 15 to Loyola that season. The Hoos improved last year, when they advanced to the NCAA tournament for the first time since 2015.
 
"I didn't want to claim that I was also defensive coordinator that first year," Tiffany said, smiling. "We've come a long way. I give credit to this group of men for still believing in me after that first year. It culminated today with our decision-making of when to slide to the man being dodged, and when not to. That decision-making has taken years to hone."
 
Virginia's other heroes Saturday included Petey LaSalla, a 5-7 freshman who saw at halftime that his Notre Dame counterpart, Charles Leonard, had a 6-3 edge in faceoffs. LaSalla won 7 of 9 draws in the second half, including 5 of 5 in the third quarter.
 
"I just wanted to turn that around," LaSalla said, "and I came out hot."
 
That's nothing new for LaSalla. For the season, he's won 59.9 percent of his faceoffs.
 
"He's been great all year," Aitken said. "Petey's just a gamer, and when there's a big faceoff, he usually comes up with it, and hopefully that keeps going."
 
Look for the Cavaliers to be back at Klöckner for their NCAA tournament opener next weekend. The NCAA field will be announced Sunday night, and Virginia figures to be one of the top four seeds.
 
Virginia has divided the season into three parts. In the first, the Cavaliers won the ACC regular-season title. They capped the second by capturing the ACC tournament. Now comes the NCAA tourney. 
 
"We're ready for the next chapter," Conners said.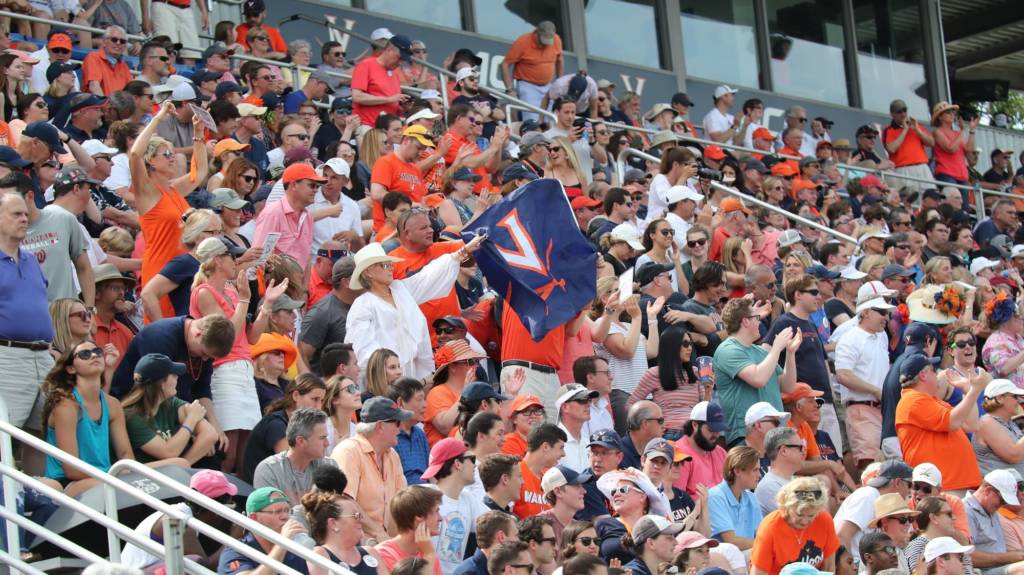 SOUND BITES: After losing seven straight to Notre Dame, Virginia has won the past two games in the series. Among the postgame comments:
 
* Conrad on the atmosphere at Klöckner Stadium: "It's amazing having these fans come out here and support us. We try and focus more internally on just being the best team we can, but having these fans come out here and support us is amazing, and I hope they keep doing it."
 
* Tiffany: "This is what college lacrosse is supposed to look like, and what a setting. So thank you to all the Virginia faithful who came out today and supported us and really propelled us to this win."
 
* Rode: "When you're winning faceoffs and the offense is playing great, it makes it easier, but the close defense and the D-mids and the [long-stick middies] are just playing really locked down. When both sides are playing well, it's nice.
 
* Greco on the significance of the ACC championship: "I don't think I could put it into words that could do it justice. I feel like I'm out of my body right now."
 
* Conrad: "Something we've been focusing on through the whole year is playing our best lacrosse in May, and I think we've done that so far."
 
* Conrad: "I think we took a big step last year by getting our first ACC win and an appearance in the ACC championship, and I think we're taking another big step here by getting the championship [this year]. I'm hoping we can take another few steps in the [NCAA] tournament."