May 9, 2019
By Jeff White (jwhite@virginia.edu)
VirginiaSports.com
CHARLOTTESVILLE – To the audience, it wasn't apparent, but Oghenakpobo Efekoro was shaking inside as he stood next to Melissa Stark on the stage at John Paul Jones Arena.
It was May 1, and they were co-hosts of the Hoos Choice Awards. For Stark, a University of Virginia alumna, such an assignment was nothing new. She's a veteran TV reporter who now appears on the NFL Network.
The ebullient young man who goes by Pobo is many things – a graduate student in UVA's Frank Batten School of Leadership and Public Policy, one of the elite throwers in NCAA track & field, an accomplished chess player and teacher, among them – but on this night he was an amateur working with a pro.
"It was probably one of the most nerve-wracking things I've ever done," said Efekoro, who stands 6-2 and weighs about 340 pounds.
"He told me when we started rehearsal that he was so nervous," Stark recalled. "I said, 'Well, don't pass out, because I can't catch you.' "
However anxious he might have been, Efekoro has learned how to perform in pressure situations, and he came through again at JPJ. He handled himself with poise, mixing insight with his booming laugh in front of an audience made up of UVA coaches, administrators and student-athletes, as well as other people watching online.
"He was a total natural," Stark said. "It's not easy to get up in front of a thousand people, especially your peers and coaches, and deliver the way he did. We ad-libbed most of it. He's very funny, witty and, most important in my eyes, he took it very seriously. He cared so much."
None of which surprised anyone who knows Efekoro, who transferred to UVA after his freshman year at the University of Connecticut.
"He's one of a kind," said Martin Maric, a former Olympian who coaches the Cavaliers' throwers.
Efekoro earned his bachelor's degree in foreign affairs from UVA last spring and will graduate next weekend with a master's from the Batten School. He hopes to walk the Lawn as a conference champion.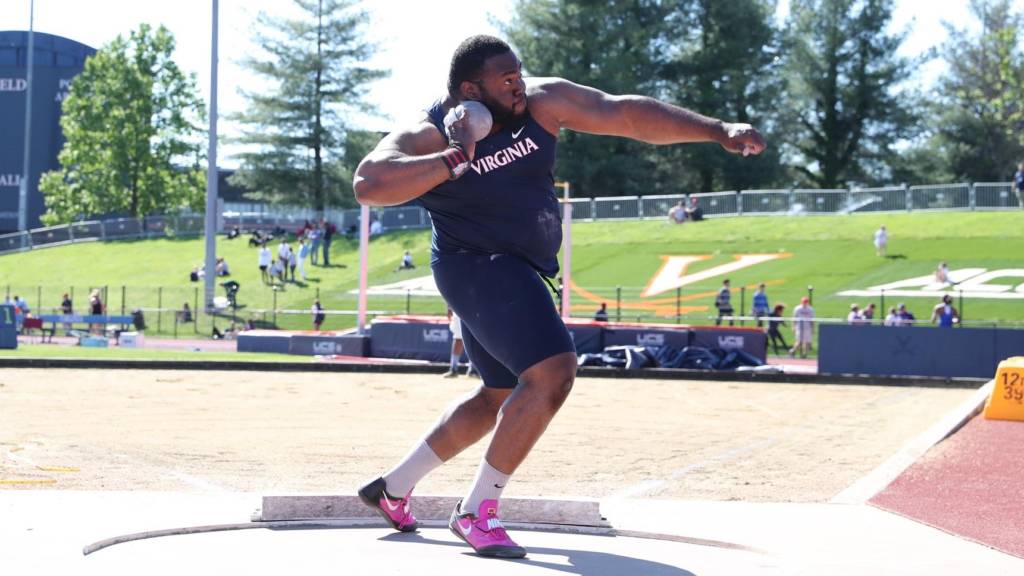 The ACC outdoor track & field championships started Thursday afternoon at UVA's Lannigan Field. Efekoro will compete in the shot put and the hammer throw on Friday and the discus on Saturday.
"As massive of a frame as he has, his personality is probably bigger, and bigger in a very positive way," said Bryan Fetzer, director of UVA's track & field and cross country programs. "He has the ability to make people feel comfortable."
Jade Baker, one of Efekoro's fellow throwers, can attest to that.
"Pobo is kind of like a brother to me, in that he's always been extremely supportive," said Baker, a senior who holds the UVA women's record for the hammer throw. "He'll go out of his way to ask how you're doing. He does have this larger-than-life persona, but he's also one of the most personable people you'll ever meet. Whether he's in front of a thousand people or he's one-on-one with you, he's just the same."
Because of Efekoro's size, a "lot of people honestly are probably scared of him, but he's just this sweet little nerdy kid who can nerd out with you about anything," Baker said, laughing.
Efekoro, 22, was born and raised in the Bedford-Stuyvesant neighborhood of Brooklyn, N.Y. His mother is from Nigeria, as was his father, who died when Efekoro was four years old.
When Efekoro was five, a cousin introduced him to chess. Efekoro was hooked. When he was nine, he started playing competitively under the tutelage of Thomas Haggins, a revered coach who passed away recently.
For much of Efekoro's childhood, his brother, Ovie Inuwere, was away serving in the Navy. Haggins "really took me under his arms, and he was really a father figure to me," Efekoro said.
"He drove me to chess tournaments when my mom couldn't take me, when she was working on Saturdays, and he took me back home. He watched out for me so many times."
At Intermediate School 318, a middle school in Brooklyn, Efekoro played on a chess team that traveled extensively outside of New York and won multiple national championships. The team was featured in an award-winning documentary, Brooklyn Castle, Efekoro later appeared on the Steve Harvey Show, Jon Stewart's The Daily Show and The Today Show.
Bedford-Stuyvesant can be a rough place, Efekoro said, and chess "was my way out in Brooklyn. I was able to do something that would take me out of the neighborhood and do something that was constructive."
During high school, Efekoro traveled from Brooklyn to Queens and back each day. Queens' Forest Hills High offered a better education than his local school in Brooklyn, Efekoro said. He would awake on school days at 5:30 a.m. and be on the train to Queens by 6:20. He'd usually make it to school right before his first class started at 7:20 a.m.
"At the time it was kind of tough, but it was a rewarding experience, finding a way to get up early in the morning and motivating yourself," said Efekoro, the first member of his immediate family to graduate from college.
While he was in high school, Efekoro worked on President Obama's re-election campaign in 2012. He helped residents register to vote and tried to arrange transportation to the polls for them if they needed it.
"I'd come home from high school and go into the office, and I'd be in the office for the rest of the night," Efekoro said. "I wouldn't go home until about 11. Then I'd sleep for five hours and then get back on the road and then go back to school the next morning.
"It's all about getting as many people to the polls as possible and driving up that voter turnout. But that wasn't the only thing that we did. We did a lot of things outside New York. We'd make phone calls into Pennsylvania and Ohio on behalf of Obama, and in Ohio, on behalf of Obama and on behalf of Senator Sherrod Brown, who was also running for re-election at the time."
As a "fall fellow" on the campaign, "I pretty much got my own team to run," Efekoro said. "Which is kind of crazy, because I'm running a team, and I'm 16 years old, and I'm trying to organize middle-aged people. But we did it."
He also spent time knocking on doors in the Philadelphia area, asking residents if they were registered to vote.
"It was great, getting to interact with people. I think that's one of the great things about politics, being able to sit down with someone and understand what they're going through in their lives and empathize with them," Efekoro said. "And I think empathy's so lost in today's age in politics. We're so divided, by red and blue, and we're just unable to empathize with people across the aisle."
Lightly recruited by prominent track & field programs, Efekoro ended up at UConn.
"I loved it there," he said. "I thought it was a great university. I loved the community, but I felt like I wasn't going to enjoy my experience as a college student there if I wasn't able to fulfill my athletic potential. So I decided to just leave."
At UVA, he joined a team that's become known for producing elite throwers –– from NCAA champion Filip Mihaljevic to Jordan Young to Hilmar Jonsson, who on Friday will try to win his fourth straight ACC title in the hammer throw.
In the shot put, Efekoro is a three-time first-team All-American. At the NCAA championships, he placed third indoors in 2017, fourth outdoors in 2017, and sixth outdoors in 2018. He ranks second all-time at UVA in the shot put, both indoors and outdoors; third all-time in the weight throw, an indoor event; and fourth all-time in the hammer throw, an outdoor event.
Even so, Fetzer said, Efekoro has been "sort of overlooked in the grand scheme of things in our throws program, because of the fact that we've had Filip and Jordan Young and Hilmar. It's kind of one of those things that he probably hasn't received the acclaim from the athletic perspective as much as he would have at other places. But he's been such a key component to how well we've done."
For all his success at the NCAA championships, Efekoro has yet to win an ACC title.
"I think this is his year," Maric said.
Efekoro said: "That would be a great way to end my competitive career at UVA, because it'll be the last time I ever compete as a student-athlete at Lannigan Field. So it would be a great way to send out, as like a parting gift, to win a conference championship, and obviously it would be good to help the team as well. That's always the number one goal."
His eagerness to compete in three events – two of which he rarely practices — reflects Efekoro's commitment to the team.
"He doesn't throw discus or hammer much at all, but he wants to score more points for the team," Maric said, "and he's so strong and powerful and fast that he can still do it."
Efekoro has been timed at 4.9 seconds in the 40-yard dash, Maric said, and "can squat 720 pounds like it's nothing."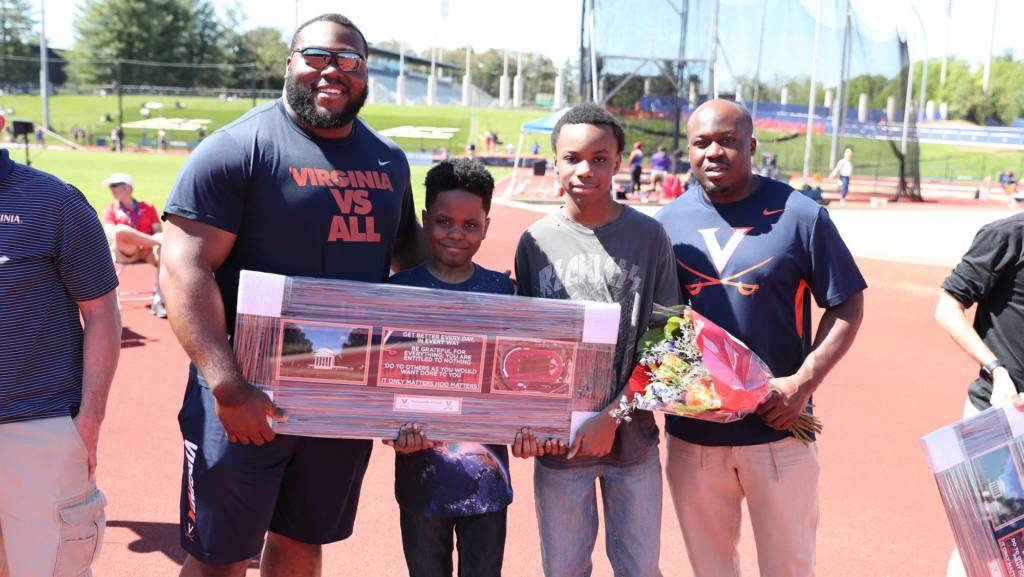 Chess remains an integral part of Efekoro's life, even if he doesn't compete regularly. Since the fall of 2017, he's taught chess at Charlottesville Day School, whose students range from two-year-olds to eighth-graders.
"Life is just a chess game, right?" said Efekoro, who teaches an older group for one hour each Monday and second- to fourth-graders for two hours each Wednesday.
"There's so many different aspects of chess that can carry over to life. One is the fact that you have constantly make decisions every day about what you're going to do. So chess does a really good job of teaching you how to understand certain patterns and certain familiarities, so as to speed up the decision-making process.
"Say you're a beginner chess player. You have no idea what you're doing, and it means that on every move you have to spend a decent amount of time being able to think about what you're doing. But once you recognize patterns of certain situations on the board, then it speeds up the decision-making process, because then you say, OK, this position looks familiar. This position automatically triggers X move."
Also, Efekoro said, in tournaments "you have to play chess with a clock, and it's the same exact thing in life. Chess really forces you to make the best decision in a certain amount of time, given the time constraints. That's another element to life that people really don't think about. You're not on this planet forever, so you cannot sit there forever and never make a decision. You have to choose at some point."
On Grounds, he's thrived in the Batten School.
"He truly fits the Batten mold," Baker said. "He's really a leader. He belongs there."
When track & field season ends, Efekoro will head to Falls Church, where he's accepted a job with Maximus, a company that works closely with the federal government. He served an internship with Maximus last summer in which he analyzed market data, Efekoro said, "looking at trends and understanding who were the potential competitors out in the market for contracts that my team was trying to bid for in the future."
In Northern Virginia, he'll continue to train in the shot put. Efekoro has dual citizenship, and his goal is to throw for Nigeria in next year's Olympics.
"He has a really good shot," Maric said. "If he stays healthy, as he is right now, I think he should be not even just make it to the Olympics, I think he could be in the finals, which is something incredible."
Whatever the future holds for Efekoro, he'll leave an enormous legacy at UVA, and not only because of his prowess in track & field.
"He brings so much more to the table than an ability to throw something far," Fetzer said, "and that is a special thing."