By Jeff White (jwhite@virginia.edu)
VirginiaSports.com
CHARLOTTESVILLE – When he enrolled at the University of Virginia in January 2016, would Hilmar Jonsson have predicted he'd win four ACC titles in the hammer throw?
"Probably not, because I didn't even know what the ACC was," Jonsson said with a smile Friday night at Lannigan Field.
Jonsson, who's from Reykjavik, Iceland, learned quickly about competing in the Atlantic Coast Conference, and he's put together a legendary career at UVA. Virginia is hosting the ACC outdoor track & field championships, and on the second day of the three-day meet, Jonsson made history.
He's the first hammer thrower –– from any school –– to win four consecutive ACC crowns. Filip Mihaljevic is the only other Cavalier to have won four ACC men's outdoor titles in one event. He won the discus in 2014, '15, '16 and '17.
Jonsson's winning throw of 72.84 meters (239 feet) was more than 12 feet longer than that of the ACC runner-up's throw Friday.
"It just shows how great of a thrower he is and how world-class actually he is," said Martin Maric, a former Olympian who coaches the Cavaliers' throwers. "And he's only 23 years old. The world is his oyster, from here on."
Heading into the meet's final day, UVA leads the men's competition with 77 points. Virginia Tech is second, with 60 points, and Florida State is a distant third, with 34.5.
On the women's side, Virginia is tied for third with 34 points.
The UVA men have won five individual titles so far at Lannigan Field. Jordan Scott finished first in the long jump Thursday, and fellow junior Brenton Foster won the high jump on Friday. Scott will try to add a second title Saturday, in the triple jump.
Throwers have accounted for the Cavalier men's other three titles. Freshman Ethan Dabbs won the javelin Thursday night, setting ACC meet and UVA school records with a throw of 76.04 meter (249 feet, 6 inches).
On Friday afternoon, redshirt senior Oghenakpobo Efekoro, better known as Pobo, won the shot put with a throw of 19.32 meters (63 feet, 4.75 inches). The ACC title was the first for Efekoro, a three-time first-team All-American in the shot put.
"Last home meet ever as a Virginia student-athlete," Efekoro said. "I think that's the best feeling, doing it in front of friends and family and coaches and professors who were here watching me.
"It's a big honor to win a championship, and it's a huge honor to be a part of this program and the great things we've done here."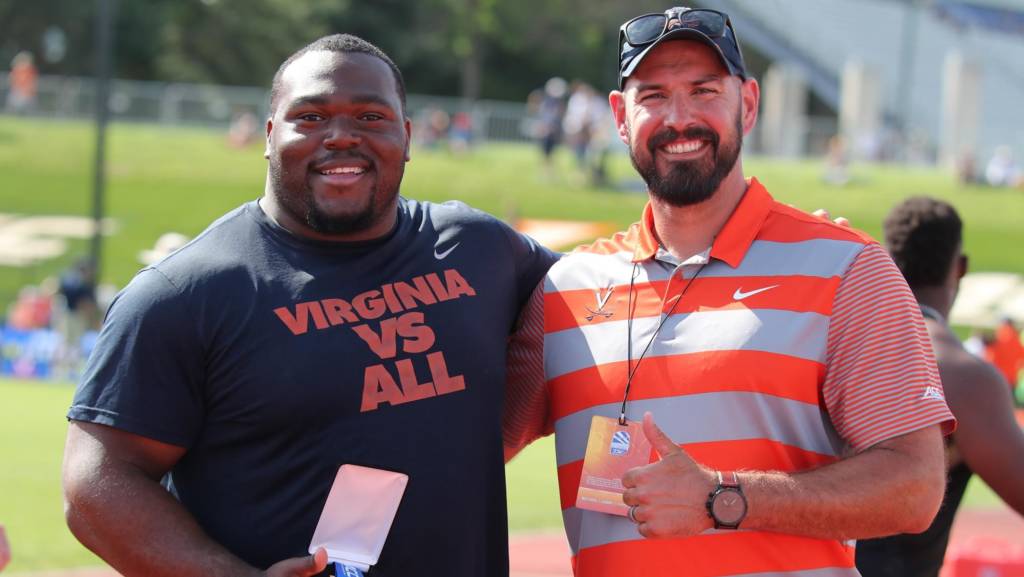 Oghenakpobo Efekoro (left) and Martin Maric
He didn't throw as far as he'd hoped, but "I think about today as just doing my job," Efekoro said. "I was supposed to get 10 points [for a first-place finish]. The team was counting on me to get 10 points. I got 10 points. It doesn't matter how it looked, 10 points is 10 points, and you go on and you just prepare for the next competition."
The Wahoos picked up another 10 points in the hammer throw with Jonsson's victory, and they'll have an opportunity to earn more Saturday morning in the discus, in which Efekoro, Nace Plesko and junior Ryan Singer will compete. Plesko, a senior from Slovenia, placed sixth in the shot put Friday afternoon.
"This is incredible," Maric said of his throwers' performance, "and this just shows how much depth they have and how good they are. They push each other all the time, and they're professionals when it comes to sleeping, school, everything. That goes into the results. It's not an accident."
Virginia has become known for its elite throwers. In 2017, when the Cavaliers finished a program-best third at the NCAA men's outdoor championships, throwers accounted for all of the team's points in Eugene, Ore. Mihaljevic swept the shot put and discus titles, Jordan Young placed third in the discus, Jonsson finished fourth in the hammer throw, and Efekoro was fourth in the shot put.
Mihaljevic and Young were seniors that season, and each left UVA as a 10-time All-American. Mihaljevic won three NCAA titles during his Virginia career.
"It's unbelievable," Jonsson said of UVA's throws program. "They just keep coming. We think we're about to go into decline, because we lose good talent. But someone steps up and someone takes someone else's place. It's just been absolutely amazing to be a part of this group."
The throwers knew they needed to make a huge contribution if UVA was to contend for the men's championships, and they've delivered.
"it just comes down to showing up and doing our job, and that's what we aim for the whole year," Jonsson said.
Maric said: "It's big pressure to have that baggage that you have to perform and you have to do well. But the guys are enjoying it. They just want to have fun, and that's when the great things happen, when you're relaxed and loose."
Dabbs has followed the example set by the program's veteran throwers and alumni such as Mihaljevic and Young.
"I think that kind of put into perspective for him how much more serious he has to be," Maric said. "Ethan's a hard-working kid. He took that really, really well and continued to work and have that winning mentality."
Efekoro feels fortunate to be part of the group.
"It's truly a community here," he said. "We all work together to push each other and motivate each other. I think not only is this one of the best throws programs in the country, but we truly are a family here, and I think that's the most important thing. We spend a lot of time with each other. We have dinner with each other. We always have a throwers night. We spend a lot of time with each other. We know each other's parents, and we're truly a family, and I think that's what makes Virginia Throws so special."
On the women's side, senior Marija Bogavac finished third in the javelin, and senior Jade Baker set a school record in the hammer throw, both on Thursday. Baker placed seventh in her event.
On Friday night, sophomore Brittany Jones placed third in the shot put, despite being by far the smallest of the competitors.
"Her nickname is Dynamite, because she's so explosive and technical," Maric said.
His nickname for Jonsson? Mr. Consistency.
"I guess it's a curse and blessing," Jonsson said, smiling, "because you get these big throws every once in a while, but in the meantime you're throwing distances you're not necessarily happy with, but you're throwing them a lot."
Jonsson, who ranks second nationally in the hammer throw, had special guests cheering him on Friday: his parents, his girlfriend and his younger brother, all of whom made the trip from Iceland.
They saw Jonsson foul on his first throw, after which "I got really nervous," he said. "I'm really proud that I was able to calm down and get a good throw in."
Now that he understands what the ACC is, Jonsson realizes that what he's done is "a big achievement, and I'm proud of myself, and also proud of the team."