NCAA Tournament Bracket | Video Highlights | Jeff White's Twitter | UVA Game Notes
By Jeff White (jwhite@virginia.edu)
VirginiaSports.com
 
CHARLOTTESVILLE –– As a former University of Virginia lacrosse player who's now an assistant coach at his alma mater, Kip Turner links the program's past and present.
 
Turner, who starred at goalie on the unbeaten UVA team that won the NCAA title in 2006, hears regularly from fellow alumni, and not only former players from his era.
 
Most of these messages, Turner said, have a common theme: We're really proud of you guys.
 
"I think more than anything our alums, especially the ones that talk to me, are like, 'Man, you guys play really hard,' " Turner said, "and they're really proud to see that portion of Virginia lacrosse be back in action, just the scrappiness on ground balls and the never-give-up mentality. I've gotten a lot of text messages complimenting our guys on that."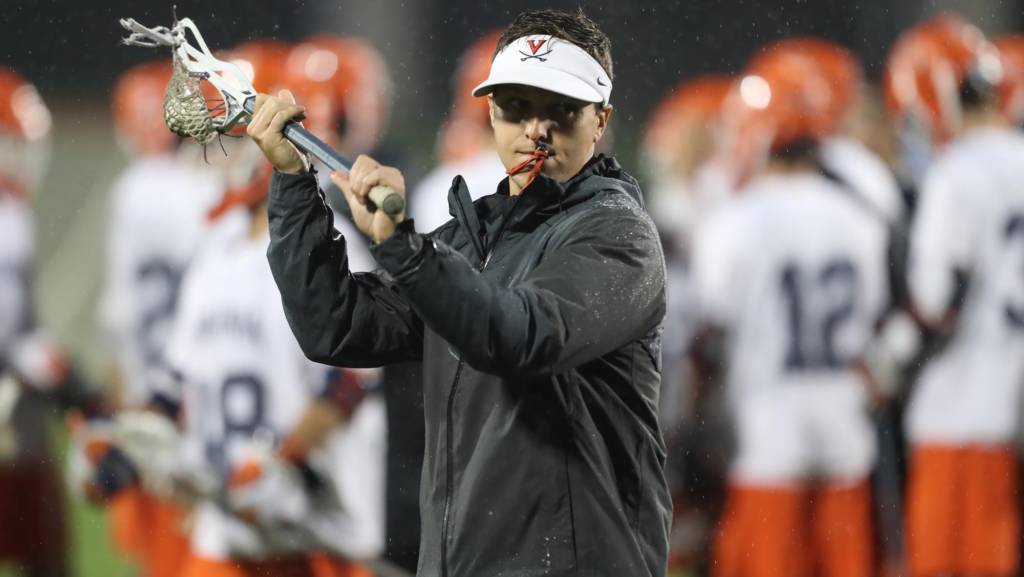 Kip Turner
 
In May 2012, some 11 months after defeating Maryland 9-7 in Baltimore to capture the program's fifth NCAA title, Virginia edged Princeton 6-5 at Klöckner Stadium. That sent the Cavaliers to the NCAA quarterfinals, where they lost to Notre Dame, the start of an uncharacteristically rough stretch for one of the sport's storied programs.
 
Nearly seven years passed before UVA won another NCAA tourney game. The breakthrough came last Saturday night, when Virginia routed Robert Morris 19-10 in a first-round game at Klöckner.
 
That victory moved the Wahoos to the NCAA quarterfinals for the first time since 2012. At noon Saturday, third-seeded Virginia (14-3) meets former ACC rival Maryland (12-4) at Hofstra University's James M. Shuart Stadium in Hempstead, N.Y., with the winner advancing to next weekend's Final Four in Philadelphia.
 
The Hoos missed the NCAA tourney in 2013, '16 and '17. They reached the NCAAs in 2014, '15 and '18, but lost in the first round each time. Two of those losses – to Johns Hopkins in '14 and '15 – were blowouts.
 
For former players following the program, those were trying times, former UVA midfielder Billy Glading said. "Speaking for myself, from the moment I started to have an interest in lacrosse in grade school, all the way through when my last brother got through playing, in all those years Virginia was just a force to be reckoned with."
 
Glading won an NCAA title at UVA in 2003. His brother Danny earned a championship ring with the Cavaliers in 2006, and their youngest brother, Pat, received one in 2011.
 
It was difficult, Billy Glading said, to see the program become "a little bit of an afterthought. I never thought in all those years there would come a time when I'd be getting older and say, 'I played lacrosse at Virginia,' and people would be like, 'Yeah, so what? They stink.'
 
"It just felt not right for all of us to be seeing what we were seeing. It was nice to see so many other schools stepping up and competing, rather than just the top dogs that were always in the mix, but it wasn't nice that it was kind of coming at our expense. We sort of always expected to be at the top there. There was frustration and there was confusion, for sure."
 
Henry Oakey was a fifth-year senior midfielder on the UVA team that in 1999 won the program's first NCAA title in 27 years. Like Glading, Oakey said the Cavaliers' decline was especially painful for the program's alumni.
 
"You knew everybody was working hard to get the ship right, but it just wasn't happening, though not for lack of effort," Oakey said. "That's hard to watch. It's something that everybody puts a lot of time into, and it's kind of yours for a little while, and then you pass it on to the next group, and it's hard to watch it when they're struggling out there. But the lacrosse landscape has changed a lot since 20 years ago. I think everybody would recognize that."
 
In this decade alone, three first-time NCAA champions have been crowned: Loyola in 2012, Denver in '15, and Yale in '18.
 
"There's more talent out there, and the talent isn't as concentrated," Oakey said. "We had guys that sat the bench for four years that could have gone somewhere else and been a two-time All-American. But if you're stuck behind [former UVA great] Michael Watson, you're not getting in. It's just not going to happen."
 
Glading agreed. "There's great coaches all over, and there's better players all over. It's a different landscape."
 
The 2016 season was the last at Virginia for Hall of Fame coach Dom Starsia, who guided the program to four NCAA titles. UVA's handling of the coaching change displeased many of Starsia's former players.
 
"It was kind of tough to watch the way things played out with Dom," Oakey said. "That was just not the way anybody wanted to see that happen. It would be dishonest to say it didn't leave a bad taste in a lot of guys' mouths.
 
"Nonetheless, we're all Virginia guys, right? We want to see the program do well, and we were rooting for the train to get back on the tracks right away. It was hard to watch when I didn't feel like we athletically matched up with some of the teams we were playing against, and it seems like that's changed. We're sort of back to being able to stand toe to toe with the big guys out there."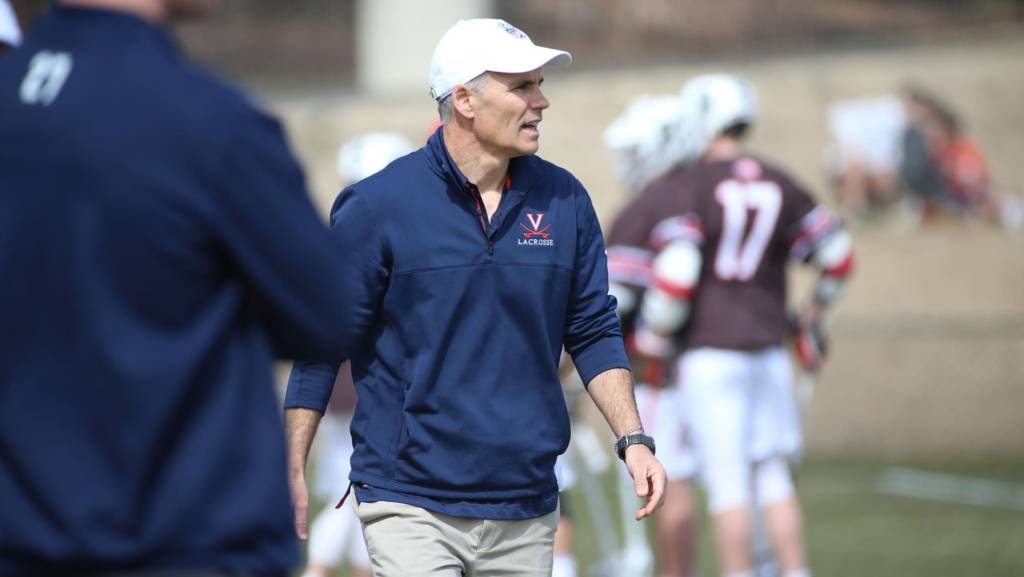 Lars Tiffany
The Cavaliers finished 7-8 in 2016 and, for the second straight season, went winless against ACC opponents. Lars Tiffany, who played for Starsia at Brown, succeeded his mentor at UVA in June 2016.
 
Tiffany came to Charlottesville from Providence, R.I., where in 10 seasons as Brown's head coach he posted a 95-56 record, with three trips to the NCAA tourney, including a Final Four appearance in 2016. Tiffany brought his assistants — Turner and offensive coordinator Sean Kirwan – with him from the Ivy League school.
 
In 2017, the Hoos' first season under the new coaching staff, they finished 8-7 overall but again went 0-4 in ACC play. In 2018, however, signs of progress emerged. 
 
That April, UVA collected its first ACC win since 2014, defeating North Carolina 15-12 in Chapel Hill. For the first time since 2013, the Cavaliers qualified for the four-team ACC tournament, in which they knocked off Syracuse in the semifinals before losing to Notre Dame in the championship game.
 
Virginia had a short stay in last year's NCAA tournament, falling 14-12 at Loyola in the first round, but the foundation had been laid for the team's success this season.
 
Since losing to High Point on Feb. 18, the Cavaliers have stumbled only once, against longtime nemesis Duke on April 13. Virginia, many of whose players are Starsia recruits, captured the ACC regular-season title and then defeated UNC and Notre Dame to win the conference tournament for the first time since 2010.
 
"It just means that we're on the right track," Turner said after the championship game. "We're not perfect. We're not really that close to perfect, but we've got a gritty group of guys that care about each other."
 
The program's alumni have noticed. Michael Leahy, one of Oakey's teammates on the 1999 team, is now head coach at Woodberry Forest. When he spoke to Leahy this week, Oakey said, they agreed "that the best teams we played on were committed to each other in a way that they just loved playing for one another, and it seems like these guys have bought into that and want to try to take this thing to the next step again. So that's exciting for us to watch."
 
Many former players needed some time to move on from Starsia's exit from UVA, but Turner said he never sensed a lack of support for the program.
 
"They just want to see us be successful, and it's the mark of a really good and strong alumni base," Turner said. "They want to the team to be successful and the guys in the program be successful and be successful after college as well.
 
"They want this program to be healthy, and it's starting to return to that level, which is nice."
 
Texts and emails, as well as phone calls, keep former UVA teammates connected.
 
"We have been talking and keeping a close eye on the program," Glading said, "and we're very excited with how things have sort of turned around here.
 
"It's been fun to watch. I feel like I want to watch lacrosse again. It seems like this team is full of a bunch of great guys, good leaders, super-talented players, and it's just nice to see them really competing, and the wins are coming."
 
Standing in the Cavaliers' way this weekend is a program with which they have a long history. Starting in 1950, UVA and Maryland played each other at least once in 65 consecutive seasons. The Terrapins moved from the ACC to the Big Ten in the summer of 2014, and this will be their first game against the Hoos in five years. The Terps won the NCAA title in 2017.
 
Oakey's teammates at UVA included Tucker Radebaugh, whose two brothers played at Maryland.
 
"So that was always a big one for Tucker, and he put the spurs to us and made sure it was a big one for us, too," Oakey said. "But no one really needed any extra incentive to beat Maryland. That was always a big rivalry for us. Always. You knew it was going to be a tough game, too. Physically, you knew you were going to be hurting afterwards."
 
Oakey, who lives in Charlottesville, won't be at the game Saturday. Along with his friend Carrington King, he coaches a girls lacrosse team that's playing in a tournament in Northern Virginia this weekend. 
 
King played at Maryland. 
 
"So I'm sure whoever loses is buying dinner at the next tournament for the winner," Oakey said, laughing.