Jeff White's Twitter | UVA Game Notes | Video Highlights | Matt Riley Photo Gallery | NCAA Tournament Bracket
By Jeff White (jwhite@virginia.edu)
VirginiaSports.com
 
PHILADELPHIA –– For the University of Virginia men's lacrosse team, a season that began on a brisk February day in Baltimore will end in balmy conditions Monday afternoon about 100 miles away in Philadelphia.
 
As temperatures have changed over the course of the season, so have the Cavaliers improved. They no longer resemble the defensively challenged group that opened the season Feb. 9 with a 17-9 loss to Loyola and then, nine days later, fell at home to High Point.
 
That setback dropped Virginia's record to 1-2. Since then, the Wahoos have lost only once, to Duke on April 13, and they avenged that defeat Saturday afternoon in the NCAA semifinals.
 
"I think the team has been building all year," sophomore goalkeeper Alex Rode said Sunday. The Hoos, who swept the ACC's regular-season and tournament titles, trust "each other," Rode said, "and it shows on the field and off the field."
 
In 1972, when Glenn Thiel was its head coach, Virginia captured the first of its five NCAA titles in this sport. Under Hall of Fame coach Dom Starsia, the Hoos were crowned in 1999, 2003, 2006 and 2011.
 
Now comes an opportunity for UVA to collect a sixth championship. At 1 p.m. Monday, third-seeded Virginia (16-3) meets fifth-seeded Yale (15-3) in the NCAA final at Lincoln Financial Field. ESPN2 will televise the game.
 
These programs haven't met since 1991, but their head coaches know each other well. Lars Tiffany, who succeeded Starsia at UVA after the 2016 season, played for Starsia at Brown and later spent 10 seasons as head coach there. The Bears' Ivy League rivals include Yale, which is in its 16th season under head coach Andy Shay.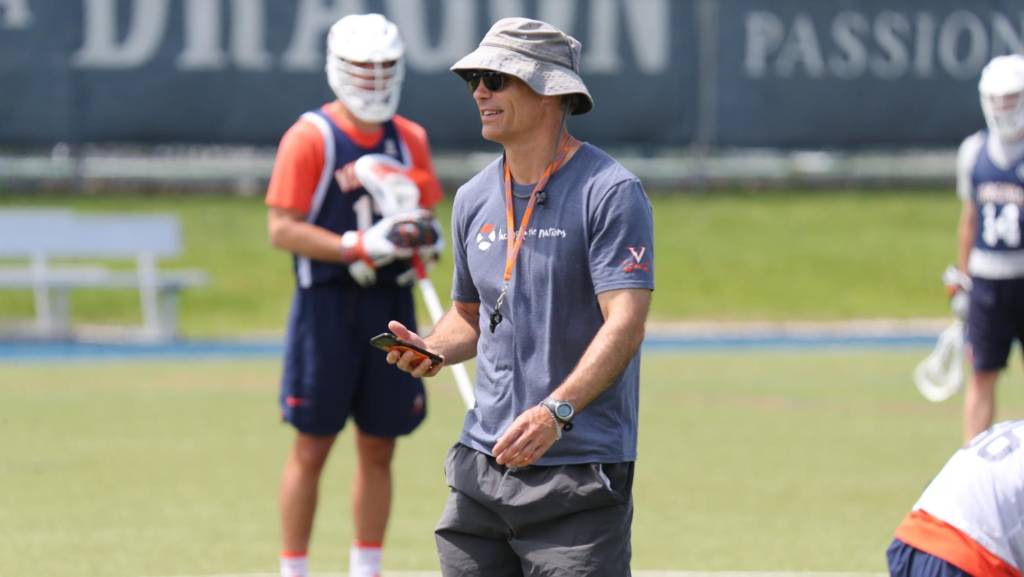 Lars Tiffany
The Bulldogs are defending NCAA champions, and they're coming off a stunning semifinal victory over top-seeded Penn State. Yale scored 10 goals in the first quarter Saturday and went on to defeat the Nittany Lions 21-17.
 
This Yale team, Tiffany said Sunday, reminds him of the Brown squad he guided to the Final Four in 2016. Those Bears, who lost 15-14 to Maryland in the NCAA semifinals, featured two superb faceoff specialists (Will Gural and Ted Ottens) and an All-America goalie in Jack Kelly. Brown looked to push the pace whenever possible, as have the Bulldogs this season.
 
"When you have those two key positions filled with elite players, why not give up 40 or 50 shots if you have a goalie that can make those saves?" Tiffany said. "Why not have games with 40 faceoffs if you can win 70 percent of them?"
 
In TD Ierlan, the Ivy League player of the year, Yale has the nation's top faceoff specialist. Ierlan, a 5-9, 175-pound junior, spent two years at Albany before transferring to Yale after the 2018 season.
 
He's won an astonishing 76 percent of his draws this season. Against Penn State, he won 28 of 39.
 
With a weapon such as Ierlan, Tiffany said, "why not push the tempo and play super fast? If you're a little overaggressive and the other team scores a goal, the mentality is, 'Oh, well, the other team may not see the ball [again] until we've scored four more.' "
 
His numbers aren't as eye-catching as Ierlan's, but Virginia's top faceoff man, Petey LaSalla, has sparkled this season, too, winning 60 percent of his draws. 
 
A 5-7, 195-pound freshman from Long Island, N.Y., LaSalla missed most of UVA's first-round game in the NCAA tournament with an illness, and junior Justin Schwenk filled in admirably for him that night, winning 22 of 28 draws in a 19-10 win over Robert Morris at Klöckner Stadium. 
 
Back at full health for the NCAA quarterfinals, LaSalla won eight of the final nine faceoffs May 18 as UVA rallied for an overtime win over Maryland in Hempstead, N.Y. Against Duke, which came to Philadelphia having taken 11 straight in the series, LaSalla won the final eight faceoffs in Virginia's double-overtime victory. 
 
The Cavaliers trailed Maryland by five goals early in the fourth quarter. They trailed Duke by two with a minute left in the regulation. In each game, LaSalla's dominance at the faceoff-X helped UVA overcome a substantial deficit.
 
"We knew coming in that this kind of environment, with a ton of fans and a lot of pressure, it wasn't really going to faze him too much, just because of how hard-nosed and gritty of a player he is," said Virginia senior Ryan Conrad, a first-team All-America midfielder. "It doesn't seem like anything he really fazes him. He just goes down for the faceoff, he wins it and gets off the field."
 
Tiffany said: "We're watching him in front of our very own eyes emerge as an elite faceoff man. Now, obviously, he's going against the elite faceoff man and maybe the elite faceoff man in the past decade and … maybe in the history of the game of college lacrosse, so this will certainly be a big obstacle for our entire team and Petey himself."
 
The Cavaliers' coaching staff has studied Penn's success against Yale this season. The Quakers edged the Bulldogs 13-12 in triple overtime during the regular season and 12-11 in the Ivy League championship game. (Their third meeting produced another one-goal classic, with Yale prevailing in overtime in last weekend's NCAA quarterfinals.)
 
The key for Penn against Yale, Tiffany said, was Kyle Gallagher's success on faceoffs. Gallagher won 48 of 95 draws in those three games, and that allowed "Penn to earn possessions, as opposed to most teams who have played Yale," Tiffany said.
 
At his press conference Sunday, Shay said Yale feels like it's "squarely the underdog against" Virginia. The Cavaliers might not agree. Their players aren't as experienced on the national stage. This is UVA's first appearance in the Final Four since 2011. Moreover, Yale's firepower concerns Virginia. In its three games in this tourney, Yale has scored 26 first-quarter goals.
 
Still, Tiffany has immense faith in his team. The Cavaliers are 5-0 in overtime games this season, and in each one they trailed in the fourth quarter.
 
" 'Never rest' is the mantra of this team, because we never give up," Tiffany said.
 
"If you heard us on the sidelines during those games in the fourth quarters, you would hear very positive talk. As a reasonable, rational person, it may not make sense to you, what you hear us saying when we're down three or five with five minutes to go, but this group really believes it."
 
The Cavaliers' culture has steadied improved during Tiffany's tenure, Conrad said, "and I would say that's the key to our success, frankly. We've always had great players, we've always had the talent to do special things, but adding that trust and that culture and the ability to really just enjoy every second with each other and with our teammates is really the reason why we're so successful. We have full and absolute trust in our system and our teammates, and without that, you're not going to be as successful as we've been this season."
 
Many of UVA's players were recruited by Tiffany's predecessor, Starsia, with whom he remains close. They spoke on the phone Sunday morning.
 
"I'm just grateful that I get to be with these fantastic men, and I'm with these men because of Dom Starsia," Tiffany said. "It's been a magical ride."