Jeff White's Twitter | Subscribe to UVA Insider Articles | UVA's 2019 Statistics
By Jeff White (jwhite@virginia.edu)
VirginiaSports.com
 
CHARLOTTESVILLE –– He turns 51 on Saturday, and Father's Day follows on Sunday. For University of Virginia men's lacrosse coach Lars Tiffany, this is no ordinary weekend, but for reasons that have little to do with his birthday.
 
In late January, Bradford Tiffany –– U.S. Marine, Korean War veteran, restaurateur and bison rancher –– died at the age of 85 in Albemarle County.
 
"My first Father's Day without my father," Tiffany said.
 
In spirit, though, Bradford Tiffany remains an enduring presence in his son's life. Throughout UVA's recent run to the NCAA championship, Lars Tiffany carried a long wooden lacrosse stick with him nearly everywhere he went. When Tiffany holds the stick, or sees one of his players with it, he's reminded of his father, from whom he inherited an abiding interest in and reverence for Native American culture.
 
Lars and his brothers, Hudson and Peter, grew up in LaFayette, N.Y., about 10 miles south of Syracuse, on a 250-acre dairy farm that their parents converted into a buffalo ranch. The ranch was near the Onondaga Nation reservation, where many of Tiffany's classmates at LaFayette High School lived and where as a boy he was introduced to the sport that would become such a central part of his life.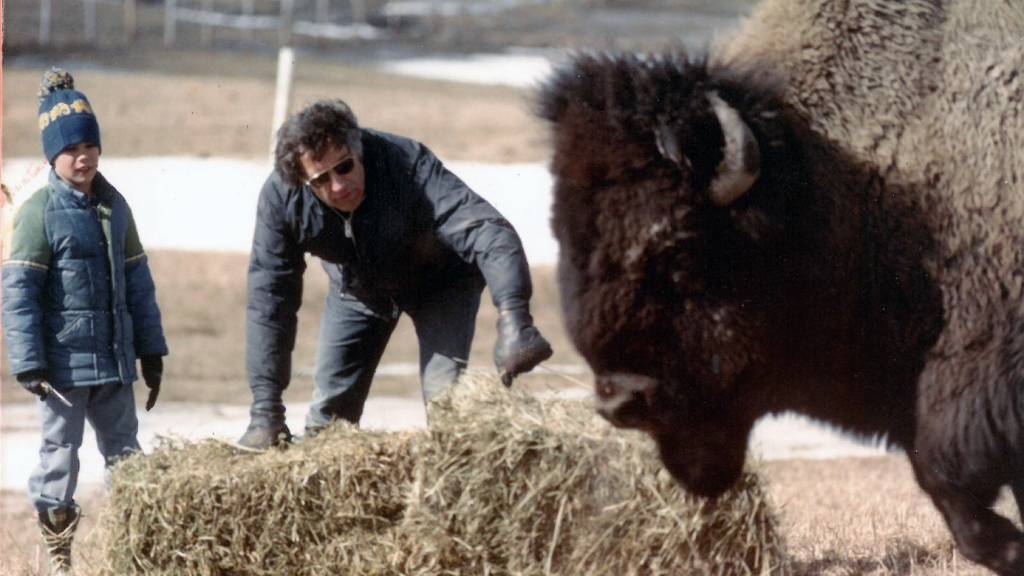 Lars Tiffany (left) with his father, Bradford, and buffalo
 
"I was fortunate to grow up in a setting where lacrosse is very important and more than just a sport to the Onondaga people," Tiffany said. "Their cultural values, family values, come through the sport with Onondaga people."
 
The Onondaga reservation is also home to the workshop of Alfie Jacques. A former star on the LaFayette High boys lacrosse team –– which, to Tiffany's delight, won New York's state Class D title this month –– Jacques is a master craftsman who makes wooden sticks by hand. (Most sticks used in competition today have aluminum, composite or titanium shafts and plastic heads.) 
 
In 2018, Bradford Tiffany placed an order with Jacques for a stick that was meant to be a Christmas present for Lars.
 
"It wasn't a total secret," Lars recalled, "because I can remember my dad, a few months before his death, telling me, 'I have another present for you, but it takes Alfie a long time to build a stick.' So it wasn't a total surprise, but it wasn't something I was thinking about."
 
In late December, the elder Tiffany suffered a debilitating stroke, and "communicating with my dad became very, very limited in the last month of his life," Lars said. "So I had forgotten about the stick."
 
Bradford Tiffany died on Jan. 28. His burial was postponed until the spring, when the ground in Central New York would not be frozen, but the family held a funeral service for him in early February in his native Binghamton, N.Y. Afterward, Lars and his siblings gathered for a meal at a restaurant, next door to the spot where their grandfather once owned a grocery store.
 
"As we're all leaving –– one brother heading to Pittsburgh, one to New Hampshire, and myself to Charlottesville –– Joe Solomon, one of my best friends growing up, who happens to be Native American, said,' 'Hey, I've got something for you,' " Lars recalled. "So we went out to the truck and he handed me this stick, and he said, 'This is a gift from your dad.' "
 
Tiffany won't soon forget the emotional impact of that moment.
 
"I'm getting a gift from the other side," he said. "I'm getting a gift from my dad at his funeral. Somebody said, 'We gotta put this up on the wall and preserve it,' and Joe Solomon said, 'No, no. These sticks were built to be played with.' "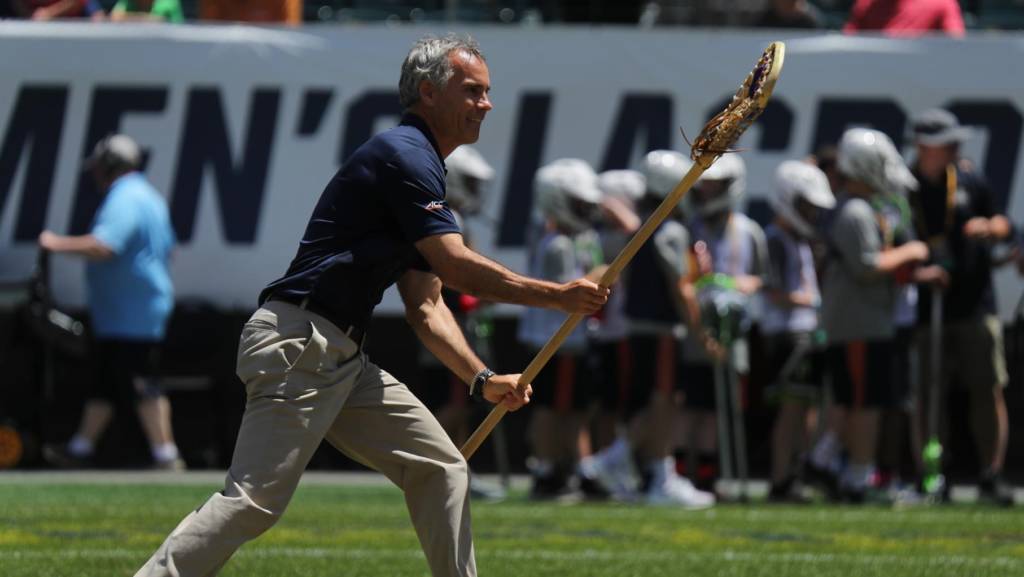 And so Tiffany's stick took on a prominent role during a season that ended in Philadelphia, where Virginia defeated Yale 13-9 on Memorial Day to capture the program's sixth NCAA title.
 
From New York, Tiffany brought the stick back with him to Charlottesville, where it was "incorporated into the team fold," he said. "We practice with it, and I run around with it."
 
The day after every game, the stick would be placed in the locker of the UVA player who'd displayed the most grit and toughness in the game. Defensive midfielder Matt Dziama received the stick for a pivotal play he made late in Virginia's comeback win over North Carolina in the ACC semifinals.
 
"That was an easy one," Tiffany said, "when concerns for self-preservation are tossed aside and you literally do whatever it takes to earn a ground ball, earn a possession."
 
Dziama, who graduated from UVA last month, said the honor "definitely meant a lot.  First of all, having that stick made by the Native Americans was just kind of cool, because it's the Creator's game, and not a lot of people, even lacrosse people, get to experience that."
 
To the Cavaliers, Dziama said, the stick represents a commitment to "working your hardest and playing game how it should really be played, in terms of hustling and playing with love and playing for your brothers and making some of those sacrifices on the field and off the field for a greater purpose than just going out there and playing some lacrosse."
 
Bradford Tiffany did not have a background in lacrosse, but his relationships with Native Americans in the Syracuse area helped spark Lars' interest in the sport. As a boy, his father had read about the slaughter of bison in the West and "made a pact with himself that some day he would help the buffalo population increase," Lars said.
 
That day arrived in the late 1960s, after Bradford Tiffany opened the Scotch 'N Sirloin restaurant in Dewitt, N.Y., near Syracuse. "When he got his restaurant up and running, he and Mom purchased 17 buffalo from a ranch in Montana," Lars said.
 
About five years later, several chiefs from the Onondaga Nation reservation visited the Tiffany ranch, including Oren Lyons, a former Syracuse University lacrosse star who's a well-known advocate for Native American rights.
 
"My dad said, 'I've been waiting for you,' " Lars recalled, "and that's when the relationship was really initiated."
 
Bradford Tiffany agreed to provide the Onondaga people 11 buffalo, for six years, to start a herd. No contract was signed, but "one day a treaty showed up," said Lars, who still has the document, which is made of deerskin and, in colorful symbols, depicts the terms of the agreement.
 
"It's priceless," Tiffany said of the treaty.
 
The relationship, Tiffany said, "then puts me in this really cool position to be introduced into sort of the inner workings of the Onondaga people, because my father is revered as a very good friend … So I'm getting brought down to longhouse ceremonies as a boy, with my brothers, and being exposed to the inner circle of the Onondaga people."
 
Bradford Tiffany was buried in Binghamton on May 20, two days after UVA rallied for a stunning overtime victory over Maryland in the NCAA quarterfinals on Long Island, N.Y. The ceremony included a 21-gun salute. 
 
"There must have been 20 different representatives of the military there, and it was wonderful," said Lars, who brought his lacrosse stick to the ceremony.
 
Tiffany and his wife, Tara, have a daughter, Charlotte, who'll soon turn five. Charlotte joined her father on the field after the NCAA championship game and helped him snip off a strand of the net on one of the goals.
 
"It's incredible to be able to combine the two passions together: the passion of family with the passion of coaching the Virginia lacrosse team," Tiffany said. "To be able to bring those two together, I'm very fortunate and very lucky. It's fantastic that the [UVA] administration, our department, encourages it, and to share all that together."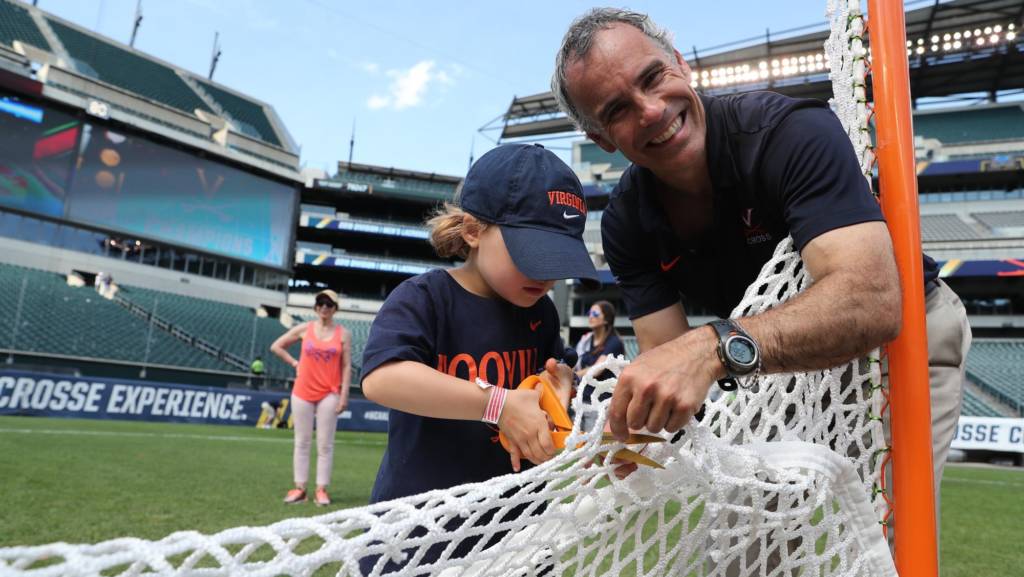 Tiffany with daughter Charlotte
 
His predecessor as the Cavaliers' head coach was Dom Starsia, for whom Tiffany played at Brown University and whom he considers another father figure. After graduating from Brown, Tiffany took an in-depth look at coaching, his future profession, while pursuing a master's degree at Le Moyne College.
 
"Dom Starsia was one of the people I interviewed as I was working on this thesis," Tiffany recalled, "and one of the questions that I had for these coaches was, 'How do you separate work from family?' I remember Dom's response: 'You don't.' There was no hesitation, and he lived it."
 
So has Tiffany. "That guidance has been with me ever since," he said, "and I've been fortunate that Tara and Charlotte accept my work as part of our family … It provides tremendous joy for me to have my two major passions in my life together as one."
 
On Memorial Day, after the final seconds ticked off the scoreboard at Lincoln Financial Field to seal Virginia's victory, Tiffany celebrated with his assistant coaches, his players, his wife, his daughter and many others. 
 
His mother followed the tournament on TV, and his father, had he been alive, would not have been in Philly either, Tiffany said. "His vision was very poor at the end, so he would have stayed home. He got a lot more from the telecast."
 
Still, his father was never far from Tiffany's thoughts during a weekend in which UVA knocked off its longtime nemesis, Duke, in the semifinals before defeating Yale for the NCAA title.
 
"What I really miss would have been talking to him [before the Final Four] to share the excitement of it all," Tiffany said. "And then certainly talking to him and seeing him post-championship and being able to share that with him would have been fantastic, getting that hug and that slap on the back of the neck he was always good at giving.
 
"That would have been wonderful. He was always a sports fan, and though he didn't play lacrosse himself, he was always a huge supporter."
 
That support lives on in the stick Bradford Tiffany had made for his son, who cherishes the gift. Rest assured, when the Wahoos start preparing this fall for the 2020 season, the stick will be with them, signifying all they aspire to in the sport.
 
"It will continue to be part of the Virginia lacrosse program," Tiffany said.