Photo Gallery | UVA Wrestling Roster | Schedule/Results | Video Highlights | Jeff White's Twitter | Subscribe to UVA Insider Articles
By Jeff White (jwhite@virginia.edu)
VirginiaSports.com
 
CHARLOTTESVILLE –– In his four seasons on the University of Virginia wrestling team, he's never lost a match at Memorial Gymnasium.
 
"I love Mem," Jack Mueller said Wednesday. "Mem's my spot."
 
That was before he wrestled for the first time at John Paul Jones Arena, better known as the home of UVA's basketball teams. Mueller is ranked No. 2 nationally at 125 pounds, and he was typically dominant Friday night in a dual meet pitting ACC rivals UVA and Virginia Tech in front of a boisterous crowd of 1,798 at JPJ.
 
"This atmosphere energized us," Virginia head coach Steve Garland said. "It was fun. It was exciting. The fans were into it, and I think our guys actually fed off it."
 
Mueller started the proceedings with a second-period pin of 13th-ranked Joey Prata, after which he flexed as the Wahoos' fans roared their approval. Among those in attendance was UVA's president, Jim Ryan.
 
"It was sweet," Mueller said of wrestling at JPJ. "There were a lot of Hokies out there in the crowd, and I was a getting a little nervous, but the Hoos showed up. The fans showed up, and I really appreciate that."
In their first dual meet at JPJ since Nov. 24, 2014, the Cavaliers fell 20-16 to the seventh-ranked Hokies. UVA (7-4 overall, 0-2 ACC) won four matches, to six for Virginia Tech (9-1, 1-1). 
 
"We were one match away from [defeating] the No. 7 team in the country," said Mueller, the NCAA runner-up at 125 pounds last season. "It's really uplifting, but it hurts. It hurts bad, because we know we could have done it. It just puts fire in our hearts."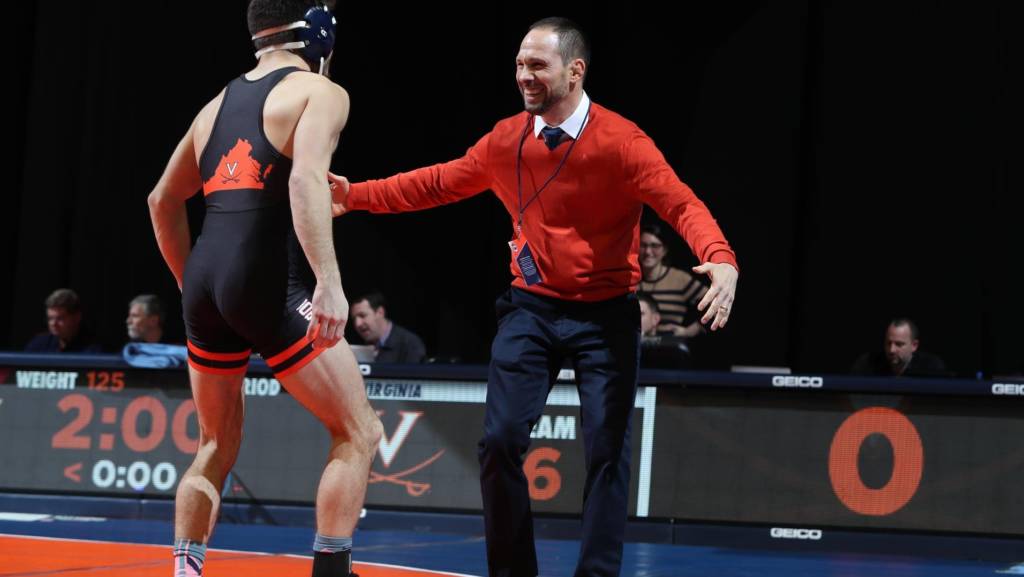 Steve Garland (right) congratulates Jack Muller
The Cavaliers' closest defeats were at 157 pounds, where redshirt freshman Justin McCoy lost 8-5, and at 174 pounds, where redshirt freshman Victor Marcelli lost 2-0. A win in either of those matches would have lifted UVA to victory in the dual meet. 
 
The Hoos' winners were Mueller at 125, redshirt junior Louie Hayes at 133, redshirt junior Jay Aiello at 197, and redshirt sophomore Quinn Miller (over No. 18 John Borst) at 285. Mueller's pin was worth six team points. Aiello won by major decision, which is worth four team points.
"We knew it was going to be really close," Garland said. "On paper, you hope you pull off the 5-5 [split in matches] and then get the bonus points, which we were able to get with Jack.
 
"We felt like we were in a great place. We won the swing match at '33 with Louie. He gutted that out. We're so proud of him. He's been so close in so many bouts this year, and to see him pull that out was really great. Obviously starting off the way Jack did was just perfect. [Prata is] a really strong kid, hard to wrestle, and Jack just went berserk. It set the tone.
 
"And then ending like that with Jay and Quinn, we feel like they're two of the best athletes on the team, and they showed it."
 
For the first time in ACC history, the conference has four teams ranked among the top 10 of the NWCA coaches' poll: No. 4 NC State, No. 7 Virginia Tech, No. 8 North Carolina, and No. 10 Pitt.
 
UVA opened its ACC schedule last weekend with a 28-9 loss to the Wolfpack in Raleigh, N.C., Mueller and Aiello, who's ranked No. 9 nationally, were the Hoos' only winners.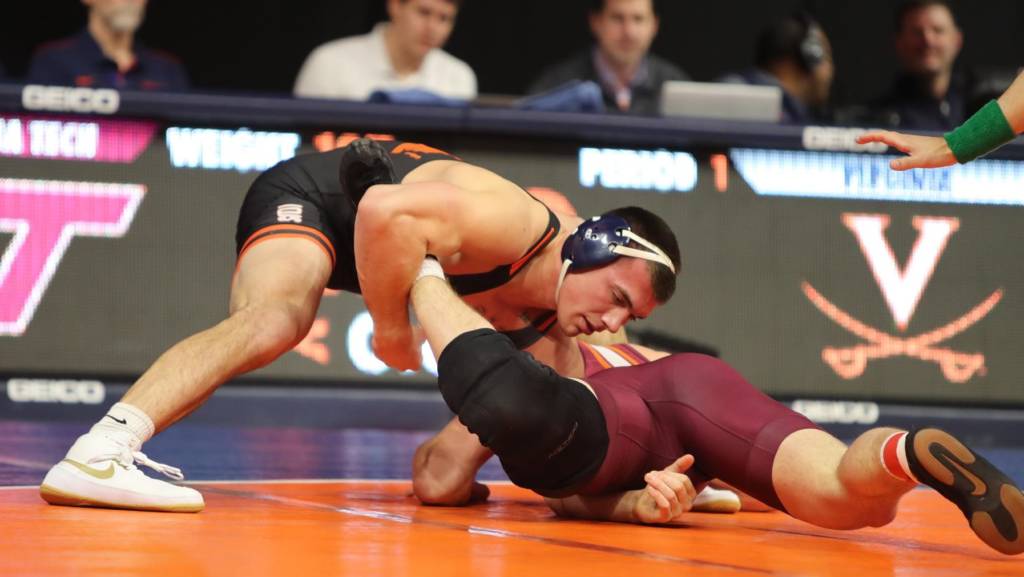 Jay Aiello
 
After that one-sided defeat, the coaching staff challenged UVA's wrestlers to perform better, "and they did," Garland said. "They responded in practice, and most importantly they responded in competition. I wanted to see these guys have a completely different mentality out there competing, and they did that tonight, and I'm really proud of them.
 
"I told them I've had a lot of kids that I've had strong affinities for in this program, guys like [George DiCamillo] and Nick Sulzer, and the list goes on and on, but collectively this is the group that I'm most excited to come to work for. This is the group that I'm most proud to be coach of, and I got emotional in [the locker room] when I was saying that, because I mean it. I've had some rough years. I've had some great years, too.
 
"This group of kids, they got humbled, and what do you do when you're humbled? I always tell these guys, you learn a lot more in the pit that you do on the mountaintop, and they were down there in the pit last week, and their ears and hearts were open to learning. And then they came out here and responded."
 
Mueller, a two-time All-American at 125 pounds, improved his career record to 82-13. He's 10-0 this season. He finished 21-1 in 2018-19, losing only to Iowa's Spencer Lee in the 125-pound final at the NCAA championships.
"I think last year I was laser-focused and I got things done," Mueller said, "but this year I'm older and smarter. I'm just better."
 
NO. 7 VIRGINIA TECH 20, VIRGINIA 16
125: No. 2 Jack Mueller pinned No. 13 Joey Prata (VT), 4:10 – UVA 6, VT 0
133: Louie Hayes dec. Collin Gerardi (VT), 5-3 – UVA 9, VT 0
141: No. 18 Mitch Moore (VT) dec. Brian Courtney, 10-4 – UVA 9, VT 3
149: Bryce Andonian (VT) major dec. Denton Spencer ,13-4 – UVA 9, VT 7
157: No. 18 B.C. LaPrade (VT) dec. Justin McCoy, 8-5 – VT 10, UVA 9
165: No. 5 David McFadden (VT) dec. Cam Coy, 5-1 – VT 13, UVA 9
174: Cody Hughes (VT) dec. Victor Marcelli, 2-0 – VT 16, UVA 9
184: No. 2 Hunter Bolen (VT) major dec. Michael Battista, 12-4 – VT 20, UVA 9
197: No. 9 Jay Aiello major dec. Stanley Smeltzer (VT), 13-4 – VT 20, UVA 13
HWT: Quinn Miller dec. No. 18 John Borst (VT), 6-4 – VT 20, UVA 16