Postgame Notes | Box Score | Video Highlights | UVA Men's Hoops on Twitter | Jeff White on Twitter | Subscribe to UVA Insider Articles
By Jeff White (jwhite@virginia.edu)
VirginiaSports.com
 
CORAL GABLES, Fla. –– Eleven days after edging Pitt by three points, seven days after beating Virginia Tech by three points, four days after defeating Duke by two points, the hottest team in ACC men's basketball found itself locked in another one-possession game. So what else is new?
 
"We're kind of tired of it," Virginia's Jay Huff said late Wednesday night, "but at the same time it's like we're ready, we're prepared and we know what we have to do."
 
In danger of losing to a mediocre Miami team that had to play the final 12 minutes without its leading scorer, point guard Chris Lykes, the No. 22 Cavaliers once again emerged victorious. 
 
With 8.3 seconds left, sophomore guard point Kihei Clark made both ends of a one-and-one to put UVA up 46-44. A game-ending defensive stop followed for the Wahoos, who remain in contention for a share of the ACC's regular-season title.
 
This marks the ninth consecutive season Virginia has won at least 22 games, a program record.
 
"We just trust in each other and try to persevere and get a stop at the end," Clark said. "Luckily we pulled it out."
 
The victory was the seventh straight for the Wahoos (22-7, 14-5), who are tied with Duke (24-6, 14-5) for third place in the ACC. Of those seven wins, only one was by more than three points: a 78-65 triumph over Boston College at John Paul Jones Arena. The other six wins were by a combined 13 points.
 
"We probably should finish some of these games out a little bit better," said Huff, who made three 3-pointers and scored 17 points Wednesday night, tying his career high in each category. "That one wasn't exactly the prettiest win, but at the same time [Miami] played well toward the end, and we'll take it."
 
A desultory crowd at the 8,000-seat Watsco Center witnessed a struggle between two offensively challenged teams. For the game, Virginia shot 36.7 percent from the floor; Miami, 36.3 percent.
 
With 6:52 to play in the first half, UVA became the first to reach double figures when Huff dunked off a pass from Mamadi Diakite. That made it 11-9 and pushed Huff's total to 11 points.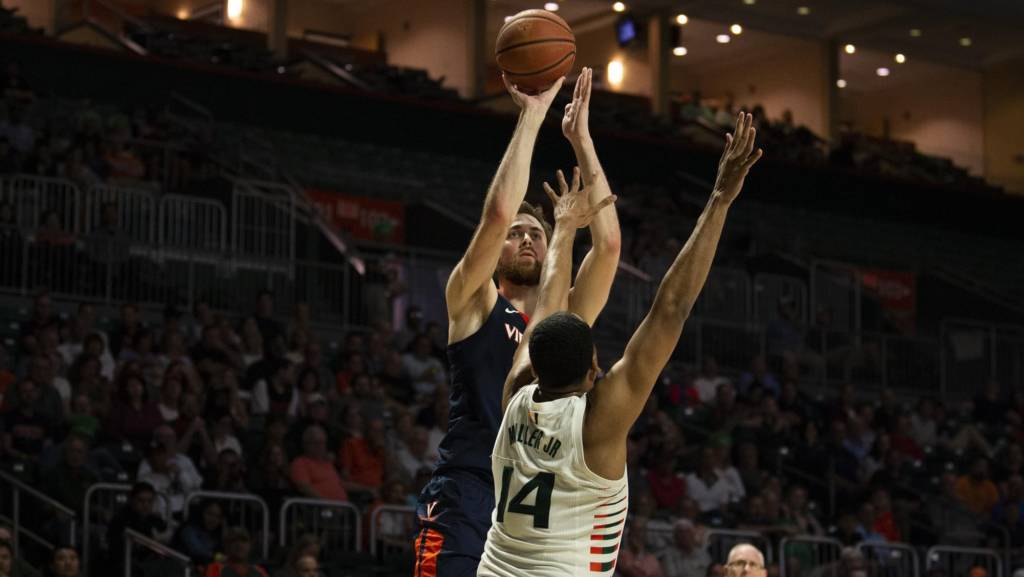 Jay Huff (left)
He was just warming up. A 7-1 redshirt sophomore from Durham, N.C., Huff was up to 17 points when another Cavalier finally scored, Clark on a 3-pointer with 3:18 left in the half.
 
"Jay got us going offensively in the first half," UVA head coach Tony Bennett said.
 
Huff, who didn't score in the second half, went into the break with 17 points. For the Hurricanes (14-15, 6-13) the breathtakingly quick Lykes, a 5-7 junior, had 14 points and appeared fully capable of matching the Hoos shot for shot.
 
"Kihei, who's been so good for us, just had a tough matchup with Lykes," Bennett said. 
 
Lykes, who missed only two shots in the first half, both from beyond the arc, played less than eight minutes after intermission. A former UVA recruiting target, Lykes took a blow to the face while contesting a Braxton Key layup and left the game with 12:11 remaining. 
 
Miami head coach Jim Larranaga said afterward that Lykes would be taken to the hospital for X-rays.
 
"I hope Chris is OK," Bennett said. "He's such a dynamic player. That changes their flow, too. They did a good job without him, but that's a key guy that they were without for the majority of the second half."
 
Even short-handed, the Canes refused to let the Hoos pull away. Virginia's largest lead in the second half was four, and with 2:14 to play, Miami's Keith Stone, who came in shooting 16.7 percent from 3-point range, hit a trey that made it 44-44.
 
"It was one heck of a basketball game, and then I messed it up at the end," said Larranaga, a former UVA assistant coach.
 
With 14 seconds left, Miami's Sam Waardenburg drove for a shot that missed. Virginia came down with the rebound and put the ball in hands of Clark, whom Miami's Harlond Beverly inexplicably fouled near midcourt. That sent Clark to the line for the decisive one-and-one.
 
"Fortuitous," Huff said, smiling.
 
"We'll take it any way we can get it," Bennett said. "I'm not going to apologize for the victory, but I understand the situation was unfortunate.
 
At his postgame press conference, a dejected Larranaga explained that he'd been upset about the no-call on Waardenburg's drive. "I was yelling to the referee, 'He got fouled, he got fouled,' and Harlond thought I meant for him to foul … Terrible way to end a game when you're in a position to win it."
 
Bennett said: "I feel bad for Coach Larranaga. I have great respect for their staff, and that's a hard way [to give up two points]."
 
After Clark's free throws made it 46-44, Virginia set its defense. Miami's DJ Vasiljevic missed on a well-defended drive, and UVA survived.
 
So many close games. For the Cavaliers, it feels like they've "been in this situation, what, 19 times now?" Huff said. "So we're not even nervous about it. It's almost funny at this point."
 
Clark led Virginia with four assists, but he also a team-high four turnovers and made only 2 of 8 shots from the floor. His second field goal put the Hoos up 43-39 with 4:42 to play.
 
"He made some big plays––made the free throws and made the shot––but he wasn't his normal self," Bennett said.
 
Fortunately for the Hoos, Diakite continued the strong play that's marked the second half of his final college season. The 6-9 fifth-year senior finished with 14 points and 10 rebounds, his third career double-double, and blocked a shot.
 
At one point, Bennett said, associate head coach Jason Williford told Diakite to stop falling away on shots and start attacking the basket.
 
"I thought he really did a good job going at the rim and making some big plays," Bennett said. "Just the fact that he was someone we could throw it inside to when the outside shot wasn't going in, and he could either draw a foul or get some easy baskets, was important."
 
Huff, coming off a career performance against Duke at JPJ, where he totaled 15 points, 10 blocked shots and nine rebounds, sparkled again. He contributed nine rebounds and raised his 3-point percentage for the season to 35.3.
 
"When we're struggling to score, we'll take it any way we can, and if we need it from the 3-point line from our 7-footer, or inside, it gave us a lift," Bennett said. "I thought [Huff] looked terrific with some versatility and inside-outside play."
 
TOUGH GOING: Tomas Woldetensae, a 6-5 junior who transferred to UVA last summer, leads the team with 51 treys and twice has hit seven 3-pointers in a game. 
 
Since making four 3-pointers against Boston College, however, Woldetensae is 3 for 17 from beyond the arc, in part because opponents have made shutting him down a priority.
 
"They're locked on to him," Bennett said. "It is opening some things up for some inside stuff and some other guys, but he really had a stretch where he was making shots, and, boy, that helped our offense get going. The few open ones he gets haven't gone in, and the window closes sooner, as his time [to shoot] is not the same that he had before. But he'll keep working, and he's made some nice passes, and I've got a feeling he's going to make some for us coming up here."
 
FAMILIAR FACE: Justice Bartley, a graduate assistant at Miami, greeted the Cavaliers when they arrived at the arena for shootaround Wednesday afternoon. Bartley lettered for the Cavaliers in 2016 and 2018.
 
SOUND BITES: The win was Virginia's sixth over Miami in the teams' past eight meetings. Among the postgame comments Wednesday night:
 
• Bennett: "This team has found ways [to win]. It hasn't always been the most aesthetically pleasing, but they've found ways."
 
• Bennett on his team's performance: "We weren't as sharp as we needed to be, and that was discouraging from that standpoint."
 
* Bennett, with a smile, on learning that Florida State, which is tied for first in the ACC, had rallied late to win at Notre Dame: "You broke my heart."
 
• Huff on the Hoos' confidence level in close games: "It's hard to say, 'We've got this,' because that does sound arrogant. But we just don't get nervous."
 
• Huff on the first half in which he was 3 for 4 from 3-point range (and 7 for 10 overall): "It was a fun feeling. Obviously, you kind of get in that zone. Second half, I couldn't get a shot to fall, and that's hard. But they also locked in on me, so it gave me opportunities to distribute and get other guys open.
 
AND THEN THERE WAS ONE: No. 22 UVA (22-7, 14-5) closes the regular season Saturday against No. 10 Louisville (24-6, 15-4) at John Paul Jones Arena. ESPN will televise the 4 p.m. game.
 
A Senior Day ceremony will precede the Louisville game. Recognized will be Mamadi Diakite and Braxton Key and student-managers Grant Kersey, Dave Gent and Cameron Lange.
 
"We're really excited," Huff said, "both to finish out the season on a win, hopefully, and to send Mamadi and Braxton off on a good note."
 
The Cavaliers, who lead the series 15-5, had won nine straight over the Cardinals before losing 80-73 at the KFC Yum! Center on Feb. 8. Woldetensae hit 7 of 10 shots from 3-point range and finished with a career-high 27 points for UVA.