Jeff White on Twitter | Subscribe to UVA Insider Articles | UVA Wrestling on Twitter | United World Wrestling
By Jeff White (jwhite@virginia.edu)
VirginiaSports.com
 
CHARLOTTESVILLE –– Tim Foley left his New York City apartment with his 19-month-old daughter, Quinn, and drove through the night to Virginia, hoping to elude the coronavirus that causes COVID-19. It caught him at his parents' home in Norfolk.
 
When he awoke the morning after his arrival, "it felt like I got hit by a truck," said Foley, a former All-American in wrestling at the University of Virginia. "I just felt like I was on a different planet."
 
His condition worsened. "I'd be with my daughter all day, and then as soon as her nap came, I'd lay her down and then immediately collapse and sleep the entire time she slept," Foley said. "And then the moment that she went to bed at night, I would just fall asleep. I was feeling terrible the whole week."
 
He laughed as he recalled the atmosphere in his parents' home. "My dad was asking my mom in hushed tones, 'Why isn't he doing work? He's such a lazy bum.' "
 
Eventually, Foley lost his sense of smell and taste. He could breathe normally but couldn't smell "garlic, bacon, poopy diapers, anything," he said.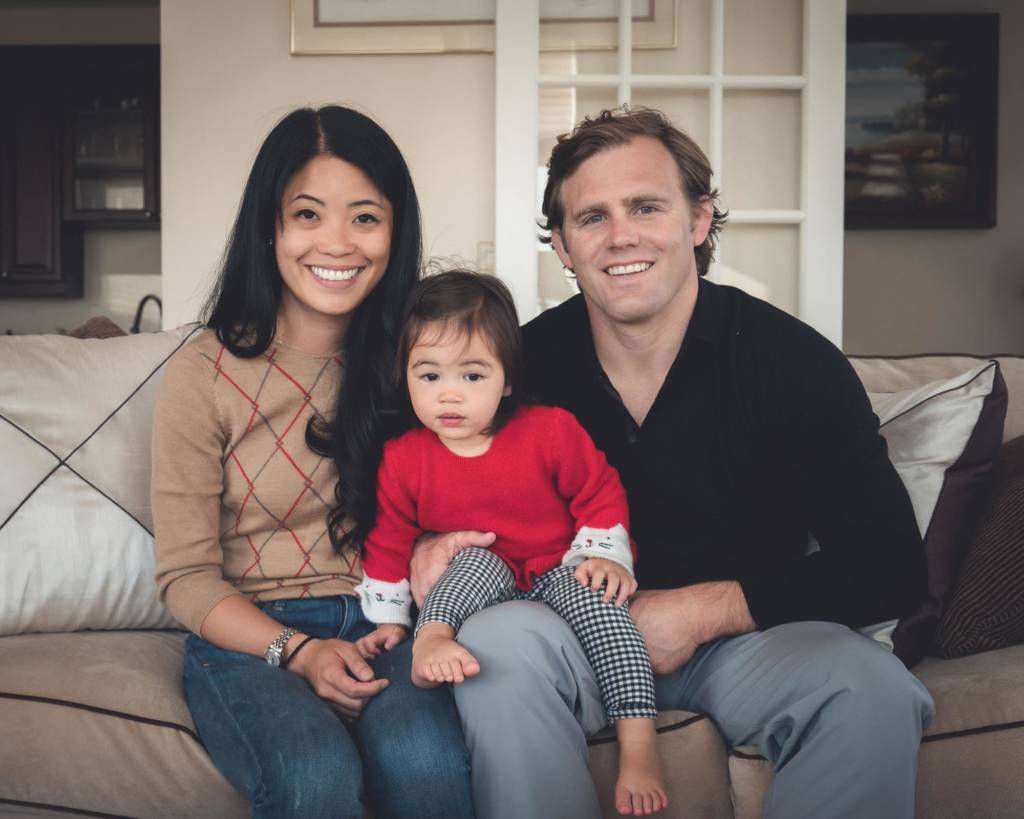 Tim Foley, wife Alison Louie and daughter Quinn
 
Foley thought he had a deep sinus infection, and his sister-in-law, a doctor, told him to try to clear his nasal passages, so he bought a neti pot. Then he came across a New York Times article that listed loss of smell as a possible COVID-19 symptom. By then, he'd also developed a slight cough and some chest pressure, so he went for testing at a nearby drive-through screening location. (It has since been shut down.)
 
Five days later, on March 22, Foley learned he'd tested positive for COVID-19. He's doing much better now, Foley said, but still worries about spreading the virus.
 
"I use my own bathroom, my own shower, my own towel," he said. "That's the big stuff, and then just wipe down after myself and keep away from my parents, distance-wise.
 
"I worry that I could get my parents sick, and I wouldn't wish that on anyone. I think that's the thing that keeps me up at night or bothers me the most."
 
 
Tests remain difficult to obtain, so Foley can't be sure he's free of the virus. But his parents, his daughter and his wife, Alison Louie, who joined the family in Norfolk last month, have shown no symptoms of COVID-19.
 
"I have my smell back and my taste back, thank God, but I cough a little bit now," Foley said. "So there's a lot of lingering uncertainty. My concern is not really for myself. It's for my parents and my wife, although my wife is crazy healthy, and my kid.
 
"I haven't hugged my parents since I arrived, just out of an abundance of caution, because of the risk that I could have been carrying it. I've been pretty good about wiping everything down, but it's stressful. You're just sitting around and waiting. Every morning when my parents wake up I just wait to hear a status report. Are they coughing? Are they feeling OK?"
 
Foley, senior manager of media operations for United World Wrestling, grew up in Stafford County and attended Brooke Point High School. At UVA, where his teammates included Steve Garland, now the program's head coach, he was a two-time ACC champion.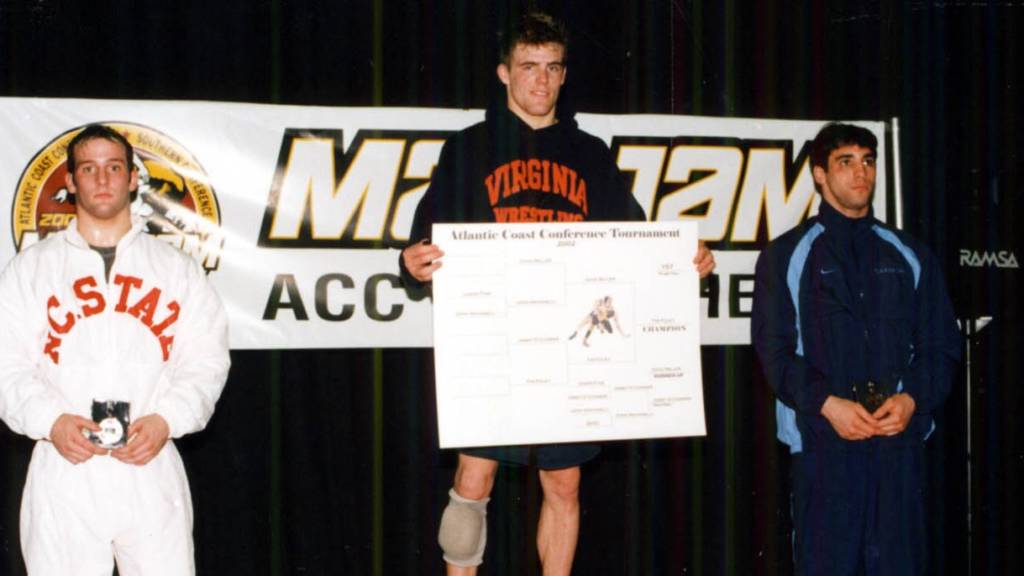 As a fifth-year senior in 2003-04, Foley placed eighth at the NCAA championships at 165 pounds, and with 112 career victories he ranks fourth all-time at UVA.
He also excelled in the classroom, earning Academic All-America honors in 2004. Foley has two degrees from UVA––a bachelor's in political science and a master's from the Curry School of Education––and a master's in journalism from Columbia University.
 
After growing concerns about the COVID-19 pandemic caused the stock market to plunge on March 11, Foley said, he grew concerned about staying in New York City. 
 
"With it being such an international city, I was feeling a little bit uncomfortable about what that could mean in terms of potential lockdowns," he said. "We have a nice apartment by New York standards, but it's 900 square feet. So having the three of us all together under one roof didn't seem like it was going to be functional. The next day, on Thursday, the stock market was terrible again, and it felt really bad. It felt like more cases were coming."
 
And so Foley decided to head to Virginia with his daughter. His wife, who works in credit sales for a bank, followed eight days later, and they're not sure when they'll return to New York.
 
"It's totally wait and see," Foley said. He and his wife are working remotely, "and I don't think we have any expectation of getting anywhere close to the city before May 1st, and I don't think it's really realistic before June 1st."
 
Foley no longer wrestles competitively, but he has a black belt in jiu-jitsu and trains four to five times a week. His fitness level probably accelerated his recovery from COVID-19, and when he's allowed to do so, he plans to donate plasma to help others infected with the virus.
 
In the meantime, he'll continue to take precautions to protect his family.
 
"It's just weird," Foley said. "I know that there's so much stuff to learn about this process, but it just feels like we're all half-swimming in uncertainty about how bad it is and if this could be a long-term thing. Does this come back and haunt you later in some minor way or some major way? It's just a worry."