Subscribe to UVA Insider Articles | Jeff White on Twitter | VirginiaSports.com Men's Basketball Page | UVA Men's Hoops on Twitter
By Jeff White (jwhite@virginia.edu)
VirginiaSports.com
CHARLOTTESVILLE –– Two are in North Carolina, one is in New Jersey, and the other is in Louisiana. The four of them have yet to be on the court together at John Paul Jones Arena, and when that day will arrive remains unclear.
The University of Virginia men's basketball program is adding four scholarship players for 2020-21: Jabri Abdur-Rahim, Reece Beekman, Carson McCorkle and Trey Murphy III. Abdur-Rahim, Beekman and McCorkle are high school seniors who signed with UVA in November. Murphy, a transfer from Rice University who has two years of eligibility left, signed this month.
In a typical year, they'd be looking forward to moving to Charlottesville in June and starting summer school at UVA––as well as workouts at JPJ with their new teammates and coaches. The COVID-19 pandemic, however, has disrupted schedules at the University and around the world.
"Everything is on hold," said Abdur-Rahim, a 6-7 swingman from Short Hills, N.J.
"It's just the way it is," said Murphy, a 6-8 forward from Durham, N.C. "I wouldn't say I'm frustrated, I'm just really excited to get to Charlottesville. I'm ready to meet my teammates and get to play with them and work with the coaching staff."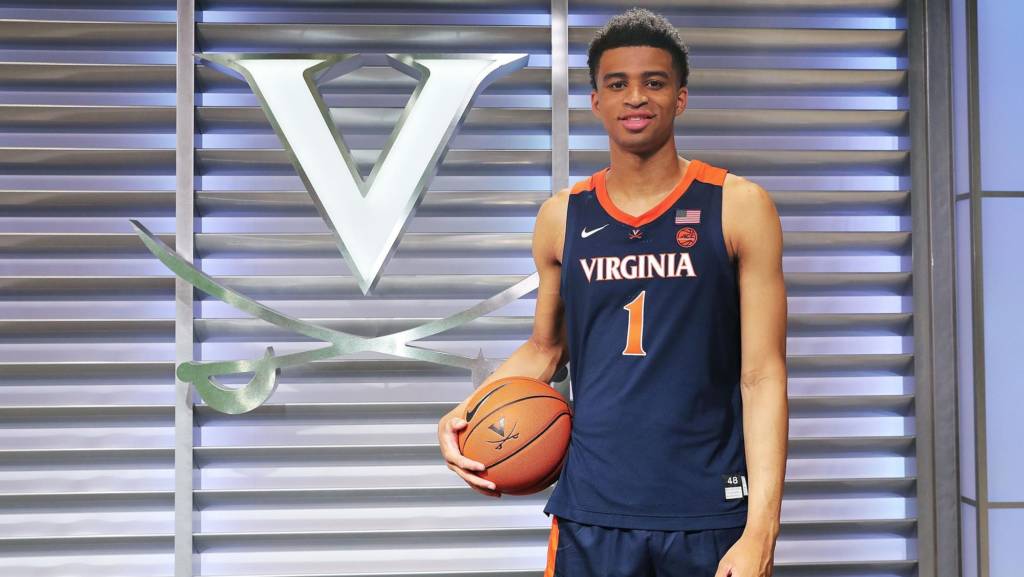 Jabri Abdur-Rahim
The Wahoos are in their 11th year under head coach Tony Bennett, who in 2018-19 guided them to the program's first NCAA title, and his latest recruiting class is highly regarded.
Its initial member was McCorkle, a 6-3 shooting guard from Greensboro, N.C., who committed to UVA in September 2018. Beekman, a 6-2 point guard from Baton Rouge, La., joined the class in June 2019, and Abdur-Rahim followed suit about a month later.
Beekman led Scotlandville Magnet High to its fourth consecutive Division I state title last month. He was named Louisiana's Gatorade player of the year.
"It doesn't get much better than that," UVA associate head coach Jason Williford said.
His illustrious high school career, Beekman said, "was a crazy experience, just coming in as a freshman and starting, not knowing what to expect really, just playing my role. And then each year having my role get bigger and bigger."
As for Beekman's classmates, "Carson's going to bring some added shooting and stretch the floor," Williford said, "and Jabri, he does it all. He's a three-level scorer."
Murphy joins the Wahoos after a season in which he led Rice in scoring, field goals, dunks and blocked shots. He was second on the team in 3-pointers, steals and free-throw percentage.
"He will bring a ton of versatility," Williford said.
The Cavaliers had a history of sorts with Murphy, a graduate of Cary Academy. They evaluated him when he was in high school.
"But he was 6-5, probably 155 [pounds] at the time," Williford said. "He was super thin, and I just didn't think he was physical enough at the time to play for us, but he could really shoot."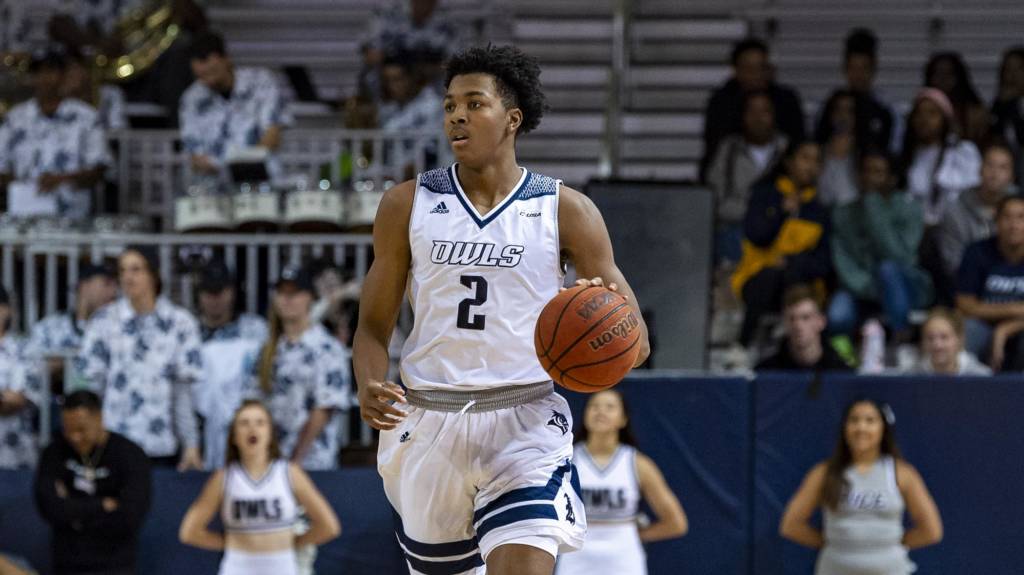 Trey Murphy III
Murphy, who stood 5-8 as a ninth-grader, grew to 6-foot as a 10th-grader, to 6-3 as an 11th-grader, and to 6-5 as a 12th-grader.
When he arrived at Rice, Murphy recalled, "I was like, 'Maybe I'm done. I don't know for sure.' But I just kept growing."
He may not be finished. "Doctors are saying my growth plates are still open," said Murphy said.
He weighed about 170 pounds when he enrolled at Rice. He's now around 200 and expects to get bigger and stronger under the tutelage of strength and conditioning coach Mike Curtis. As a transfer, Murphy will sit out the 2020-21 season, and that's fine with him.
He plans to use the year "getting stronger and then working on my game," Murphy said. "I'm really excited to do that, because I know Coach Bennett has a great plan for me, the way he's done with De'Andre [Hunter] and guys like that that sat out."
During Murphy's two seasons in Houston, the Owls played at a faster tempo than UVA has under Bennett, and they struggled defensively. Virginia perennially ranks among the nation's toughest defensive teams.
"There's going to be a learning process," said Murphy, who's already formed a strong bond with Abdur-Rahim, "but for the most part I feel like I'm a pretty quick learner, so I'll be able to [grasp] what Coach Bennett has to say. I'm going to spend a lot of time with the coaches, just looking at film and all that."
Williford said Murphy "actually loved the fact that we play defense, and he wants to get better in that area, because ultimately he wants to play at the highest level, and to do so I think he's got to improve his defense."
UVA will have five North Carolinians on its 2020-21 roster: McCorkle, Murphy, Jay Huff, Kadin Shedrick and Justin McCoy. Murphy and McCorkle have known each other for years.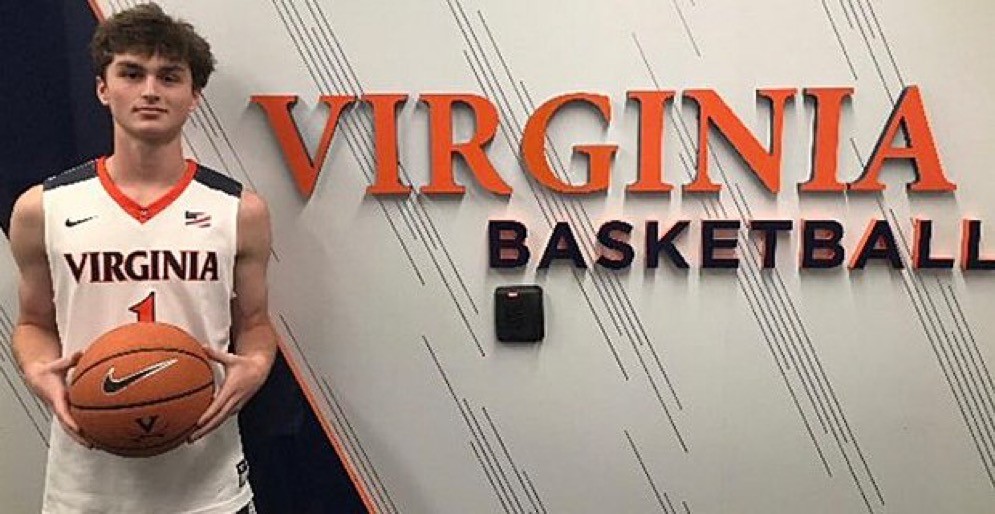 Carson McCorkle
"He's been in the AAU scene for a while," Murphy said of McCorkle. "His name has been out there, because he's been pretty good for a long time."
McCorkle said: "I'm originally from Raleigh and Trey's from Durham, so I grew up playing AAU against him some and going to some of the basketball camps that Trey did.
"He's always been good. He was just a skinny, lanky kid. But you can see how good he has a chance to be, and I've seen that since he was probably in eighth grade. When I found out he was going to Rice, that really surprised me, but it seems like he's in the right place now."
The incoming freshmen have been together only once: during the weekend last September when the Hoos raised the NCAA championship banner at JPJ.
"It was cool talking to them and getting to know them a little better," Beekman said of Abdur-Rahim and McCorkle. "It was a nice experience."
McCorkle and Abdur-Rahim had already met. In 2015, they played against each other at the 13-and-under AAU national championships in Greensboro.
"I remember him," Abdur-Rahim said of McCorkle, "because he was this little scrawny kid, and he was jumping out of the gym, and I was like, 'Who is this?' "
Neither McCorkle nor Abdur-Rahim had the senior season he wanted in 2019-20. McCorkle, who helped win Greensboro Day School win North Carolina Independent Athletic Association Class 3A state titles in 2017-18 and 2018-19, had season-ending surgery in January to repair his injured right foot.
Abdur-Rahim, who's finishing his second year at Blair Academy, where former UVA center Mike Tobey also played, hurt his right foot early in the season. It didn't require surgery, but the injury ended his season after only a handful of games.
"I'm getting a lot better," said Abdur-Rahim, whose father, Shareef, played 12 seasons in the NBA. "I'm easily going to be ready by the time everything starts back up. I'm just trying to do what's best for my foot and take everything slow, but I'm definitely getting better."
So is McCorkle, who had his operation in Charlottesville. A recent X-ray revealed his foot is healing well.
"I was a little bit of ahead of where they thought I was going to be," McCorkle said, "and I got into a real basketball gym for the first time [last week] to actually work out and see what I could do. I've been working out outside on outdoor courts, but I got into a real gym, and I shot around and was able to dunk and 360 and all that. My foot felt great."
McCorkle said he's had a couple of Zoom calls with Curtis and Ethan Saliba, UVA's head athletic trainer, "to make out a plan for [rehabbing] my foot. I do it two or three days in a row then maybe take a day off, and then on top of that I go to PT once or twice a week with my physical therapist and do stuff there."
The coaches' message to the incoming players during this period of uncertainty?
"Just to finish our school year strong," McCorkle said. "Continue to work out and follow the plans that Coach Curtis is giving us, and just prepare as if we were going to school in the summer, and then stay safe."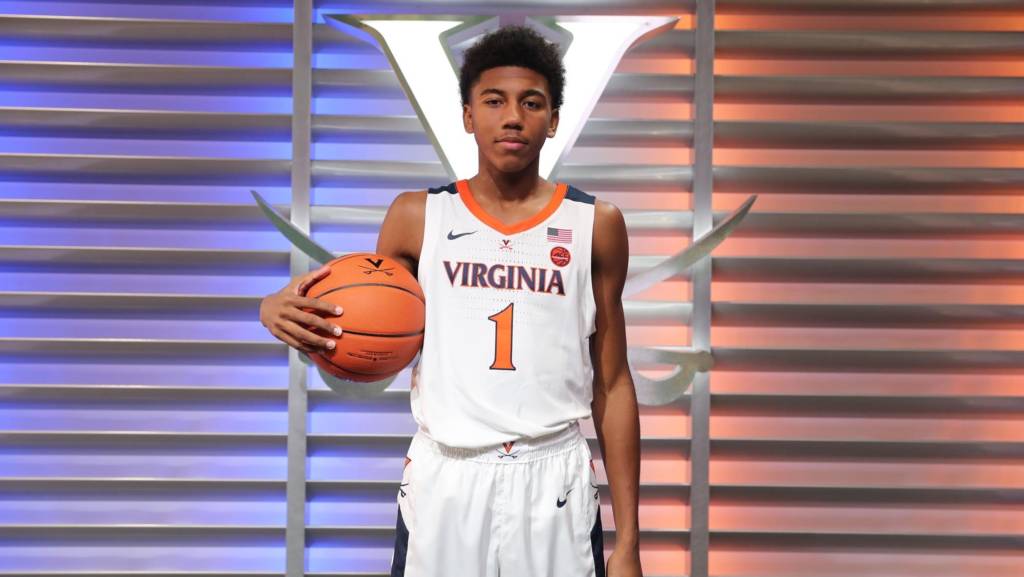 Reece Beekman
Beekman overcame a minor injury and was able to complete his senior season, but this has been a difficult year for him and his family. His brother, Bryce Beekman, a Washington State football player, passed away last month.
"It's hard, but we're getting through it," Reece said.
His basketball teammates at Scotlandville Magnet High included Jonathan Horton, a UVA football recruit. In his final high school season, Beekman averaged 19.7 points, 9.9 rebounds, 9.2 assists, 2.7 blocks and 2.3 steals per game.
Abdur-Rahim, who led Blair Academy to a state title in 2018-19, met Beekman last June at the NBPA's Top 100 camp at JPJ. He knew Beekman was headed to UVA, Abdur-Rahim said, and "I was kind of already feeling that I was going to go in that direction, so we talked about it a little bit. And then we kind of exchanged social media and everything, and when I made the decision, he was obviously super supportive, and we've just been really cool ever since."
The recruits' goals for the coming season are straightforward.
"We just want to come in, I feel like, and just do whatever we can for the team," Beekman said, "scoring, defense, hustle, just anything. Whatever we've got to do to make the team better."
They followed their future team closely from afar during a season that ended abruptly for UVA on March 12. The Cavaliers won their final eight games in 2019-20.
"I was definitely disappointed to see the season end like that," Abdur-Rahim said. "I wanted to see where they would end up, because I know they were playing really, really well towards the end, and I was looking forward to seeing what they were going to do. Unfortunately, it was out of everybody's control, and that's just the way it is now."