Jeff White on Twitter | Subscribe to UVA Insider Articles | UVA Men's Hoops on Twitter
By Jeff White (jwhite@virginia.edu)
VirginiaSports.com
 
CHARLOTTESVILLE –– Four years after graduating from the University of Virginia, Caid Kirven is again in school, this time at Ohio State's College of Medicine. But he has yet to become a full-fledged Buckeye and doesn't plan to do so.
 
"My heart is at UVA, as it always will be," Kirven said by phone from Columbus, Ohio, where, at the midpoint of his four-year program, he's studying for the United States Medical Licensing Examination Step 1 exam.
 
Kirven, who's from Raleigh, N.C., came to UVA in 2016 after graduating from Woodberry Forest School. He joined Tony Bennett's basketball program as a recruited walk-on and became a favorite of fans at John Paul Jones Arena, as well as his teammates and coaches.
 
As a fourth-year, he lived on the Lawn. His most memorable moment on the court came on March 5, 2016, during his final game at JPJ. With 1:16 left and UVA holding a commanding lead over ACC rival Louisville, Bennett inserted Kirven into the game alongside fellow seniors Malcolm Brogdon, Anthony Gill, Mike Tobey and Evan Nolte.
 
About 30 seconds later, Brogdon, Gill, Tobey and Nolte departed to a standing ovation, but the fun was only beginning for the 6-foot-9 Kirven. With 32 seconds to play, he buried the first 3-pointer of his college career, setting off a rapturous celebration on the Cavaliers' bench, as captured in an epic Matt Riley photograph.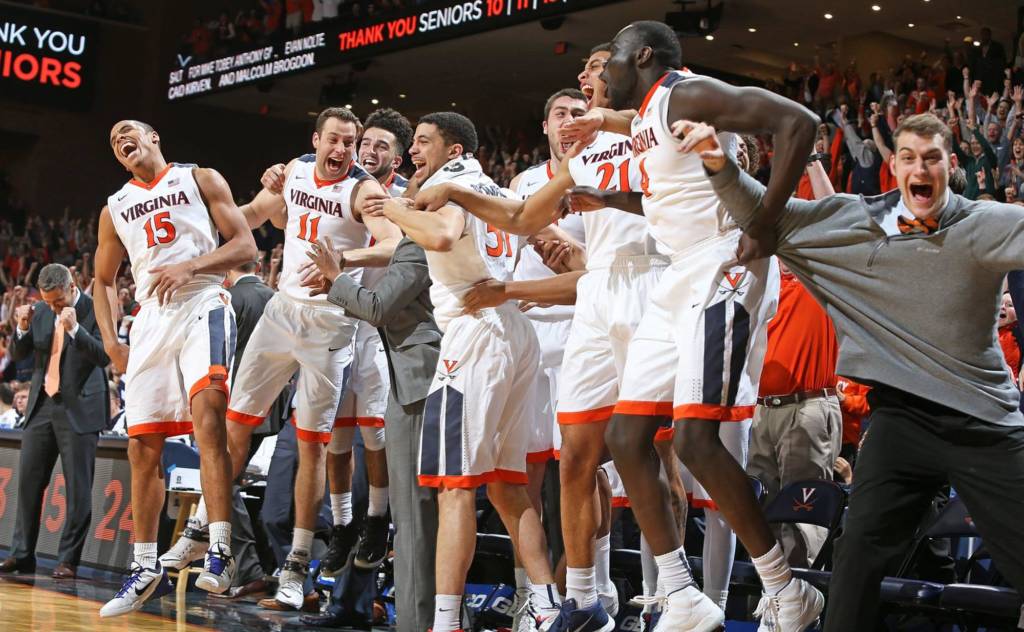 "That picture always gives me chills," Kirven said. "I have very clear memories of celebrating afterward. Everybody was so excited for me in the locker room, and just having that is such great validation. It just kind of underscores that [UVA men's basketball] is a family. People really do care."
 
Another memory he'll treasure is from a practice early in his career, when UVA was preparing to meet Wisconsin in the ACC/Big Ten Challenge. Then-associate head coach Ritchie McKay was directing the Cavaliers' scout team––better known in JPJ as the Green Team––and to Kirven he assigned the role of Frank Kaminsky, who would become an All-American for the Badgers.
 
"So I'm very excited," Kirven recalled. "We had one play where I would set the back screen and step up and catch it and shoot the 3. And so we run it once, and I'm all excited, and I set the screen and A.G. cheats and goes back to [help on another player]. I catch it and drain the 3, and Coach Bennett gets kind of mad. He's like, 'A.G., you gotta help right.' "
 
Kirven laughed. "So then Mike Tobey comes out to guard me, and we run the exact same play again, and Mike does the same thing. He gets back pretty well, but I just heave up the 3 and make it, and Coach Bennett goes berserk. Whereas the Green Team and Coach McKay, we're celebrating and going crazy."
 
He already was interested in medicine, and planning to major in biology, when he arrived at the University. Kirven found he liked kinesiology better, though, and as a third-year entered that program in the Curry School of Education and Human Development.
 
Throughout his time at UVA,, Kirven paid close attention to––and fired countless questions at­­­––the many staffers who help keep Bennett's players healthy, from head athletic trainer Ethan Saliba to strength and conditioning coach Mike Curtis to such doctors as David Diduch, John MacKnight, Bobby Chhabra, and Winston Gwathmey.
 
"I actually shadowed a bunch of them," said Kirven, whose kinesiology professors included Susan Saliba, who's married to Ethan. "That was such a great thing about my experience. All the doctors were so good about helping me get involved when I could, and Coach Bennett and all the assistant coaches were good about getting me in touch with them, too."
 
Back problems were a recurring problem for Kirven during his basketball career, and he wasn't satisfied with the care he received before enrolling at UVA.
 
"I don't know how they were as surgeons, but the doctors I worked with weren't good at having that human piece, working with an athlete who wanted to keep playing but needed [help to do so]," Kirven said. "There were kind of like, 'OK, you've got to do this. See you.' Pop in, pop out."
 
Things were different in Charlottesville.  "I really look at my experience at UVA as an example of how it could work well," Kirven said, "because you have Dr. MacKnight, Ethan, Coach Curtis, all these different people who get involved and care about my well-being and are willing to work together. 
 
"So seeing that, I'm like, 'OK, it can work well.' Obviously, not everybody has the means that UVA basketball has, but all it took was people caring. It didn't take anything crazy for Ethan to make sure that Coach Curtis knew and Dr. MacKnight knew what was going on day to day. I was able to play without pain, and when I had flare-ups, I had people working with me and helping me work through that. I think that kind of solidified that I really liked the idea of getting involved and really helping people, not just cranking out surgeries or whatever it is."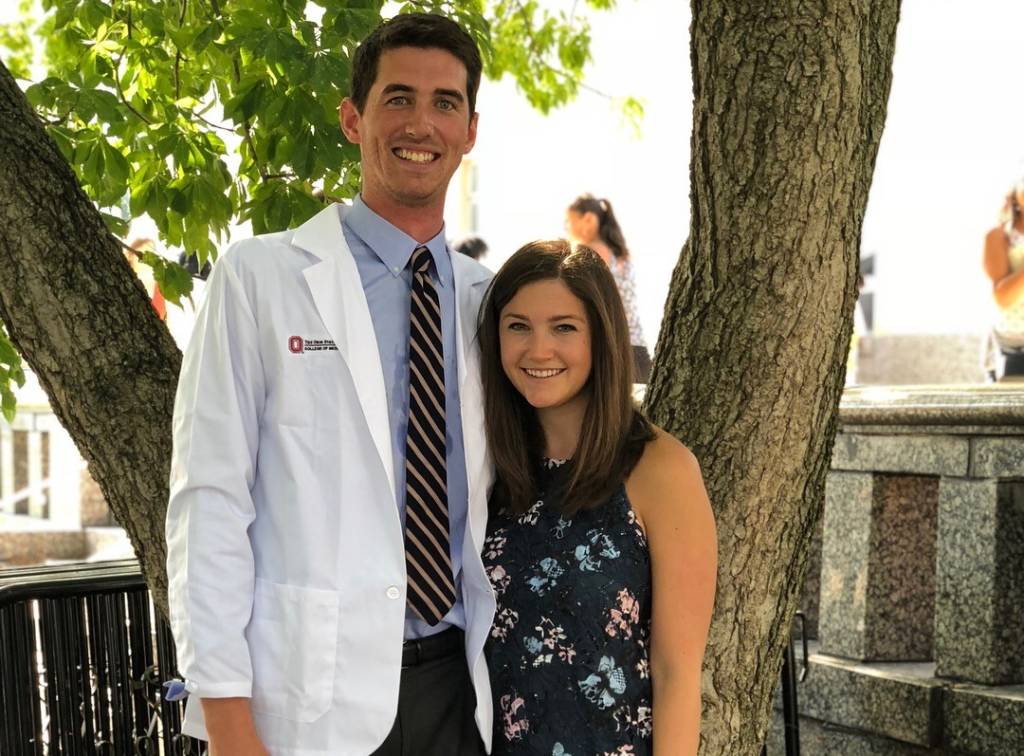 Caid Kirven and fiancée Rachel Marsh
 After graduating in 2016, Kirven worked for a year as a medical scribe in pediatric orthopedics at the UVA Medical Center.
 
"I actually did it a little bit my senior year too, even during the season," Kirven said. "On my off days I would go work in the emergency department and scribe. It's a great way to actually see what medicine is like outside of the classroom, and it's a little more involved than shadowing, which a lot of people do, too."
 
Also that year, he took the Medical College Admission Test and started applying to schools. Then he joined his girlfriend, Rachel Marsh, in Columbus, where she'd started medical school at Ohio State after graduating from UVA in 2016. They're now engaged, with a wedding planned for September 2021 in Charlottesville.
 
In Columbus, Kirven did research for Ohio State's sports medicine department. In 2018, he entered its medical school as a student.
 
Marsh recently graduated from medical school, and her residency is at Ohio State, too.
 
"If she wasn't here, I never would have thought about [attending school in] Ohio, but that got me out here," Kirven said. "I liked it a lot, and it worked out well financially, too."
 
He started medical school expecting to eventually focus on orthopedics, and that hasn't changed.
 
"It's what got me interested in medicine in the first place," Kirven said. "It's not even the working with athletes. I like the anatomy of it, the problem-solving. That's where I think I'm going to go, but I'm still going to try to keep an open mind third year, because worst case, you learn a lot of cool stuff on your family med and your OGBYN rotations. You might not use it day to day, but it's kind of a once-in-a-lifetime experience."
 
When the COVID-19 pandemic struck the United States, Ohio State took its medical students out of its hospitals, Kirven said. "But I think [this month] they're moving some of the fourth-years back. Then I think in July the plan is to have us go back, but it's still kind of up in the air." 
 
Kirven enrolled at Ohio State in the summer of 2018, several months after Virginia's historic loss to UMBC in the first round of the NCAA tournament. His classmates knew he'd played basketball at UVA, and "after they got to know me a little bit and found out I wasn't going to get mad at them, they'd ask me, 'What was it like watching that?' " Kirven recalled. "So you have that conversation with everybody. But then I also got the joy of coming back and wearing my Virginia shirt with pride after going to the Final Four [in 2019], so I love it."
 
His younger brother is a rising fourth-year student at UVA. John Kirven was a promising defensive end for head football coach Bronco Mendenhall as a true freshman in 2017 before medical issues forced him to give up the sport. His big brother is surrounded by Buckeye football fans in Columbus, but he talks up Mendenhall's program at every opportunity.
 
"The Standard," Caid Kirven said, using a phrase near and dear to Mendenhall and his players.
 
Kirven continues to follow Virginia basketball closely and was in Minneapolis, along with many of his former teammates, to see history made at last year's Final Four. UVA edged Auburn in the semifinals and then rallied to beat Texas Tech in the championship game to secure the program's first NCAA title. 
 
"It was pretty incomparable," Kirven said. "I'm glad so many guys got to come back."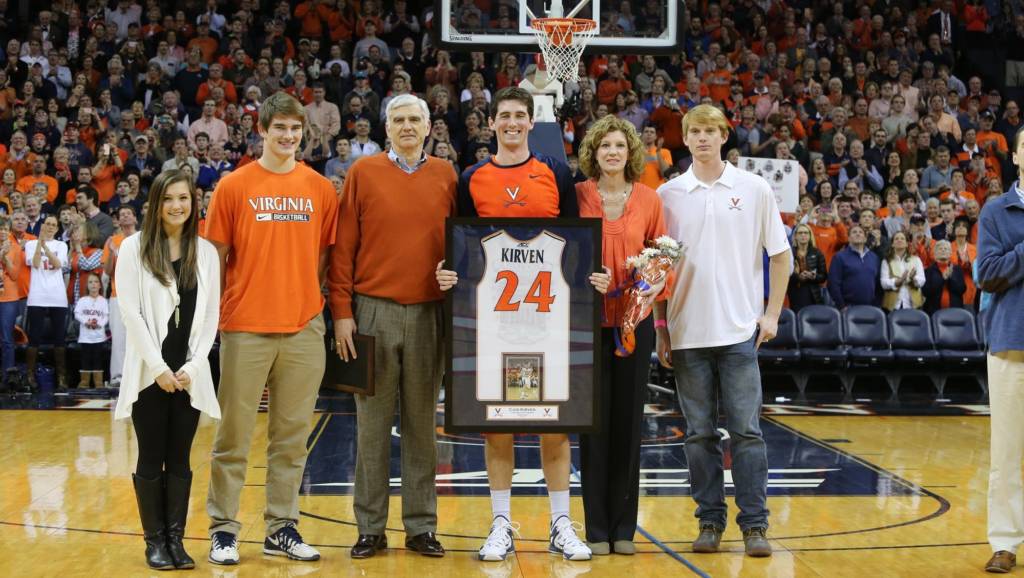 Senior Night at JPJ in 2016
He played on three Final Four-caliber teams at UVA. In 2013-14, the Wahoos swept the ACC's regular-season and tournament titles and advanced to the Sweet Sixteen before losing to Michigan State at Madison Square Garden. 
 
In 2014-15, as a No. 2 seed in the NCAA tournament, Virginia finished 30-4 after a second-round loss to its new postseason nemesis, Michigan State, in Charlotte, N.C. Then, in 2015-16, UVA led Syracuse by 15 points with 9:30 remaining but ended up losing 68-62 in an Elite Eight game in Chicago.
 
That defeat was heartbreaking, Kirven said, but the program was stronger when he and his classmates left than when they arrived. "I think each year I was there we built up," he said. "I think we got tighter as a team and kind of set the standard from the top down."
Walk-ons on some Division I teams can feel like second-class citizens at times. Not in Bennett's program.
 
"That's kind of what brought me there," Kirven said. "When I was thinking about where I wanted to go to school, I talked with Thomas Rogers and Doug Browman and Rob Vozenilek, and that's what they all said. I remember Tom and I actually talked with [current UVA player] Austin Katstra at one point, and that's what we echoed. You feel like you're a part of the team. You don't feel like you're the walk-on. You feel like you are a UVA player, for better or worse, and as nice as it is, and you get all the good stuff, that means you have to work as hard. You're there in the gym just as much as everybody else. You're lifting the same, you're at the same practices and workouts. 
 
"I can't compare how lucky I was to be there and feel like part of such a tight family. And now, after basketball, that's been the same story. Coach Bennett has been super helpful with my applications and stuff like that and with keeping in touch. And at the Final Four, nobody was like, 'Oh, Caid Kirven was a walk-on.' We're all teammates. We're all part of the family."