Currently a member of the Philadelphia Phillies, Adam Haseley made his big-league debut on June 4, 2019. He was the eighth overall pick of the club, going back-to-back with teammate Pavin Smith who was the seventh pick of the Arizona Diamondbacks in the 2017 MLB Draft. The duo became the first set of position players from the same college to be selected in the top 10 of the draft since 1988 (Monty Fariss and Robin Ventura – Oklahoma State). Haseley was a two-time All-American and a finalist for both the Golden Spikes and the John Olerud Two-Way Player of the Year award as a junior.
GSA finalist, Adam Haseley went 7-1 on the mound & led @theACC in batting average for @UVABaseball!#VoteGSA ➡️ https://t.co/NdgdGMMA3K pic.twitter.com/FyfunNEdWr

— Golden Spikes Award (@USAGoldenSpikes) June 22, 2017
 
Q: Three years ago, you were selected eighth overall by the Phillies. What stands out in your mind about draft day? Do you remember where you were? Who you were with? How you found out?
 
Haseley: We pretty much laid low on draft day. We were at home in Orlando with my family, some really close friends from high school and my girlfriend at the time (now wife). We didn't do much, I'm pretty sure it was around the same time as this year's draft and had some food catered and everyone was just hanging around the living room. I just remember getting the call from my agent that Philadelphia was next and they were probably going to pick me so stay by the TV. I have lots of videos of the moment and its pretty cool to watch around this time.
That's two straight from @UVABaseball! Adam Haseley goes No. 8 to the @Phillies. #MLBDraft pic.twitter.com/Bue5Zc4XrD

— ACC Digital Network (@theACCDN) June 12, 2017
 
Q: You and Pavin Smith came to UVA together, won a National Championship as freshmen and then left UVA by going back-to-back in the top-10 of the first round of the 2017 MLB Draft. How cool was it to have both of your college careers culminate like that?
 
Haseley: It brings it full circle. We've been close ever since the first week we were there. We were roommates second and third year, we drove to the field together, drove to class together and to this day we talk and hang out. It was crazy having the freshman year that we did and full circle at the end of our time at Virginia to have it play out the way it did was something we couldn't write ourselves. It's a pretty cool look back the rest of our lives to have that moment together.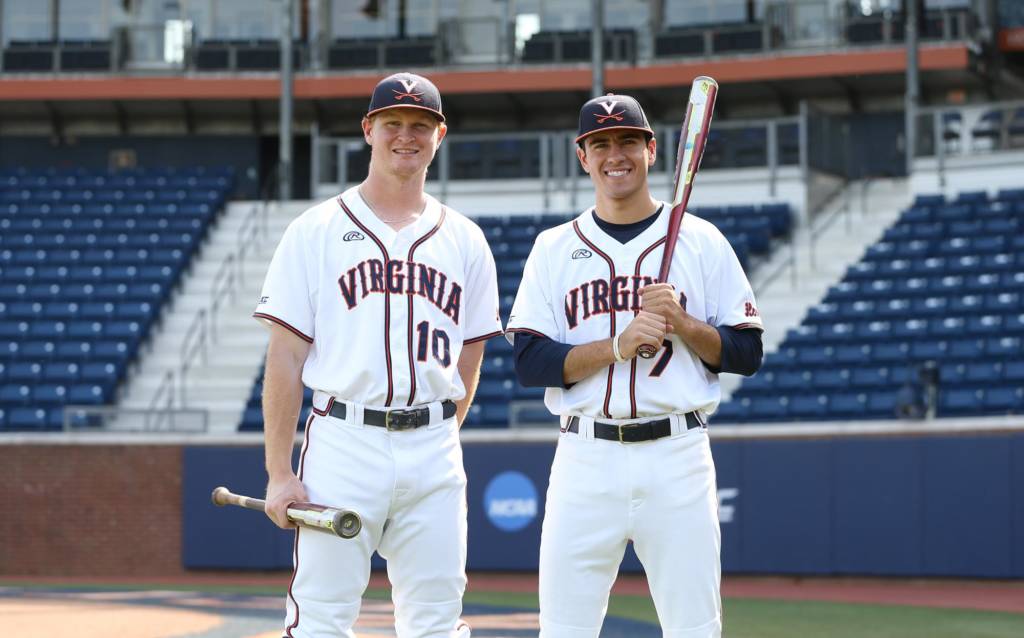 Q: It all happened quick, but when was the first time you and Pavin talked about what had just happened?
 
Haseley: I'm pretty sure we talked that night and both were just in shock because we went to college and we were a scouted a little bit in high school but never would have imagined we'd become that good of friends and then go back-to-back in that moment. You can't write it and its crazy how it happened.
 
Q: Speaking of National Championships, the five-year anniversary of the team's national championship is almost here, what sticks out in your mind when you think back to your experience in Omaha that summer?
Haseley: I was shaken for the whole two, two-and-half weeks we were there. I went from playing travel ball and high school ball and then to be put on that stage, on TV, I was definitely out of my element, I don't know about anyone else that was playing. I can remember watching the (College World Series) final in 2014 having no idea what college baseball was like and to have it come full circle like it did the next year was a pretty special moment that all of us on that team can share.
 
Q: You came back to Charlottesville for the premiere of 1186 to Omaha. How was it to see old teammates and actually watch a movie that you had a starring role in?
 
Haseley: I thought they did a really good job with the film, it encompassed a lot of the struggles we had that year. You look back at a championship year and you think it that we were the best team in the country or whatever, but we really weren't. For most of the year we were nowhere near the best team. To go through the struggles that we went through in the film was pretty special. To be at the premiere with all those guys and relive the special moments of those last few months of the season was pretty cool.
Primetime all the time.

The documentary "1186 to Omaha" can be seen anytime, anywhere with the @ESPN app. #GoHoos

📺 : https://t.co/vMtBwoO7fC pic.twitter.com/QzreK5qx4Z

— Virginia Baseball (@UVABaseball) March 23, 2020
Q: By playing three years at UVA, can you point to anything specific that helped you develop as a baseball player and ultimately reach the game's highest level?
 
Haseley: Just all the accountability we had. Under Coach Kuhn, Coach Mac and Coach O'Connor, you couldn't skip anything. In pro ball, it's definitely up to you and your career. Even know when I'm working out or doing a set, I almost feel that there is someone watching and there is this integrity and accountability that you have to do every set or every rep and you have to do everything at 100 percent. Pro ball is what you want out of it, what you make it and that being instilled in me in college really helps me to this day.
"The former @UVABaseball outfielder just did something that he will never ever forget."

1st #MLB dinger for #Phillies No. 3 prospect Adam Haseley!

Watch the @MLB Game of the Week live on @YouTube: https://t.co/SMDU7IJe45 pic.twitter.com/u3bC7WAlwX

— MLB Pipeline (@MLBPipeline) July 18, 2019
Q: What advice do you have for some of the guys in the UVA program looking to make in professional baseball?
 
Haseley: It's going to tough, there's going to be a lot of change, it's going to be fast and you're going to be thrown in the fire. At the end of the day its one team and you're a family. If a guy is messes up, you're accountable for picking him up. If a guy is not doing something to the best he could do and you know he can do better, you're responsible to tell him that. That's anything in life, not just baseball. Even if you don't take anything baseball wise out of the experience, it really is a lifelong lesson that you can take.
What a way to get your first career MLB hit!

Adam Haseley brings in the go-ahead run for Philly in the 8th with an RBI-double!

(via @Phillies) pic.twitter.com/YVglsC32jK

— FOX Sports: MLB (@MLBONFOX) June 5, 2019