With professional soccer starting back up with the NWSL's Challenge Cup, we have been catching up with our Hoos in the professional ranks to talk to them about their experiences at the University of Virginia and how it prepared them for the next level. This week, we caught up with Brittany Ratcliffe who plays for the Utah Royals FC which is hosting the Challenge Cup.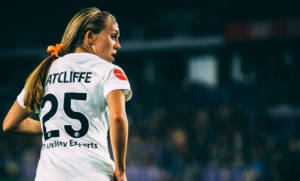 Q: What made you choose Virginia as the place for you for your collegiate career?

RATCLIFFE: I chose to attend the University of Virginia for a number of reasons (elite academic standards, countless athletic achievements, beautiful campus) but the team itself impacted me the most. I had visited UVA and attended a game at Klockner stadium one night. To say I was welcomed with open arms would be an understatement. The coaches and staff made my parents and I feel like we were a part of the UVA family after only knowing us a few hours. Every girl on the team had just played a 90-minute game and still took the time to say hello and get to know me, treating me like I had been a member of their team for years. I knew at that moment, as this amazing group of people surrounded me, that I could not imagine spending four years any place else.
Q: If you could go back and relive one game from your time at Virginia (a win OR a loss), which game would you choose to go back and play again and why?
RATCLIFFE: I was fortunate to have been a part of a lot of exciting wins during my time at UVA, but if I could relive one game, it would have to be my last college game, the Elite 8 in 2015, even though it was a loss. I hate to lose more than anyone and I will admit that I am a sore loser. But I am so grateful that the last college game I ever played was at Klockner stadium: the place where this incredible journey all began. In high school, I knew I wanted to go to UVA when I sat under the stadium lights. It was where I scored my first collegiate goal.  It was the place my parents got to see me play every weekend because they never missed a home game. It was where my teammates and my coaches became my second family. And when the final whistle blew that day, all I could do was put my hands on my head and look out over the field that gave me so many years of unforgettable memories. I was sad that it was all over and I cried harder than I ever had before. But win or lose, that game made me realize how blessed I was that the University of Virginia gave me some of the best years of my life.
Q: How did your experience at Virginia prepare you to compete at the next level?
RATCLIFFE: My experience at UVA helped me prepare for the next level because every practice and every game was a constant physical and mental challenge. We had fun at practice, but we were also very competitive and pushed ourselves to get better at all costs. Acceptable was not acceptable, we wanted each practice to be elite and better than the day before.
Q: What would you say is the best piece of life advice you received and how have you been able to apply it to your approach to sports?
RATCLIFFE: Growing up, my parents instilled in me the idea that hard work is something that should consume all aspects of your life, whether that is sports, school, friendships, hobbies, etc. You have to give everything you have into what you are doing because hard work is always within your control. In regards to sports, I have found that you will have good days and bad days. While the good days require you to execute your skills well, hard work doesn't require a good day, skill, or talent; it just requires a desire to put it in that little extra effort. And that extra effort can take you to some pretty incredible places.
Q: What aspect of playing soccer collegiately do you look back on and miss that you don't think you realized you would miss or appreciate while you were actively in the moment?
RATCLIFFE: The biggest thing I miss about college soccer, specifically my time at UVA, was the "ALL IN" culture we shared and the bond that was created as a result. Off the field, you were all working towards an A on that test or paper. And once you stepped on the field, you were all working together to win a national championship. It was not about doing well just to service your self. You wanted to do well because you wanted your sisters to succeed too.  Regardless of age or background, we all wanted the same things and were wiling to do whatever it took to achieve them, never thinking twice about it. This "ALL IN" mentality we shared at UVA was something special and I think it is something that will always be very difficult to replicate. I believe it is the reason we were not only successful on the field but the reason we had a group of people that acted more like a family than just a team. We valued the group above the individual and I think that made for a bond unlike any other.
Q: How have you been staying prepared for the when training camps and the new season can begin?
RATCLIFFE: To prepare for the new season, I have spent a lot of time working on my running endurance and strength training. In terms of soccer preparations, I try to get touches on the ball every day whether that's dribbling on a patch of grass or passing a ball against a wall. I have also been watching reruns of old games to try and stay sharp tactically.
Q: What is your favorite place on Grounds and what do you miss about being on Grounds?
RATCLIFFE: My favorite place on Grounds was Pavilion Garden V that was home to Noble, UVA's official university dog at the time. If I had a break between classes, I would always walk to the garden where he lived and would cross my fingers he would be out and about. He was an 11-year-old collie and he was the highlight of my day whenever I got to see him.
Believe it or not, the thing I miss most about Grounds is walking to class everyday! I always looked forward to learning new things in school, but I also enjoyed my walks because, let's be honest, UVA is truly a stunning university.
Q: What advice would you share with your younger self if you had the opportunity to impart some wisdom you have learned over the years?
RATCLIFFE: If I could give my younger self one piece of advice, it would be to never sell yourself too short. I can be hard on myself and am always thinking of the things I could've done better. And while I think that mentality has helped me get to where I am today, I also think its important to have faith in your abilities. Improve what you need to improve on, but remember that you are always capable of amazing things.
Q: If you had to choose one intrinsic quality that allowed you to get to where you are today…What would that be and why?
RATCLIFFE: Resilience—I have gone through a lot of adversities throughout my career but have never allowed the difficult times to define my journey or who I am.  Setbacks are inevitable. But how you react to the setbacks is always within your control.