By Jeff White
jwhite@virginia.edu
CHARLOTTESVILLE –– For the past four months, Nathaniel Crofts has seen his University of Virginia soccer teammates and coaches only on Zoom calls. With the Cavaliers set to reconvene on Grounds this month, that will soon change, to Crofts' delight.
"That'll be a great feeling," he said. "We'll get to see everybody again. I can't wait."
A 5-7 forward, Crofts is from Sheffield, England. When UVA moved to online classes in mid-March, returning home wasn't a viable option for him, though, and he's been living in the Richmond area with his girlfriend and her family, the Greens, since then.
"I can't thank them enough," Crofts said. "I literally thank them every day, because you know not many people would actually do what they did: taking me in, housing me, feeding me. So I'm really grateful for that."
From a UVA team that advanced to last year's NCAA championship game before losing to Georgetown in a penalty-kick shootout, Crofts is the top returning scorer. He finished the season with 15 points (six goals, three assists), trailing only Daryl Dike (28 points) and Joe Bell (18) in head coach George Gelnovatch's program. Crofts, named to the ACC's all-tournament team in November, then helped the Wahoos return to the College Cup for the first time since 2014.
Dike and Bell left UVA after the season to pursue professional careers, and Gelnovatch believes Crofts will increase his productivity this year.
"I am counting on him to likely to be our leading scorer, with 10 goals, 11 goals, 12 goals," Gelnovatch said.
A starter since his first year, Crofts had a modest statistical impact in 2017, recording no goals and two assists. As a sophomore, however, he contributed four goals and six assists for a team-high 14 points, and he took another step forward last season.
"He's made a progression every year," Gelnovatch said, "and last year he scored some really important goals."
Five of Crofts' six goals were game-winners, including this one against Virginia Tech in Blacksburg.
This spring, the Hoos were able to get in two games before the pandemic shut down college sports, "so we were pretty fortunate," Gelnovatch said. "I would say 80 or 90 percent of the country didn't play one game."
UVA edged JMU 1-0 and tied Virginia Tech 3-3 in spring matches. Croft scored a goal in each one for a team that lost five mainstays from 2019: Dike, Bell, Henry Kessler, Robin Afamefuna and Daniel Steedman.
"The spring was promising before it got cut off," Crofts said. "We were just finding the rhythm. New players were getting their chances to prove themselves."
The Hoos' captains this year will be Crofts and center back Andreas Ueland, a third-team All-ACC selection as a freshman in 2019.
"Andreas is a little bit more of an extrovert," Gelnovatch said. "Nat has a different style about him, too, and a lot of respect from the team. He'll be a very good leader for us."
Crofts said: "Being named captain is an honor for me, and it's a proud moment for me, as well as an opportunity that I need to take seriously. It shows that George and all the coaching staff, they have trust and faith in me. I've learned a lot from previous leaders––Robin, Joe, Henry, older players that left––so hopefully I can pass some of that down to the new guys coming into the team and help their performances as well as mine."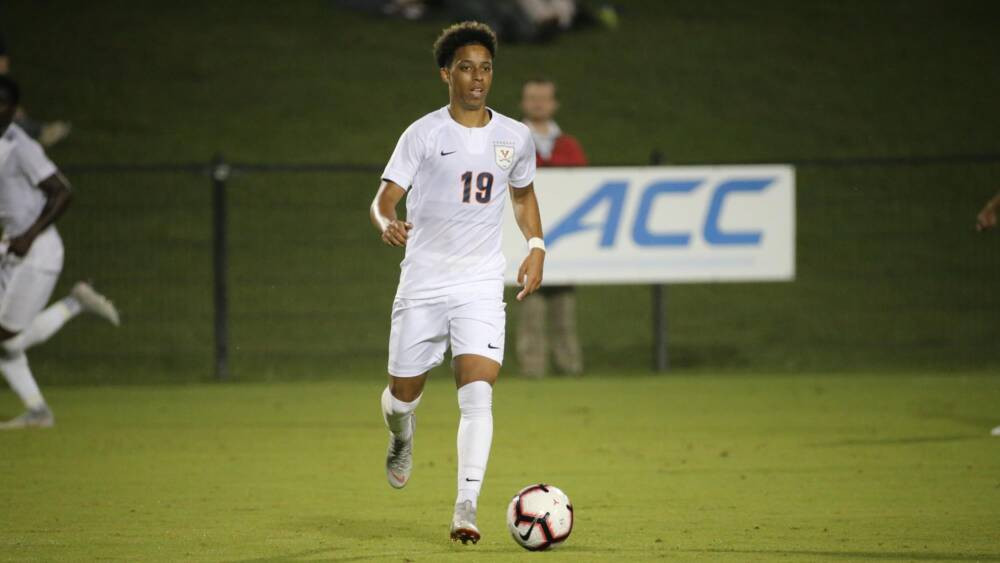 His family members back in England are doing well, Crofts said. He considered flying home after UVA switched to online classes, but he worried that he might have trouble getting back into the United States.
"The whole situation is a tricky one," Crofts said.
Gelvonatch can attest to that. Five of the Cavaliers' international players have yet to be allowed back into the U.S. He's confident they'll eventually make it to Charlottesville, Gelnovatch said. "We just don't know exactly when. We'll have to wait and see."
In England, Crofts came up through the Sheffield United Football Club's youth academy. He hit his ceiling with the club, though, after which he had few options for playing in the United Kingdom. But he had some friends who were playing college soccer in the U.S., Crofts said, "and I asked them, 'What is it like? What's the standard like? Is it similar to the UK?' And they told me really good things."
With limited prospects for a pro career at home, Crofts said, his "next-best option was to try out in America, and I think it turned out great for me."
International players have thrived at UVA during Gelnovatch's long tenure as head coach, in part because they realize a lucrative career in pro soccer isn't always a realistic goal. They're usually committed to playing four seasons of college soccer. Talented American players, by contrast, are "coming to us with almost a foot out the door already sometimes," Gelnovatch said.
Crofts graduated from Chaucer School in Sheffield, a city about 80 miles east of Liverpool. "It's pretty different to high schools here," he said. "It's way more small and compact, because America's so big compared to England, where everything is so small."
At UVA, he's majoring in African American and African Studies, a topic about which he knew little before leaving England. "So to come over and learn about it so fast, and the details about the history, is really interesting," Crofts said.
In the aftermath of the deaths of George Floyd, Ahmaud Arbery and Breonna Taylor, social unrest has roiled the U.S. Crofts said he's "still processing" the turmoil, "because I've never experienced it before. So I'm just taking it in step by step, and then hopefully I'll voice my opinion in my classes [at UVA]."
He hasn't had access to a gym in Richmond, but Crofts has done home workouts. Nearby is a lake around which he runs and a field on which he practices with a soccer ball. Soon his training won't be so solitary.
"I just can't wait to get things going again and get the ball rolling, to see everybody," Crofts said.
In falling just short of the program's eighth NCAA title, the Cavaliers (21-2-1) totaled 46 goals last season. Dike and Bell combined for 17 of them. To make up for the loss of that firepower, Gelnovatch will look not only to Crofts, but to freshmen Leo Afonso and Kaya Ignacio, sophomores Axel Gunnarsson and Kevin Ogudugu, and junior Cabrel Happi Kamseu.
"I think we've got some good ingredients," Gelnovatch said.
Ogudugu, a forward, is a transfer from the University of Portland. "He's not a big guy," Gelnovatch said, "but he's strong as hell and fast as hell, and he's skillful."
The 2019 season was one he'll never forget, Crofts said, and to lose on penalty kicks in the NCAA title game was heartbreaking. "But I think that's in the past, and I strongly believe that when one door closes, another one opens," he said. "So now we just have to come together as a team and hopefully shoot for the stars."