As the NWSL's Challenge Cup continues with the knockout stages this weekend, we have been catching up with our Hoos in the professional ranks to talk to them about their experiences at the University of Virginia and how it prepared them for the next level. This week, we caught up with Makenzy Doniak who played her rookie season with the NWSL Champions Western NY Flash (now the North Carolina Courage) and who now plays for Chicago Red Stars.
Q: What made you choose Virginia as the place for your collegiate career?
DONIAK: I chose Virginia for so many reasons, including its beautiful campus and the prestige academics. It immediately felt like my home away from home when I visited for the first time. Steve and the coaching staff made me feel comfortable and excited to be a part of such an amazing program.
Q: If you could go back and relive one game from your time at Virginia (a win OR a loss), which game would you choose to go back and play again and why?
DONIAK: If I could go back and relive any game, I would choose our 2014 NCAA round of eight win against UCLA at their field. Being from California, my whole family was able to come and watch us play. I remember how good it felt to beat them at their home field. We also got to eat In-N-Out after, and it was one of my favorite memories with my teammates!
Q: How did your experience at Virginia prepare you to compete at the next level?
DONIAK: My four years at UVA really prepared me for the next level because I was surrounded by such talented players that pushed me to do my best every day. I got better because I was challenged by my teammates and coaches to improve my skills and impact the game in different ways that I was able to keep with me as I became a professional.
Q: What would you say is the best piece of life advice you received and how have you been able to apply it to your approach to sports?
DONIAK: I think some of the best advice I've gotten is to always be grateful and appreciative for what you have in life, whether that be for the tangible things or the people around you. For sports in general, it is easy to compare yourself to others and get caught up in the things you wish you could have or the skills you could possess. As I've grown in this sport, I try to remain level headed and thankful for what I have and qualities I bring to the field.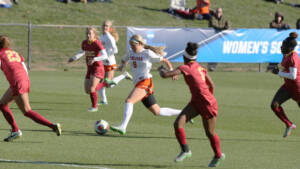 Q: What aspect of playing soccer collegiately do you look back on and miss that you don't think you realized you would miss or appreciate while you were actively in the moment?
DONIAK: Looking back on playing at the collegiate level, I miss the spirit and pride that comes with representing my school. It is an honor to be an athlete at UVA, and I love that I was a part of that successful program.
Q: What is your favorite place on Grounds and what do you miss about being on Grounds?
DONIAK: My favorite place on Grounds is the lawn and the surrounding gardens. It's unique to UVA and I feel like I'm a part of such an amazing community whenever I'm there. I miss getting food at the corner and walking to eat it on the lawn to enjoy the views and people.
Q: What advice would you share with your younger self if you had the opportunity to impart some wisdom you have learned over the years?
DONIAK: If I could give my younger self some advice, I would tell her to get involved in as many activities or events as possible. There are so many opportunities to meet people and participate in adventures that are only available to student athletes during your time at UVA. It's so important to take advantage of the position you're currently in and live in the moment because time passes by too fast.
Q: If you had to choose one intrinsic quality that allowed you to get to where you are today…What would that be and why?
DONIAK: If I had to choose one intrinsic quality that allowed me to get where I am today I would choose discernment. With faith being the foundation of my life, I have tried to always use that as my moral compass to make good decisions and, of course, be kind to everyone I meet.