2020 U.S. Open | 4TheHoos Initiative | Jeff White on Twitter | UVA Women's Tennis on Twitter  | Subscribe to Jeff White's Articles
By Jeff White (jwhite@virginia.edu)
VirginiaSports.com
CHARLOTTESVILLE –– As COVID-19 cases mounted in her native Florida this summer, Danielle Collins decided she'd be better off elsewhere. Collins, who's immunocompromised with rheumatoid arthritis, found a safe haven in the college town she considers her second home.
In Charlottesville, "everyone was so diligent about wearing masks," Collins said. "I felt like everybody kind of followed the rules a bit more, and I didn't really want to go all the way back to Florida."
Collins, who won two NCAA singles titles during her tennis career at the University of Virginia, was speaking from New York, where she'll play her first-round match at the U.S. Open on Monday afternoon. Collins is ranked No. 55 in the world in singles, and her preparation for her return to competitive tennis included daily workouts at the Boar's Head Resort during her stay in Charlottesville this summer.
"It was awesome," Collins said. "They welcomed me with open arms, and I was able to use the outdoor courts, and I was able to go inside. I was able to use the facilities around the club, and it was so nice being in that familiar place and seeing Troy."
Troy Porco, now the head tennis pro at the Boar's Head Resort, was the associate head coach at UVA when Collins played there. She's also close with Porco's wife, Chrissy.
"Being around them and their positive energy, it's just contagious," Collins said. "I love them, so getting to spend some time with them was really great. It's great that I'm still able to have close relationships with my [UVA] coaches, because they had such a huge impact on my life.
"It's hard once you're an adult and you're out there on your own, because you're kind of fending for yourself. Sometimes I'm sad I don't have them anymore."
Her head coach at UVA was Mark Guilbeau, who stepped down after the 2016-17 school year. Collins, 26, said she talks with Guilbeau about twice a week.
"We had a very close relationship," said Collins, who graduated from UVA in 2016 with a bachelor's degree in media studies. "He totally transformed my game while I was in school. I came from [the University of] Florida, where I was not even playing in the lineup, and to go from that to winning two national championships says all that you need to say about Mark as a coach."
She's also a fan of Guilbeau's successor at UVA, Sara O'Leary, and associate head coach Gina Suarez-Malaguti. Collins played doubles this summer with Emma Navarro, a heralded recruit who's now a UVA freshman, in an exhibition match in Charleston, South Carolina.
"I really, really love Sara and Gina and think that they bring so much to the UVA program, and they've already done such a good job," Collins said. "I love the energy that they bring. I love who they are as people. They're very genuine. They really care about the girls on the team, and I know that they work really hard at building a family-like environment with their program."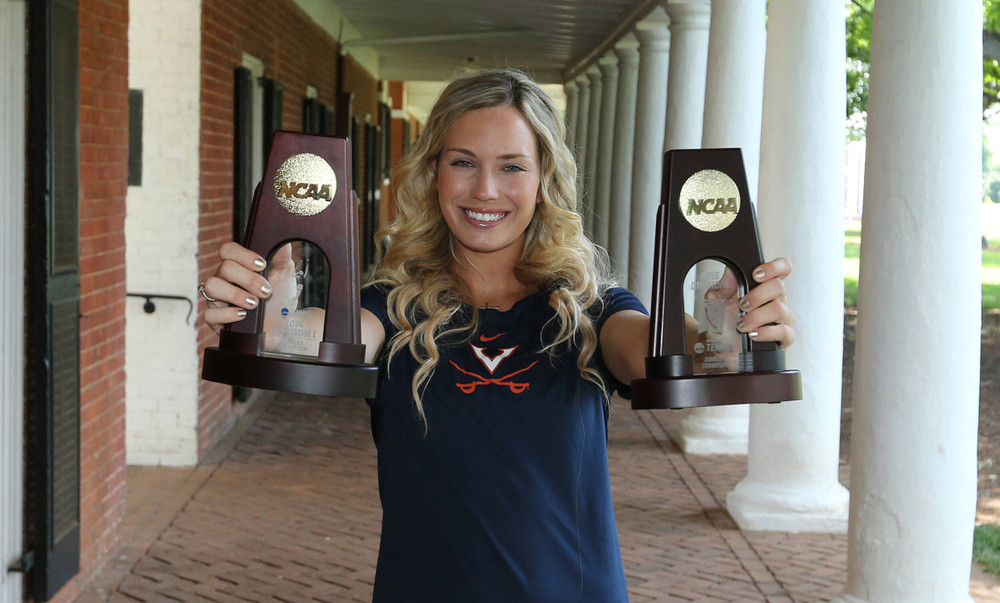 Collins won her first NCAA title in 2014 and her second in 2016, after which she turned pro. In January 2019, she stunned the tennis world by reaching the semifinals of the Australian Open, a Grand Slam event in which she was unseeded.
"It was super exciting, and I love playing in Australia," Collins said. "It's so similar to the U.S.: the atmosphere, the energy, the positivity. I have so many amazing fans in Australia, and I feel like every year when I go there, I'll have so much support behind me, so that makes it even more special."
Her boyfriend is Australian, but they "weren't dating when I made my run there," Collins said, laughing. "I had already made friends and fans without him."
Collins rose to No. 23 in the world rankings in late January 2019, thanks to her performance in Melbourne.
"Looking back on it, it was definitely a career-defining moment," she said. "The confidence that I've gained from that, I think, has been tremendous. It allowed me to show that I can play with the best players in the world and I can be just as strong and just as powerful, and I really made a name for myself by doing that. At the same time, now my expectations are even higher because of that. My goals are to win a Grand Slam, my goals are to be a top player. Now it's like, 'OK, well I've done that, but now I'm focusing on the other goals that I want to take off my list.' "
For reasons beyond her control, Collins was unable to build on her Australian Open showing in 2019.
"It was so unfortunate last year that basically from May through the rest of the year, I was struggling with my health," she said. "And then this year, once I started treatment, I actually had a really great run in Australia again. I didn't get as much media coverage at those tournaments, but I made the quarterfinals in Brisbane, and I made the semifinals in Adelaide, where I lost to [Ashleigh] Barty by two points in a third-set tiebreak. So I was off to a really great start this year, and then with COVID, everything shut down."
Until she was diagnosed with rheumatoid arthritis last year, Collins said, her health was a constant concern, "because I had no idea why I was having so much joint pain. I had no idea why I was having chronic fatigue. I just didn't know what was going on. But once they diagnosed it and I began treatment, that's when everything started to turn its course, and it's been much more manageable since. I've also made some really serious dietary changes, which to me have played the largest part in me feeling better. I had a lot of allergies and intolerances, and now there's certain things that I have to avoid in my diet, or it can flare me up. I've noticed that by eating the right things and staying away from those triggers, I'm in a much better place than before. I haven't really had any issues with it for the last four or five months. It's been great."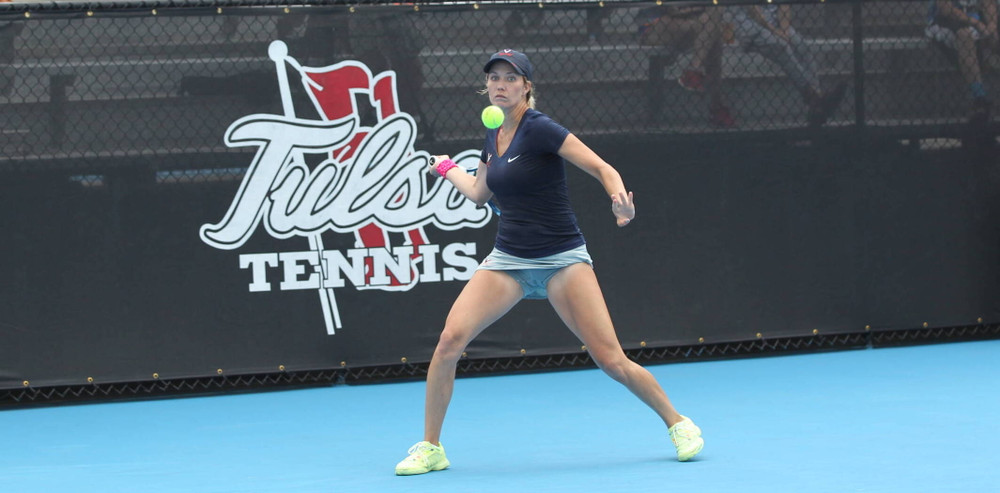 She played in several events ahead of the U.S. Open, which started Monday morning at the USTA Billie Jean King National Tennis Center in Flushing, New York, "but not nearly as many matches as I would normally have in the middle of the season," Collins said.
That's not all bad, she added.  "I feel pretty good," Collins said. "I've been training a lot. I don't think I've ever had this long in my career to just train. I've been able to work on a lot of different things within my game."
In Florida, she has a tennis court and a gym at her house, "so I didn't have to leave" home often, Collins said. "But being immunocompromised with my rheumatoid arthritis. I had to be really safe. Really during this whole pandemic, I've had to really be careful and carry my hand sanitizer on me and limit where I go as much as I can."
She felt safer in Charlottesville, where her boyfriend and her brother joined her for part of her stay.
"I wasn't able to maybe do the things that I'd normally like to do, like go to a basketball game or go to a football game," said Collins, who also enjoys visiting wineries in the area. "But we were able to go hiking, we were able to go to Carter's Mountain, and we were able to go to Monticello.
"I didn't get to see Monticello while I was in college. I was so busy. So I finally got to go see it, and it was the best time, because it was literally just me and my brother. We were like, 'This is awesome. There aren't people everywhere.' It was an exclusive tour."
Players competing in the U.S. Open, at which fans will not be present this year, are based at a hotel on Long Island. "Everybody's been COVID-tested, and they have a pretty good set-up with food, and there's entertainment for players," Collins said. "They're trying to keep us safe so that we're able to do this, because right now it's just dicey waters for sporting events in general. So this is really the only way we'd be able to do it."
Keeping her company in New York is her dog, Quincy, a miniature mix.
"He's so cute," Collins said. "He's white and gray, a little fluff ball, and I love him to death. He's been awesome, because tennis tournaments can be very isolating, especially on the days that don't go your way. Quincy always has a smile on his face. He's always got a positive attitude. He loves me unconditionally. He just offers so much support to me. I try to bring him to as many places as I can. We have so much fun together."
Her path at the U.S. Open won't be an easy one. Collins' first-round opponent is the No. 14 seed, Estonia's Anett Kontaveit, who's ranked No. 21 in the world.
"Before they even made the draw, I knew it was going to be a challenge, no matter who I play," Collins said. "In women's tennis, the depth is insane. It's not like on the men's side, where there are three or four players that are consistently at the top. You go down the list [on the women's side], and everybody has had strong results. You've got people that are outside of the top 60 in the world that are Grand Slam champions like Venus Williams and [Victoria] Azeranka."
Collins is looking forward to spending more time in Charlottesville, where she'd like to have a second home.
"It's probably in my 10-year plan," she said, laughing. "I want to live over in Pippin Hill [in southern Albemarle County]. I want to have a backyard with a tennis court, and I want to have horses."