4TheHoos Initiative | Jerome Meyinsse on Twitter | Jeff White on Twitter | UVA Men's Basketball on Twitter | Subscribe to Jeff White's Articles
By Jeff White (jwhite@virginia.edu)
VirginiaSports.com
CHARLOTTESVILLE –– In only one of Jerome Meyinsse's four years at the University of Virginia––his fourth––did he play for Tony Bennett, who took over as the Cavaliers' head men's basketball coach in the spring of 2009. In that one season, however, Meyinsse established bonds that endure today, a decade after he earned a degree in economics from the University.
In 2019, when the Wahoos made their historic run in the NCAA tournament, the 6-9 Meyinsse was playing professionally in Argentina. He vividly recalls riding in an Uber and following, on his phone, the Elite Eight game in which Virginia beat Purdue after forcing overtime on a buzzer-beating shot by Mamadi Diakite.
"Mamadi hits that shot, and I scream so loud that my Uber driver swerves the car and almost wrecks it," said Meyinsse, who now plays in Mexico's top league, Liga Nacional de Baloncesto Professional, for the Aguacateros, who are based in Morelia, Michoacan.
"If there had been somebody else on the road, he would have hit them. I get home, I run upstairs, I watch overtime. By the time the game's over I'm in a full sweat."
Earlier that night, his team had posted a one-sided victory in which Meyinsse didn't have to over-exert himself. "After the Purdue game, I was in a full sweat," he said, laughing. "I sweated more watching that game than I did in my actual game."
He watched the NCAA championship game at a restaurant in Buenos Aires with UVA alumna Elesha Mavrommatis, who was living in the city with her family. The Hoos, of course, secured the program's first NCAA title with an overtime victory over Texas Tech, the last in a series of heart-stopping finishes for them that postseason.
"I spent most of the game on the floor," Meyinsse said. "I couldn't take it. That's how emotionally invested I am in the program, because my career trajectory, my last 10 years, would have been completely different if [Bennett and his staff] hadn't given me a chance. So that's why I try to come back [to Charlottesville] every summer and say hi to coaches.
"They still treat me like I'm a part of the program. I'm welcome any time. I still get texts from coaches. We still talk when they have time. I feel like I'm part of the family. So when they won the national championship, I won the national championship."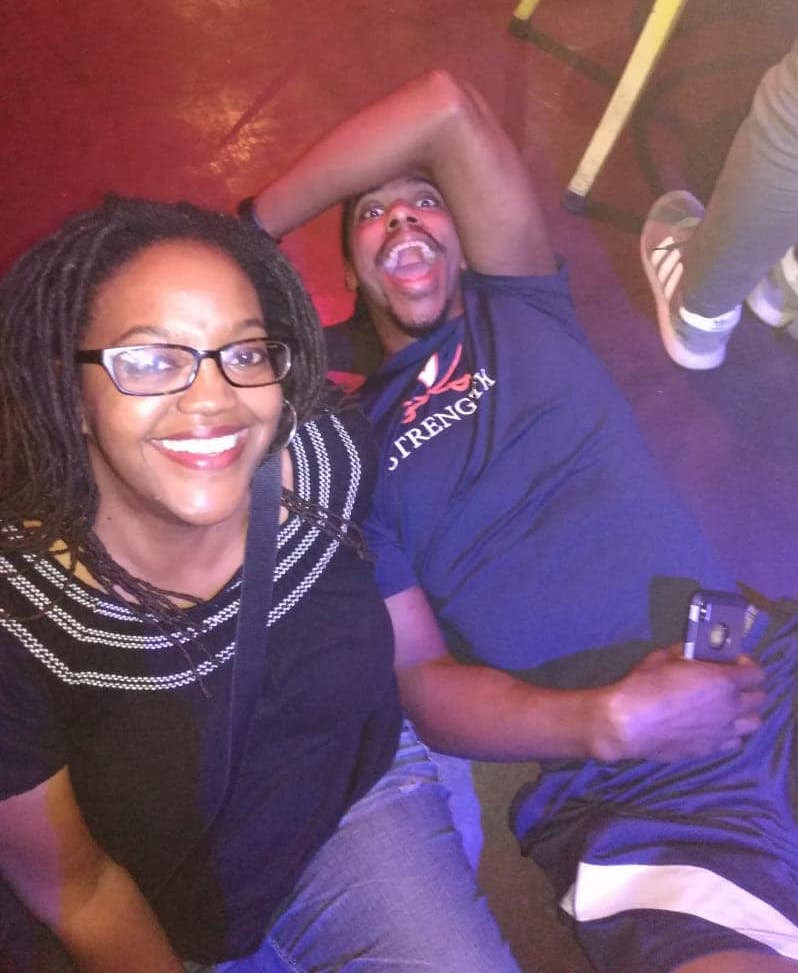 Meyinsse, who grew up in Baton Rouge, Louisiana, was only 17 years old when he arrived at UVA. It was the summer of 2006, and Dave Leitao was the Cavaliers' head coach.
"I divide my college career into three parts," Meyinsse said. "My first year is one part. I came into UVA, and I had to have my parents fill out my compliance forms because I wasn't legally old enough to be able to do so. So I came in there bright-eyed, bushy-tailed, didn't really know what to expect, and I wasn't physically or mentally ready yet."
Redshirting was an option for him in 2006-07, but Meyinsse wasn't interested in sitting out a season. "[The coaches] could have over-ridden that, yes, but I thought I could play," he said. "I thought I was ready. But looking back now, I just wasn't physically or mentally ready for the ACC at 17 years old."
In his second and third years, Meyinsse said, "I was physically ready. I'd worked out in the weight room and I'd put on 15 pounds. But I think looking back what I lacked the most was confidence."
It didn't help Meyinsse that Rob Lanier left Leitao's staff after the 2006-07 season to become an assistant coach at the University of Florida.
"Coach Lanier was the one that recruited me," Meyinsse said. "He was the guy my first year that would say, 'You can do this. You need to work on this.' He was in my corner, and he encouraged me when I wasn't playing. That really helped me, and when he left I lost a person that was in my corner, and I didn't receive the constant encouragement that I needed. I didn't feel confident. I didn't have it within myself."
As a junior, Meyinsse averaged 1.7 points and 1.6 rebounds per game, numbers that did not suggest a long professional career was in his future. At that point, he figured he'd head to Wall Street once his college career ended, a career path his parents supported.
"That's where my head was," said Meyinsse, who minored in mathematics at UVA and was a fixture on the ACC's All-Academic team. "But then Coach Bennett comes in, and I was like, 'Well, I get another shot.' And he didn't have to give me another shot, because I was fourth-year. He could have said, 'I'm building the program. I'm going with the younger guys.' But he didn't."
Meyinsse blossomed late. After scoring more than nine points only twice in the Cavaliers' first 25 games as a senior, he scored 12 or more in each of their final five regular-season contests. "That's really what propelled me into my professional career," he said.
Does he ever wonder what he might have done as a fifth-year senior in 2010-11 had he redshirted as a freshman?
"Absolutely," Meyinsse said. "But it would have completely changed my professional career path, and I've loved it. I think my professional career path has been very unique. I haven't heard of many people going down the path that I went, especially because my first year was a complete tryout. I went to Argentina on a tryout. I bought my own plane ticket and tried out that first year. They liked me, so they signed me and they kept me.
"I had some unique adventures with my team that first year. I maybe wouldn't have found that anywhere else if I'd had a great college year. Maybe I'd have still been overseas, but in a different city, in a different location. Looking back, I wouldn't change anything."
"They still treat me like I'm a part of the program. I'm welcome any time ... So when they won the national championship, I won the national championship." -- Jerome Meyinsse
Meyinsse has played for teams in Argentina, Brazil, Venezuela and, now, Mexico. He speaks three languages fluently––English, Spanish and Portuguese––and has immersed himself in the cultures to which he's been exposed.
"I think actually one of the biggest things that happened in my career with that aspect is my Xbox got stolen at the beginning of my third year [in Argentina]," Meyinsse said. "My first two years I was involved, I tried to get out, I was learning Spanish, but once my Xbox got stolen and I decided not to buy another, there was literally nothing else for me to do. I had to go out and learn the language and interact with people, or I would just be bored all day.
"It kind of started there, and then I saw how valuable that was. I was in my third year in Argentina, and the next year I went to Brazil. So before I even went to Brazil, I was already prepared. I was like, 'I'm going to learn Portuguese as fast as possible, because I have seen how important it is to learn Spanish in Argentina.' I have friends in Brazil to this day, even though I left four years ago. It gave me a love and an appreciation for soccer, which I never had. I learned the culture, I was at the games, I was chanting, jumping up and down. I literally lived their lifestyle, and until you do that, you don't have a full appreciation of different cultures. It really opens your eyes to the diversity that we have in this world, how people think and react, and how they grow up, and how different cultures have evolved in different places in the world. And I think you just don't get that until you dive in completely to someone else's culture."
Meyinsse's mother is a professor at Southern University in Baton Rouge, as was his father, who passed away in 2013. From his parents, Meyinsse developed a passion for learning that continues today. In 2010, he was one of 40 student-athletes from the ACC awarded post-graduate scholarships by the conference.
During the three years he played in Brazil, Meyinsse said, "I did everything. I did more things in those three years than people who had lived in Rio [de Janeiro] their whole life had done. I went to all the tourist attractions. I went to every different part of the city. I went to every soccer game that I could. I learned the culture. I ate the food. I did everything."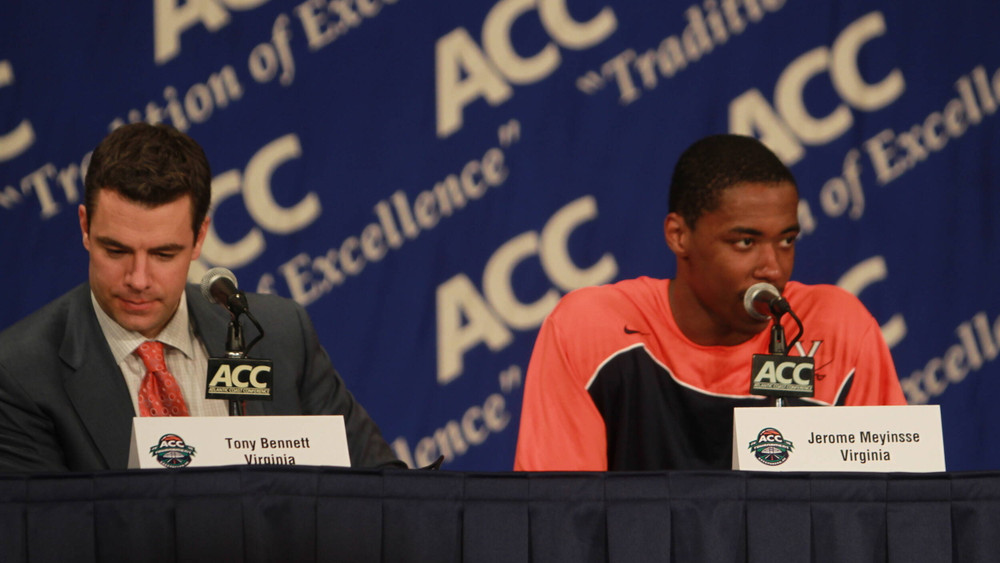 In Mexico, his teammates include Tristan Spurlock, who spent the 2009-10 season at UVA before transferring to Central Florida. The 2020-21 season begins this month in the Mexican league, and because of the COVID-19 pandemic, games will be played without fans in attendance.
Soccer and baseball are the most popular sports in Mexico, Meyinsse said, but interest in hoops is on the rise in Morelia, the capital of Michoacan. The 2019-20 season was his first with the Aguacateros, and "we had a great playoff run and we were selling out the stadium," Meyinsse said. "I want to say 5,000 people, which is a lot [outside the United States]. Unfortunately, [attendance is] going to take a hit this year, because we're going to play without fans, but it's definitely growing and it has a lot more room to grow."
A chiseled 235-pounder, Meyinsse in no hurry to end his playing career.
"As long as my body lets me and I'm having fun, I can keep going," he said. "I'm 31 now, and I feel like I could play another five years easily and maybe even 10. Right now I'm feeling great. My head's still in it, my body feels great. I don't plan on stopping anytime soon."
Whenever it's time to start a new chapter in his life, Meyinsse said, "I would like to stay with basketball in some capacity, though I don't see myself being a coach or a trainer."
Somebody once advised him to "figure out what lifestyle you want to live and then pick your job from there, and I think that was a great way to look at it," said Meyinsse, whose girlfriend, a pro volleyball player, is Brazilian. "And for me personally, I love to travel. I love that I've learned different languages, and I want to continue to use them. So the lifestyle I want to lead is maybe living in the United States for nine months and then traveling or being somewhere else for three months out of the year.
"I don't know exactly what that looks like right now, but that's kind of where my head is now. I would love to travel with whatever I decide to do next. Basketball would be great, but it's not something that I have to do when I'm done playing."
Meyinsse returns to Charlottesville when his schedule permits, and he was part of the capacity crowd that saw Virginia knock off seventh-ranked Duke 52-50 at John Paul Jones Arena on Feb. 29. He had another trip to UVA penciled in on his 2020 calendar, but the pandemic intervened.
"I came back for the five-year reunion [in 2015] and had a great time," Meyinsse said, "and was planning on coming back to my 10-year reunion [in June]. If everything goes according to plan, they're going to push our reunion and next year's reunion together, which might be the greatest reunion of all time. If that happens, I won't be upset at all."
To receive Jeff White's articles by email, click here and subscribe.