Women's Soccer Fact Book | Schedule/Results | Statistics | 4TheHoos Initiative | Jeff White on Twitter | UVA Women's Soccer on Twitter | Subscribe to Jeff White's Articles
By Jeff White (jwhite@virginia.edu)
VirginiaSports.com
CHARLOTTESVILLE –– For University of Virginia women's soccer coach Steve Swanson, looking out on the field at Klöckner Stadium and see Laurel Ivory in goal Saturday night was one of the highlights of his team's season opener.
"We feel confident in all the goalkeepers, because [volunteer assistant Jake Davis] has done a great job with all three of them, and they've all improved enormously," Swanson said. "But, obviously, to have Laurel back, especially when you think about how her year ended last year, it was really good, and I think she was very anxious to play in a game as well."
Ivory, a four-year starter for the Cavaliers, suffered a broken jaw in the ACC championship game last season. She missed the NCAA tournament, which UVA exited in the second round, but she's healthy again and played all 90 minutes Saturday night in a 3-1 win over Virginia Tech.
She's now required to wear a mouthguard when she plays, Ivory said Tuesday, "so that was a little weird. But it felt great. I was just really excited to be back out there and be on that field again."
With the COVID-19 pandemic ongoing, college sports are in uncharted territory. In 2019, the Cavaliers played two exhibitions before opening the season on Aug. 23. There were no trial runs this year, and Swanson wasn't sure exactly what to expect against the Hokies on opening night.
What he saw from his team pleased the Wahoos' longtime leader, as did the fact that the game went off as scheduled.
"I don't want to take that for granted, because I think there's too many people that worked really hard to make that possible," Swanson said. "Everybody put a lot into making that game happen, especially the players. They had to follow through [with COVID-19 protocols] and do all the things they needed to do in order to make that happen."
In a normal season, Swanson said, perhaps "you don't appreciate these games as much. But when you go through a year of COVID, and you go through what we've gone through over the last six months, you start to appreciate it even more, just sport in general."
"I think everyone [on the team] has a really good understanding of how unusual this season is, and how we're going to have to adjust on the fly." -- senior goalkeeper Laurel Ivory
In improving its all-time record against the Hokies to 21-4-1, UVA built a 3-0 lead before giving up a goal on a penalty kick in the 85th minute.
Sophomore Diana Ordoñez, junior Alexa Spaanstra and freshman Lia Godfrey each scored a goal for the Hoos. Godfrey, freshman Samar Guidry, sophomore Cam Lexow and junior Ashlynn Serepca were credited with one assist apiece.
"We did some good things," Swanson said. "Looking at the film, obviously we're not where we need to be or should be at this point in time, but we've got to get games under our belt so we can get better. I just think we've got to get a little more consistent, and hopefully that will happen as we play more games."
After four intrasquad scrimmages, Ivory said, the Cavaliers were thrilled to play another team.
"I was really excited to see how we were going to apply what we've been doing in the intrasquads and in practice to actually playing a team that doesn't know our system, doesn't know how we were going to come out and play," Ivory said. "That's what I was looking forward to the most. I think we applied a lot of what we have been doing to that game. We were definitely sloppy in some areas, but I think that's 100 percent to be expected with the fact that we haven't played a game in 10 months against someone other than ourselves.
"On top of that, I think we had some really, really great moments in that game, which I was surprised by. We were so much further ahead than I was expecting us to be, and that was really, really great to see."
UVA's final goal came in the 83rd minute. On a counter off a Virginia Tech free kick, Serepca sent a long ball ahead to Lexow, who raced toward the goal before passing across the top of the box to Godrey, who did the rest.
"I have to say, I was so excited about that goal," Swanson said, laughing. "I've been here for 20-some years, and that was one of the better goals. I'll look back at that one, and I'll remember that one."
So will Ivory, who noted how many players contributed to the goal. She also raved about Godrey.
"She is going to be a force to be reckoned with this year and her whole entire time here," Ivory said "She's a talent. I'm so excited to see what she does."
Virginia's next home game is Oct. 1 against Pitt at Klöckner Stadium. First come three consecutive road games for the Hoos, starting Thursday at 6 p.m. against Duke. UVA, which plays at Clemson on Sunday at 3 p.m., visits Virginia Tech on Sept. 25.
The Duke and Clemson games will air on ACC Network.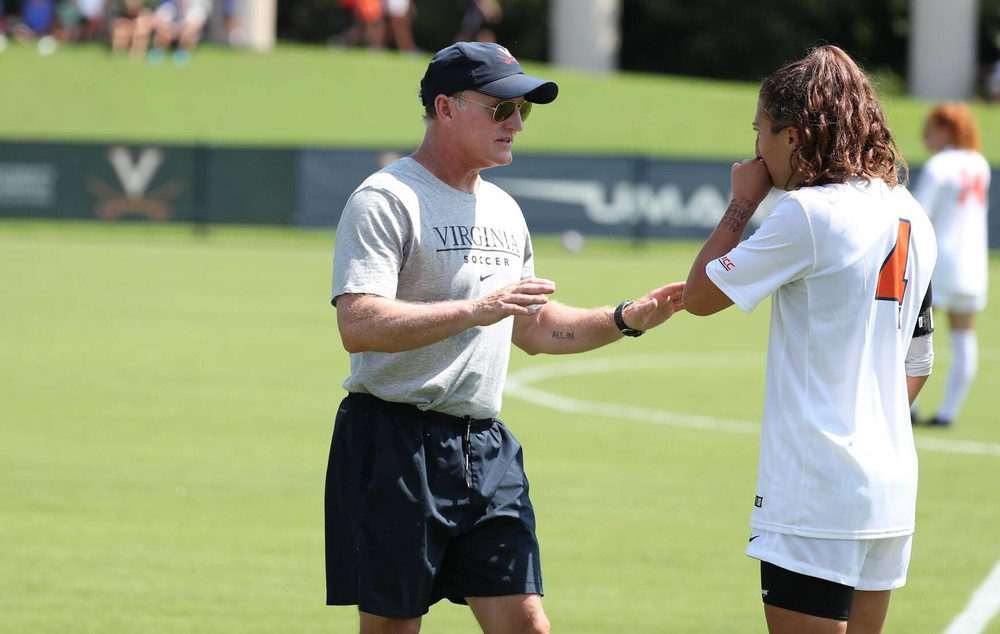 UVA, Duke and Clemson are each 1-0, with a win over an ACC rival. None of those games, however, counts in the conference standings. That's just one more example of how this season is unlike any other. Here's another: the Cavaliers' travel schedule for their next two games.
"It's just the times that we're in right now," Swanson said. "Usually for the Duke game you go down [to Durham] the day before and you spend the night and play the game the next day. We're just going to go down straight down on the day of the game and play, and then come back [Thursday night]. And then Clemson's the same thing. But I think everybody understands the reasons why we're doing it, and we're trying to be smart about how we go about it.
"It's about playing games, it's about taking advantage of this opportunity, but it's also about being smart and using our heads about the safest way to travel and to deal with the pandemic that we're still in. I think overall we've had good plans. Now it's a matter of just executing them, and I think the players are going to have to be even more disciplined about getting their rest and being smart about what they're doing in order to prepare for these games, because it's just going to be a different year in that regard."
The Cavaliers' captains are Ivory, senior Taryn Torres and fifth-year senior Anna Sumpter.
"I think everyone [on the team] has a really good understanding of how unusual this season is, and how we're going to have to adjust on the fly," Ivory said.
Driving roundtrip on the day of a game isn't ideal, Ivory said, "but you know what? We get to play. We're going down to Duke, we're playing, and this game counts.
"The adjustment isn't major, and with us being in Charlottesville and in the ACC, just by nature we bus to a lot of places, so we're used to getting back at late hours on a bus. Having to get off a bus and then play in an ACC game, that's a little bit of an adjustment we're going to have to make, but I think we're just really grateful that we're getting to play.
"My friends who play in different conferences, they're all texting me to say, 'Just enjoy it. Be grateful.' And I am. I'm so grateful that we get to get this season in when there are so many conferences that are not getting it in."