Cross Country Schedule  | 2020-21 Fact Book | 4TheHoos Initiative | Jeff White on Twitter | UVA Track & Field/Cross Country on Twitter | Subscribe to Jeff White's Articles
By Jeff White (jwhite@virginia.edu)
VirginiaSports.com
CHARLOTTESVILLE –– As a distance-running phenom at Saratoga Springs High School in Upstate New York, Nicole Blood Freitag had her choice of colleges. Vin Lananna persuaded her to cross the country and run for him at the University of Oregon, some 3,000 miles from her hometown.
"It's a trek," Freitag said, but she never regretted her decision.
Under Lananna's tutelage, she won four Pac-10 titles, earned All-America honors nine times, and helped the Ducks win the NCAA women's indoor track & field title in 2009-10. (Oregon was NCAA runner-up twice in women's cross country and twice in women's outdoor track & field during her career).
"We were just such a good match for each other," Freitag said. And so when Lananna contacted her last fall about a coaching position at the University of Virginia, she was intrigued, even if it meant crossing the country again.
"I don't think I even realized how much I missed it until Coach Vin called me about this opportunity," Freitag said. "It was just something you couldn't turn down. This time we have here is going to be truly special, and I couldn't pass it up."
As a head coach, Lananna has won 11 NCAA team championships: six at Oregon (three in women's indoor track & field, one in men's indoor track & field, two in men's cross country) and five at Stanford (three in men's cross country, one in men's outdoor track & field, one in women's cross country).
Lananna took over as UVA's director of track & field and cross country last September. A month later, Freitag joined his staff as an assistant coach. She'd been living in Portland, Oregon, with her husband, Brock Freitag, and working as a global sports marketing manager for On, a company that makes products for runners.
"No one is more qualified than Nicole in understanding my system and understanding how you build a successful program fully centered on the student-athlete experience," Lananna said.
"She's a perfect match. She basically is an extension of my coaching. She understands it, she and I speak the same language, and both of us believe in it. As for her role, I want to be sure we have a high-profile female in dealing with the issues that women's distance runners deal with. She understands them, she can process them, and she can offer practical resolutions to issues as they come up."
Freitag, 32, assists on the men's side as well, Lananna said. "She has already become my right-hand person in both recruiting and coaching in all the 800 meters and up."
In Lananna's program, the distance runners are "really one team, the men and the women," Freitag said. "Obviously they train slightly differently and all that, but they work out together and practice together. I hope they use me as a resource, just as someone who ran for Vin at one point.
"With the women, I think it's more important for me to work specifically with them, because I think it's important for females to have female coaches, or at least people that they can feel a little bit more relatability with. There's things I can understand and help relay to Coach Vin that maybe they wouldn't necessarily always feel comfortable [talking about with him]."
"No one is more qualified than Nicole in understanding my system and understanding how you build a successful program fully centered on the student-athlete experience. She's a perfect match." Vin Lananna on Nicole Blood Freitag
A 2010 graduate of Oregon, where she earned a bachelor's degree in journalism, Freitag previously coached as a Columbia University assistant from 2012 to 2014. It wasn't an altogether satisfying experience for her.
"I think New York City and the whole Ivy League weren't the greatest match for me, quite honestly," Freitag said. "I didn't really enjoy Manhattan, and the Ivy League is a different ball game. I gave it two years. I was 24 and 25 years old. I was still kind of hanging on to my running. I feel like I wasn't all-in on the coaching part. I was just trying to find a way to stay in the sport."
After returning to Oregon, where she worked first for Nike and then for On, Freitag found she missed coaching. "I was meeting so many athletes, and I missed being a part of their development," she said. "Being on the business side certainly isn't as fun."
The ACC Cross Country Championships were less than a month away when Freitag arrived in Charlottesville last year. The UVA men placed fourth and the women 11th at the ACC meet.
"It was not what we envisioned for Year 1, for sure," Freitag said. "It was tough, but I'd say it felt like a smooth transition with the team, because we got to know the men and women pretty quickly. They were very open and communicative, so that part wasn't hard, because the athletes made it so easy for us.
"The hardest part was jumping into recruiting. A lot of the Class of 2020 high school kids, by October they'd already committed or had their visits set. But we lucked out. We just had to do more research and communicate with high school coaches more, and we just found some kids that were either less developed than others and having a breakthrough senior year, or just super-athletic kids who we thought [could blossom] if developed the right way. We ended up getting a lot of talent, but it was a stressful few months trying to get this stuff in order."
The Wahoos open their cross country seasons Friday at 5:15 p.m. with the Virginia Invite, on their home course, Panorama Farms in Earlysville. In the ACC preseason polls, the UVA men were picked to finish third and the women 10th.
"I think the women will move up," Lananna said. "They get better every day, and I think we're far better than we're ranked."
Like Lananna, Freitag believes UVA can become a contender for NCAA championships in track & field and cross country. She noted the accomplishments of Virginia's throwers, jumpers and sprinters under her fellow assistant coaches, Martin Maric, Mario Wilson and Michelle Freeman.
"Really, the missing link was getting our middle distance and distance kids on board, especially on the women's side, so that they can contribute as well," Freitag said.
Newcomers on the women's cross country team include three graduate transfers: Georgia Fear (Dartmouth), Michaela Meyer (Delaware), and Lauren Moffett (Vanderbilt).
"What they bring in, more than anything else, is experience," Freitag said. "These girls have raced at conference championships, and someone like Michaela Meyer has had a top-three time in the NCAA on the track. They should make an impact right off the bat."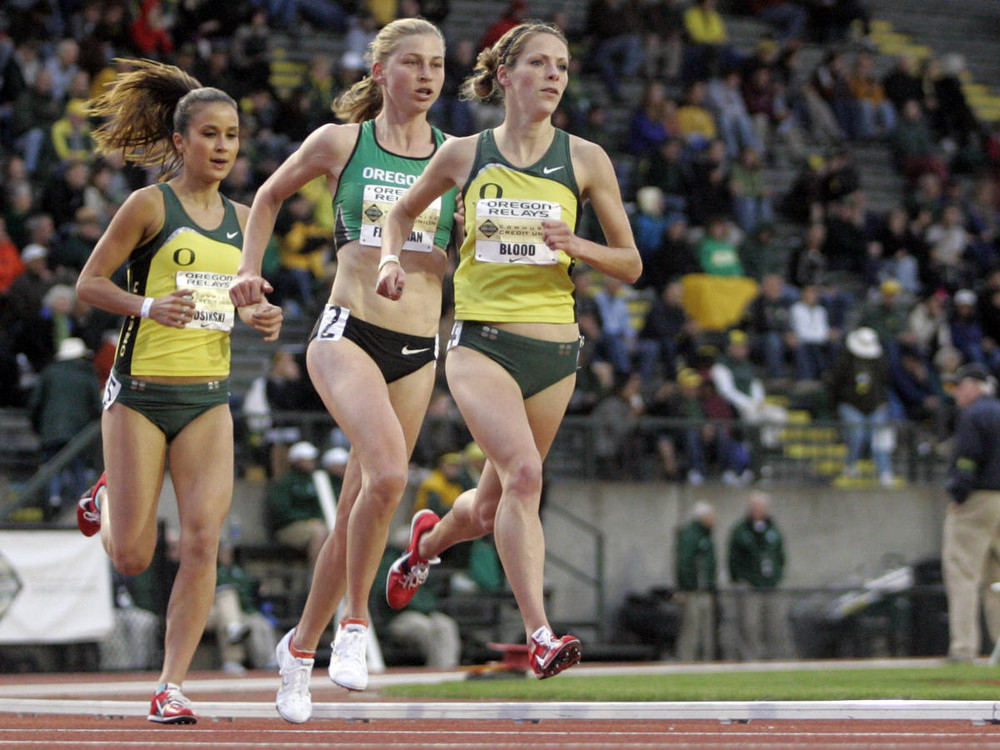 She sees similarities with her undergraduate experience.
"Quite honestly, Oregon was in the same exact position when Coach Vin recruited me there," Freitag said. "They were sixth or seventh in the conference, and it was super exciting to be able to just start building the team, and it had to come from within. It had to come from the athletes. Me and a few other leaders on the team were kind of the ones who sparked it. We knew we wanted to win a national championship, and by my sophomore year we were second in the country, and by my senior year we won a national championship. It can happen really quickly on the women's side, with the right recruits."
Men coming out of high school must adjust to running significantly longer distances, "but on the women's side, especially in cross country, there's not a lot that changes," Freitag said, "so the young ones can make an impact super early on. Things can turn around really quickly, and we expect it to.
"We're getting the right recruits. This 2020 class is jumping right in, and they have the right mindset. It's not like we coaches are forcing any goals upon them. They've come to us and said, 'Hey, this is what we want to do. We want to win an ACC championship. We want to get on the podium at NCAAs.' It has to come from the team. It can't come from us. So the fact that they've already got that in their minds, that's what's getting me super excited, because I think we've got the right kids here."
Lananna said: "It's like building anything. Whether it's a corporation, a department, a program, it's all about getting the right people, and that's what Nicole understands and recognizes."
The COVID-19 pandemic shut down college sports in March, before the outdoor track & field season even started. But Freitag saw significant improvement from several distance runners during the indoor season, including Kiera Bothwell and Hannah Moran.
"They're still progressing," Freitag said. "Every week they look like different runners, and they showed up ready to go this year. Now they've been with us almost a year, I think we're really going to get to see some of the differences that have been made with them."
Freitag, whose husband teaches math at Charlottesville High School, has enjoyed being back on this side of the United States.
"I think there's amazing things on both coasts," she said. "My family is back here in Upstate New York. That was definitely a perk of coming back to the East Coast, being within a seven-hour drive of my family. But I met my husband out in Portland, and he was born and raised there, and his whole family is out in Portland. There's good and bad things about having families on opposite coasts, but at least we have an excuse to go back every so often and visit friends and family."
Charlottesville reminds her in some ways of Saratoga, Freitag said, which has made the transition easy. "It felt like home here."
After graduating from Oregon, Freitag continued to compete for several years. Her training schedule is not as intense these days.
"What I've figured out is that I've got to stay in good enough shape to be able to cheer during cross country races, if I want to get to like five different locations," Freitag said. "I run probably three or four days a week, and a couple of them I'll run all out, just to see what I've got, because I can't seem to lose that part. But nothing quite like I used to."
To receive Jeff White's articles by email, click here and subscribe.