UVA Men's Basketball on Twitter | Jeff White on Twitter | 4TheHoos Initiative
By Jeff White (jwhite@virginia.edu)
VirginiaSports.com
CHARLOTTESVILLE –– Devon Hall been back in town for about a month, honing his skills as he waits to sees where his professional career will take him next season.
A typical offseason would find Hall working out at John Paul Jones Arena, his second home during his five years as a University of Virginia basketball player. But these are not normal times, and access to JPJ has been severely restricted during the COVID-19 pandemic. And so Hall trains instead at Charlottesville High School, where his workout partners include another former UVA guard, Ty Jerome. (London Perrantes was working out in Charlottesville, too, before heading home to Los Angeles last week.)
To not be based at JPJ is "super weird," said Hall, who finished the 2019-20 season with the NBA's Oklahoma City Thunder, but he and Jerome, who's heading into his second year with the Phoenix Suns, are making the best of the situation.
They've seen a lot of each other recently. Hall and Jerome were among eight former UVA players in the NBA bubble in Orlando, Florida, this summer, along with Joe Harris, Kyle Guy, Justin Anderson, Malcolm Brogdon, Mike Scott and Marial Shayok (who ended his college career at Iowa State.)
"I saw Joe a ton," Hall said. "I saw Malcolm a ton. I saw Justin a ton. I spent a lot of time with Ty when I was there, and I saw Kyle a bunch of times too. I saw Marial a ton too. I saw everybody."
In all, Hall played in 11 games for the Thunder this season, six of them in the bubble. In his final appearance, an overtime loss to the Clippers, he totaled 12 points, four assists and three steals in 24 minutes, all career highs, and made 3 of 6 shots from beyond the 3-point arc.
"Overall, it was a good experience," said Hall, who's now a free agent. "I'm just excited about what's next."
A graduate of Cape Henry Collegiate in Virginia Beach, Hall redshirted as a UVA freshman in 2013-14. His role in head coach Tony Bennett's program steadily grew, and Hall was named to the All-ACC second team and the All-ACC defensive team as a fifth-year senior.
He left UVA in the spring of 2018 with two degrees––a bachelor's in media studies and a master's in higher education––and the Oklahoma City Thunder drafted him No. 53 overall that summer. With with no roster spot available for him, however, OKC officials and Hall agreed it made sense for him to play in Australia.
In August 2018, he signed with the Cairns Taipans of the National Basketball League and moved to Queensland, Australia.
"I played six months over there and had an up-and-down rookie year," said Hall, a 6-5, 215-pound combo guard. "My team wasn't good at all. But I learned a lot while I was over there: learned how to grow up, learned how to play with different people and play for a brand-new coach, learned about the organization, learned how to be a professional."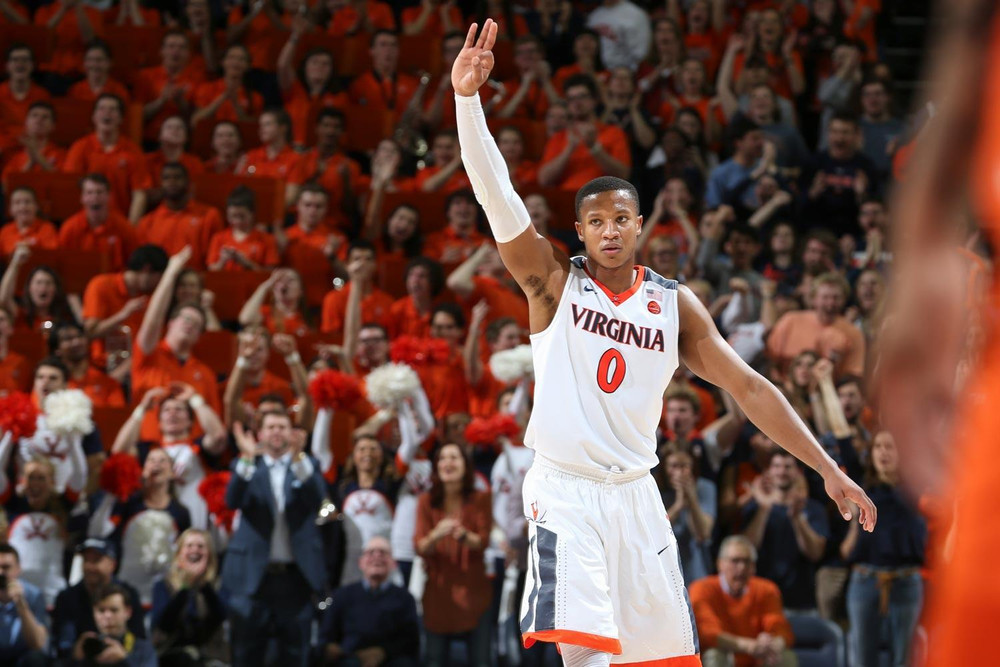 Hall was one of three Americans on the Taipans' roster, along with D.J. Newbill and Melo Trimble. The experience, Hall said, differed dramatically from what he had at UVA, where he was surrounded by teammates and coaches he knew well. Playing overseas, even in a country where English is the primary language, presents challenges.
"You've got to kind of figure it out yourself," said Hall, whose brother, Mark, played football at UVA. "There's no more class, so there's a lot of downtime. It stunk sometimes."
He discovered a UVA connection in Cairns. The Taipans' front office employees include current Virginia swingman Kody Stattmann's aunt. She and Stattmann's mother are identical twins, and "so many times it threw me off," Hall said, laughing. "I'd see the two of them together, and I wouldn't know which was which."
In 28 games with the Taipans, Hall averaged 9.2 points, 4.4 rebounds and 2.5 assists. He wasn't satisfied with his play, but he found a "safe haven" in the gym.
"I didn't want to spend too much time in my room," Hall said, "because I might just sit there and overthink things, or whatever the case may be, because I was having an up-and-down season. The only thing I could trust was the work I put in, so that's what I kept doing. No matter how I was playing––if I was playing bad or I was playing well––I was going to be consistent with the workouts I put in, because I knew that was what I could rely on."
When he returned to the U.S., Hall joined the Thunder's G League team, the Oklahoma City Blue. In 10 games with the Blue during the 2018-19 season, he shot 42.2 percent from beyond the arc and averaged 7.3 points, 1.4 rebounds and 1.5 assists.
In September 2019, Hall signed a two-way contract with the Thunder. In a preseason game the next month, he scored 19 points (on 6-for-9 shooting) against the Memphis Grizzlies, but this stint with OKC didn't last long.
After he spent 45 days with the Thunder, the maximum allowed a two-way player under NBA rules, Hall was waived on Dec. 11. He ended up back in the G League, where he had a stellar 2019-20 season with the Blue. In 30 games, Hall averaged 15.5 points, 5.7 rebounds and 4.4 assists, and he made 35.7 percent of his 3-point attempts.
"It helped my confidence a ton," Hall said. "I had a really good second half of the season where I got into my groove, playing well, being super aggressive, scoring more than I've scored in my life. We were winning, and I was kind of at the forefront of that team, so I felt good."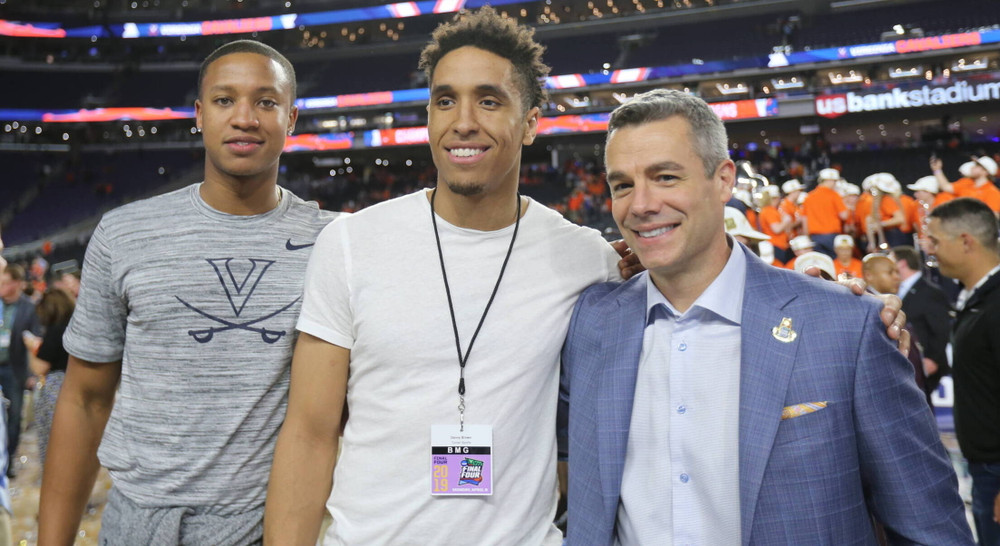 In March, however, the pandemic hit, and the G League (and the NBA) shut down. Hall returned to Charlottesville to train, after which another opportunity arose for him. In June, the Thunder added Hall to its roster for the bubble in Orlando.
Hall, 25, wasn't active for the playoffs in Orlando, but he sat on the Thunder's bench and tried to soak up all he could from point guard Chris Paul and the team's other veterans. (In their first-round series, the Houston Rockets edged the Thunder 4-3.)
"The guy's always trying to teach something, in life or just basketball itself," Hall said of Paul, a 10-time NBA All-Star. "So I was listening and trying to pick up different cues and different little things he does on the court and how he reads the game."
His plans for next season remain uncertain.
"I would love to be back in Oklahoma City," Hall said. "The organization knows that. I want to be in the NBA. I know I'm an NBA player. I know my capabilities. I want to be playing for them, but I don't know what direction they're going to go in."
Head coach Billy Donovan and the Thunder parted ways in September, and the team has yet to hire his successor.
The Thunder knows Hall would like to remain with the team, he said, "but obviously it's a business, so they have to make the best decision for them. I don't know if they know what direction they're going to go in with the team, but they know where I want to be."
Playing overseas could be another option for Hall. "If it's a good opportunity, then I'd definitely look into it," he said. "But I'm not going to sell myself short and take just anything. It's got to be a really good opportunity over there: good role, good money, good situation. But I'm hoping to be back in the NBA and get a chance with OKC or even another team.
"It's going to be a little bit of a waiting game, unless a great opportunity comes up somewhere else. Right now I'm focusing on staying in shape and getting my body right and making sure I'm ready to go whenever it starts."
In his sessions at Charlottesville High, Hall works not only on his outside shot, but on making plays off ball screens "and showing that on a consistent basis," he said. "And then I'm working on a lot of one-on-one stuff, too, being able to create my shot out of some go-to [moves], and also on my finishing, because the guys in the NBA are extremely athletic and long. It's become tougher and tougher to finish, but I'm working on this stuff and continuing to keep the mindset of being aggressive and putting my foot on the gas."
In his final season at UVA, Hall experienced a jarring emotional swing. A week after the Wahoos won the ACC title in New York City, where Hall was named to the all-tournament team, they suffered a historic defeat. In Charlotte, North Carolina, UVA became first No. 1 seed ever to lose to a No. 16 seed in the NCAA tournament, falling 74-54 to UMBC.
In 2019, of course, the Hoos made more history. At the Final Four in Minneapolis, UVA defeated Auburn in the semifinals and Texas Tech in the championship game to secure the program's first NCAA title.
Numerous former UVA players were in the stands at U.S. Bank Stadium during the Final Four. Hall was one of them.
To see the Cavaliers' reversal of fortune "was joy for me," Hall recalled. "I was only happy to see those guys be able to get to that point. From the worst of the worst, then you go to the best of the best. That's the joyous part for me. I wasn't upset that I wasn't on the court. I was completely and utterly happy for those guys."
To receive Jeff White's articles by email, click here and subscribe.