UVA Game Notes | Fact Book | UVA Women's Soccer on Twitter | Jeff White on Twitter | 4TheHoos Initiative
By Jeff White (jwhite@virginia.edu)
VirginiaSports.com
CHARLOTTESVILLE –– Her skills on the pitch are apparent to even the most casual fan, and she's one of this country's most promising young players. But soccer does not define Rebecca Jarrett.
A third-year student at the University of Virginia, she carries a double major (American studies and media studies), as well as a minor in social entrepreneurship. She's a talented graphic designer and a fellow in UVA's Meriwether Lewis Institute for Citizen Leadership.
Jarrett also hosts a weekly podcast, titled the Golden Hour, with her friend and teammate Claire Constant. They came up with the concept during the summer once it became clear that the COVID-19 pandemic would continue into the fall.
"We were like, 'We should start a project, because what else are we going to do?' " Jarrett recalled. "So we went through a ton of ideas, and that was the one that stuck.
"We didn't post our first episode for a couple months, because we did a little bit of planning and had to get all the equipment, but it's been really fun. We've talked a little bit about soccer, we've talked a little bit about race, we've talked a little bit about school. Whatever we're feeling in a week we'll talk about the most."
On their most recent episode, Jarrett and Constant discuss the challenges facing student-athletes during the pandemic.
"We underestimated the heaviness of the whole thing," said Jarrett, who's from Washington Township, New Jersey. "You say online school and no real commitments besides soccer, and it sounds so fun and so easy, but it's definitely been mentally really heavy.
"There are days were it's really hard to motivate yourself, and there are days where you're like, 'Are we even going to make it to the game at the end of the week?' After a while, it just gets very mentally draining. But then on the flip side, at least we get to play games. You sometimes feel a little bit bad saying that you're struggling when there are other players, other sports, other schools where they're not even playing sports. So I can't complain. At least I get to play on Thursday, play on Sunday, and train every day. At least I have that."
A 5-8 forward, Jarrett started 12 games for the Cavaliers in 2018, when she was named to the ACC's all-freshman team. She started all 22 games in 2019, made the ACC Championship's all-tournament team, and finished with five goals and eight assists.
This season, Jarrett is one of only eight players to have appeared in every game for UVA. Between injuries and issues related to COVID-19, the Wahoos "haven't had what we would consider to be our starting lineup in any game so far," head coach Steve Swanson said. "Not one."
This is Swanson's 21st year at Virginia, and "it's been adventure. It's been really unprecedented," he said. "We've had our share of adversity, but we're just trying to manage day by day. That's just the way it is. That's what it's got to be."
"She's such a tremendous athlete, but that's just one of the things that makes her so great. She's a student of the game. She asks great questions. She wants to learn. She wants to improve." Steve Swanson on Rebecca Jarrett
In a game to air on ACC Network, No. 11 UVA (4-1-1, 2-1-1) meets No. 13 Louisville (3-1, 3-1) at 8 p.m. Thursday at Klöckner Stadium. Three of the Virginia players who have been out are expected to play against the Cardinals, and "then we should be getting more back by the weekend, which would be good," Swanson said.
A lack of available players forced UVA to cancel the match at North Carolina that was scheduled for last Thursday.
"These are challenging times, and I think it tests everything about your team and everything about your players individually, as well as collectively," Swanson said. "You want to get your [full] team out there and you want to get them jelling and playing together. But in another sense I think it's been very good, from the development standpoint, to get players in games that they otherwise may not have played in. Those players have come along well. There's a positive in that, for sure, and I'm hopeful that if we come out the other side we're going to be further along than we ever would have been without it."
With four points (one goal, two assists), Jarrett is third on the team, behind freshman Lia Godfrey (seven points) and sophomore Diana Ordonez (five points).
"Rebecca has been one of our constants, so to speak, and she's been a factor on the attacking end for us in every game," Swanson said. "What's really impressed me about Rebecca over the time that she's been here is that she continues to get better every game. Her improvement has been strikingly obvious to me, and I think that's a credit to her."
Not knowing which players will be available from game to game has been challenging, said Jarrett, who lives with Ordonez and another teammate, Lauren Hinton.
"On one hand it's kind of fun, because you get something new every game," Jarrett said, "but it's hard to get into the real true consistent rhythm that I think we usually have. I don't think we've played the same lineup twice in a row, if ever, this year, so that's definitely been difficult, especially in training."
Jarrett has participated in U.S. national team training camps at four levels: U14, U16, U18 and U20. She's represented the U.S. internationally with the U16 and U20 teams.
Early this year, in the Dominican Republic, Jarrett and and her UVA teammate Alexa Spaanstra helped the U.S. capture the CONCACAF U20 women's championship.
By reaching the final, the U.S. qualified for the FIFA U20 Women's World Cup, which was to have been held late this summer in Costa Rica and Panama. But with the pandemic ongoing, the tournament was rescheduled for early next year (Jan. 20 to Feb. 6), and another delay might be necessary.
Jarrett, who'll turn 21 in April, was looking forward to the World Cup, and an opportunity for her to play on that stage may still come. Swanson praised the progress she's made in her two-plus seasons at UVA.
"She's such a tremendous athlete, but that's just one of the things that makes her so great," Swanson said. "She's a student of the game. She asks great questions. She wants to learn. She wants to improve. I think she's got great leadership ability and also great potential to continue to grow as a leader. I think the sky's the limit, in whichever direction she wants to go.
"To the average fan, you look at her and what comes across is her speed and her athleticism, but there's way more to her than that."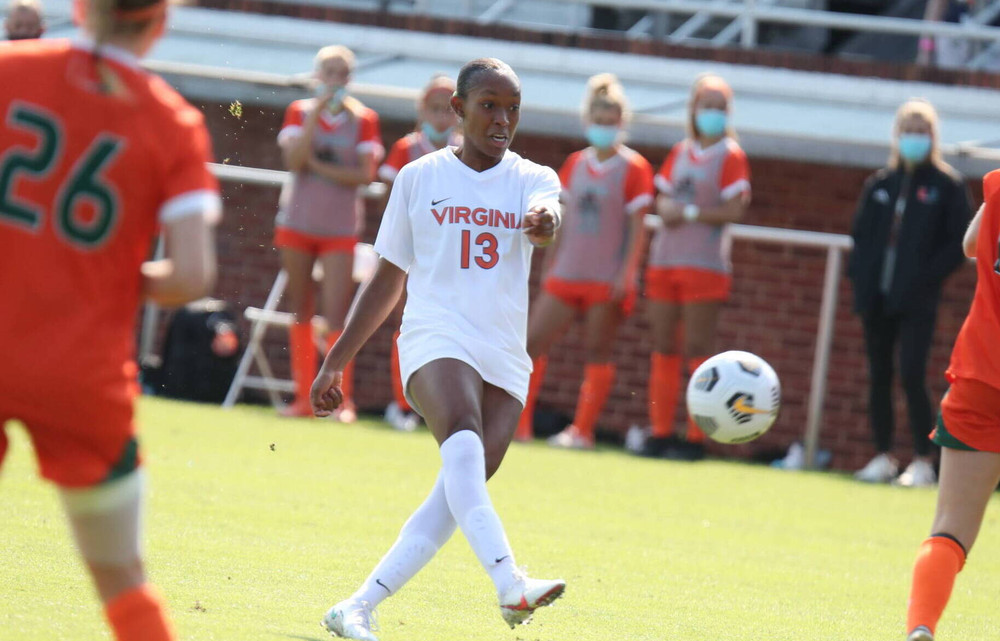 Jarrett eventually wants to work in marketing, but she's on a promising track with U.S. Soccer and doesn't plan to hang up her cleats anytime soon. UVA has been well-represented in the U.S. Women's National Team in recent years, and reaching that level is one of Jarrett's goals.
"I've played soccer my whole life," she said. "I don't know what life without soccer even looks like for me. So I definitely would [like to make the USWNT], and I've seen a bunch of girls out of this program do it."
For now, though, Jarrett is focused on helping the Hoos navigate this most unusual of seasons.
"Steve said the other day, 'This is our sanctuary,' which is honestly pretty true," she said. "It's kind of our one-hour, two-hour, however-long little escape from things. It can be a little stressful when people keep coming in and out, and we've been really unlucky with injuries, so that's definitely hard, but at least we have that. At least we're together."
Jarrett laughed. "Without that, I would have very minimal social interaction, so it's good to have that space, and we all love to play."
To receive Jeff White's articles by email, click here and subscribe.