2020-21 Roster | UVA Men's Basketball on Twitter |  Jeff White on Twitter | 4TheHoos Initiative
By Jeff White (jwhite@virginia.edu)
VirginiaSports.com
CHARLOTTESVILLE –– Of the players on the University of Virginia men's basketball team in 2016-17, only Jay Huff, who redshirted that season, is still in the program. Of the players who were on the Cavaliers' roster in 2017-18, only Huff and Austin Katstra remain.
"I've definitely thought about that a lot," Huff said on a Zoom call Tuesday. "Everybody's gone from my first year, and it's weird. I feel old in a lot of ways."
Huff, who turned 23 in August, will not leave in 2021 as the first player to have spent five years in head coach Tony Bennett's program at UVA. Others who hold that distinction include Malcolm Brogdon, Devon Hall, Jack Salt and Mamadi Diakite, and seeing them develop over five years has been rewarding for the Cavaliers' coaching staff.
"From a maturity standpoint, obviously they grow up," associate head coach Jason Williford said. "In Jay's case, he's married now. He's gone from this skinny teenager to a married man with responsibilities now. You see the progression physically, how their bodies physically mature, and it's also pretty neat to watch just how the game slows down for them and how much better they get from year to year."
This has been a year unlike any other for the 7-foot-1, 240-pound Huff, and not only because of the COVID-19 pandemic. He and fellow UVA student Lindsay Knights were married on Sept. 19 in Greene County, where she grew up.
"Honestly, that's been one of the highlights of the pandemic," said Huff, who's from Durham, North Carolina. "It's been good being able to be married while in school, because otherwise I feel like things could get boring quickly."
When Huff and Knights became engaged in late May, they didn't expect to get married until next year. The more they thought about it, though, the more they worried that Huff's pursuit of a pro basketball career might result in a conflict in 2021.
They wanted to avoid setting a date for the wedding and then having to reschedule, Huff said, "and there were a lot of other factors, too. A lot of things seemed to be pointing towards getting married [this year]. It kind of felt like a God thing, and eventually we came to the conclusion that it was the right thing to do. So we figured we'd go for it."
He laughed. "And we did it in a two-month span, which is impressive, if you've ever planned a wedding."
It wasn't a large gathering, but friends and family members attended, with socially distancing measures in effect.
"We did it in a way that was Ethan-approved," Huff said with a smile, referring to the basketball team's longtime athletic trainer, Ethan Saliba. "Luckily we were able to space people out, and we had masks there for people to pick up."
Some of those masks included a photo of Huff's full beard. "A few people wore them, which was pretty funny," he said. "People would put another mask over that mask, then they'd pull it down, and all of a sudden there's my face. We had those and we had hand-sanitizer bottles, and everyone was socially distanced. It was as safe as it could be, I think, and we still stayed away from the team for a week [after the wedding], just to make sure, and got tested and everything."
Knights is a fourth-year student in the UVA School of Architecture. Huff, a student in the UVA School of Education and Human Development, earned his bachelor's degree in Youth and Social Innovation in May. He's on track to receive a master's in Education Psychology/Social Foundations in the spring.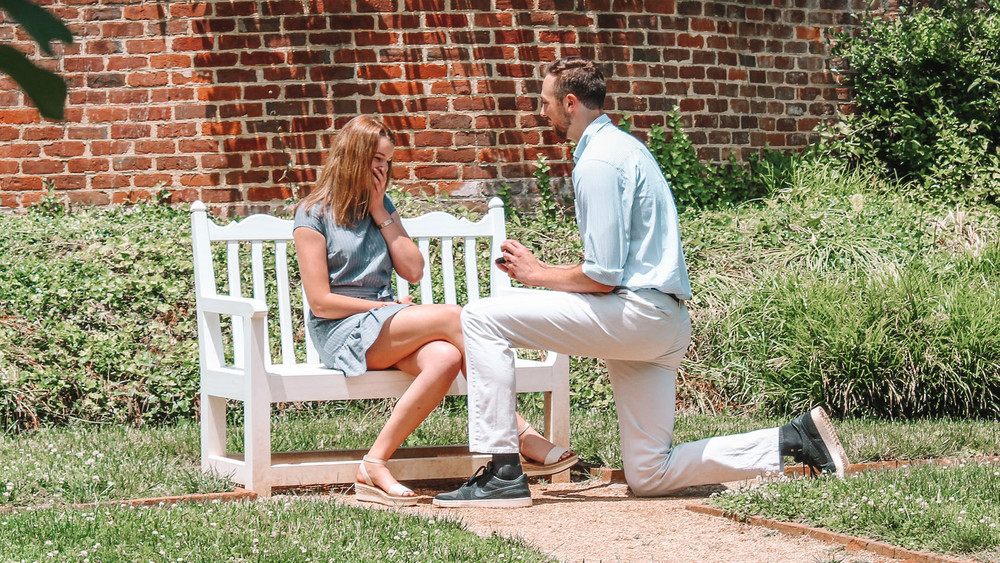 On the basketball court, he's one of the many reasons Virginia fans are optimistic about the coming season. In 2019-20, Huff averaged 8.5 points, 6.2 rebounds and 2.0 blocked shots per game. The Wahoos closed the abbreviated season with eight straight victories, including a 52-50 win over No. 7 Duke at John Paul Jones Arena, where Huff totaled 15 points, nine rebounds and 10 blocks in 32 minutes.
For the season to end so abruptly was frustrating on multiple fronts, Huff said. Knights was on a missions trips in North Carolina when college sports were canceled on March 12, "and I wasn't sure if they were going to make them come home early or what was going to happen with that," Huff said. "So I was trying to get in contact with her, and we were figuring that out. There was a lot going through my head at the time, and I was trying to process a lot."
The Hoos were in Greensboro, North Carolina, for the ACC tournament, and Huff remembers watching an NBA game with Diakite on March 11 and learning that the league was suspending its season that night.
"We said, 'This could be bad,' " Huff recalled. "And then at shootaround the next day they gave us the word that we weren't playing. It was a really weird experience, more than anything. Eventually it became more disappointing, because we were trending in the right direction. But at the time I think I was just thinking, 'Wow, this is crazy.' "
Not long after the team returned to Charlottesville, Huff headed home. He split time between Durham and Charlottesville for the next three-plus months. Knights' family, like his, took the pandemic seriously, Huff said, "and that was one of the big pluses, that I was able to go back and forth between two safe environments."
In Durham, he honed his skills in workouts with one of his former high school teammates, Blake Buchanan, who now plays at Wake Forest, and former Wake center Olivier Sarr, who's now at Kentucky.
Huff didn't have easy access to weights, but Mike Curtis, the Cavaliers' strength and conditioning coach, had sent weight vests and suspension training systems to each player after the pandemic hit. They also did body-weight exercises such as push-ups, pull-ups, chin-ups and squat jumps.
In addition, Huff said, "I got into chopping wood and using a punching bag. It was actually really good. We took down a tree in my front yard, and then I chopped it up.
"I was like, 'Wow, this is actually pretty fun.' And then the next day I couldn't move. But I eventually worked up to where I could do it for a little bit longer and get a good workout out of it. I would highly recommend it."
The Cavaliers lost only two players from 2019-20––the 6-9 Diakite and 6-8 Braxton Key––but they were elite defenders who gobbled up rebounds and challenged shots. Key averaged a team-high 7.4 boards, and Diakite was second (6.8). Diakite and Key ranked Nos. 2 and 3, respectively, on the team in blocks, behind Huff.
From Huff, the Hoos "need everything he gave us this past year, and more," Williford said. "We need more rebounding, we need more rim protection, and we need him to produce. I put rebounding and rim protection ahead of the scoring, because I think the scoring will naturally come."
Asked in August about Huff, Bennett noted that "there is absolutely no substitute for experience, and Jay's experience last year was by far the most he's ever gotten, and he proved that he got better and better with it. And I just think that to have him back, with the way he finished the year––he got better as the year went on––is a great thing. His skill level, his size, his shot-blocking, those are such important things."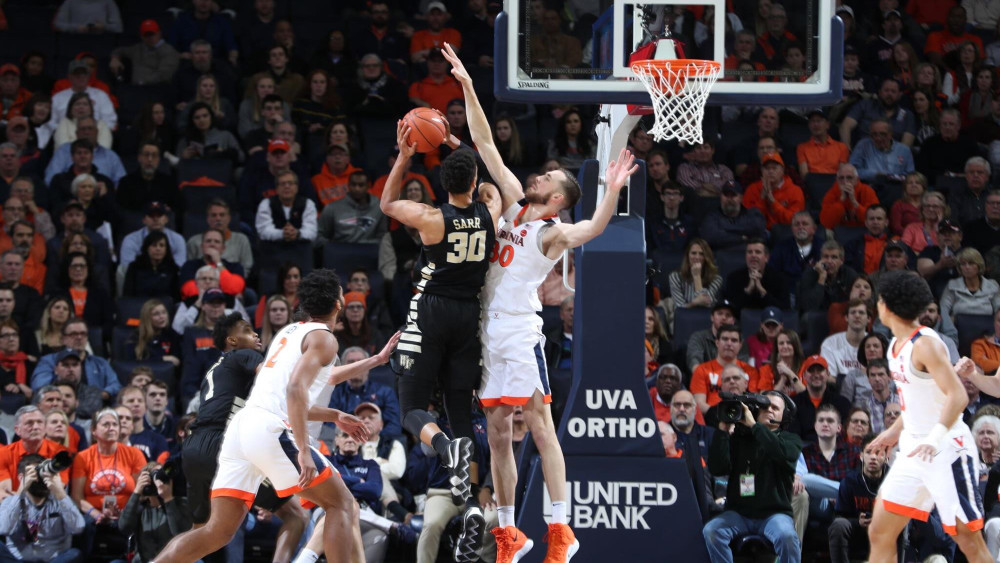 As a redshirt sophomore in 2018-19, when the Cavaliers won the NCAA title, Huff was 14 of 31 (45.2 percent) from 3-point range. His accuracy from beyond the arc dipped in 2019-20, when he hit 19 of 53 attempts (35.8 percent), but he was 10 for 21 (47.6 percent) in his final eight games.
UVA's coaches have encouraged him to keep shooting 3-pointers, Huff said, "and I worked on that a lot over the summer. Especially I worked on not catching it and bringing it down and then shooting. I've been catching it here"—about shoulder-high––and then going straight up. So I feel like my shot's improved, which I'm proud of."
Williford said: "We just want him to play to his strengths, and I think his ability to shoot, especially at the 5-spot, creates mismatch nightmares for some teams. Traditionally when you're playing teams with true centers, they don't necessarily want to be out away from the basket. That's Jay's game. Obviously he can post, but he's way more comfortable facing the basket."
That No. 30 would be back at UVA in 2020-21 was not a given. In the spring, Huff submitted the paperwork required to be eligible for the NBA draft. "I was just trying to figure out what the best option was," he said.
With the pandemic ongoing, players could not work out for NBA teams, and Huff announced on Aug. 1, with a humorous Instagram post, that he planned to return to UVA for a fifth year. Before reaching that decision, however, he had about a dozen Zoom interviews with NBA teams.
"They all made really good recommendations, and a lot of them had really good feedback for me," Huff said. "Some of them had stuff I needed to work on, stuff that I should do more. But it was all very constructive feedback, which I really appreciated. It was encouraging, just in terms of figuring out my future."
Williford, a former UVA player, said Huff has "all the physical tools and measurements that the NBA loves. He's 7-1, ridiculously long, can run and jump, and can stretch the floor with his 3. I think what they want to see is if he can consistently do it, and they want to see a level of physicality and toughness. I think if he can show that, I think he's got a chance at the next level."
First things first. The Cavaliers are still reigning NCAA champions, and Huff likes what he's seen from them this preseason, especially at the offensive end, where they often struggled in 2019-20.
"I think we're going to have a chance to improve scoring-wise," he said. "We've got a lot of weapons."
Among the Hoos' other returning players are Kihei Clark, Tomas Woldetensae, Casey Morsell, Kody Stattmann, Justin McKoy, Francisco Caffarro and Kadin Shedrick, who redshirted last season. Newcomers include freshmen Reece Beekman, Jabri Abdur-Rahim and Carson McCorkle. And then there's Sam Hauser, a fifth-year senior who sat out last season after transferring to UVA from Marquette.
In three seasons at Marquette, where he made the All-Big East second team in 2018-19, Hauser started 97 games, hit 246 treys and shot 44.5 percent from beyond the arc. He hasn't lost his touch since becoming a Cavalier.
"He's had a few practices where it's like, 'Dude, can you miss?' " Huff said, laughing. "I think this team in a lot of ways is going to surprise some people. We still have work to do, just because we have a lot of young guys, and we have a lot of guys that haven't played as many minutes in recent years. They're going to have to step up. It's going to be a learning process, but I think we're going to end up in a really good spot."
To receive Jeff White's articles by email, click here and subscribe.