CARY, N.C. – Four Cavaliers earned All-ACC honors on Friday (Oct. 30) as the Virginia men's and women's cross country teams finished fourth and seventh, respectively, at the ACC Championships at WakeMed Soccer Park.
The No. 16 Cavalier men placed three runners inside of the top 13 with senior Rohann Asfaw (Rockville, Md.) earning a fourth-place finish to lead the team. Graduate student Randy Neish (Glastonbury, Conn.) earned his second cross country conference honor, while Asfaw and senior Harry Monroe (Alexandria, Va.) each captured their first All-ACC cross country accolade.
Senior Hannah Moran (Salem, Va.) earned her first All-ACC cross country honor at the meet, pacing the Cavaliers with an 18th-place finish.
Virginia placed fourth in the men's 8k race with 92 points. No. 6 Notre Dame topped the competition, scoring 40 points to win the event for the second time in three years. No. 21 NC State finished second with 54 points and Wake Forest finished third with 86 points.
No. 4 NC State won its fifth consecutive women's ACC title with a score of 47. No. 25 Georgia Tech finished second with 99 points as No. 21 Florida State placed third with 109 points. The Cavaliers scored 205 points for seventh.
Men's Race
Asfaw finished fourth to lead the Cavaliers at the conference championships. He completed the 8k course in a time of 23:15.0, a career-best run by over 17 seconds. Neish crossed the finish line moments later with a career-best time of 23:28.8 for eighth place to record his highest finish at the conference championships. Monroe also recorded a career-best time at the race, running a 23:33.3 to finish 13th overall.
Additionally, Virginia recorded points from freshman Wes Porter (Kansas City, Mo.) and sophomore Justin Diehl (Saint Leonard, Md.). Porter ran a season-best time of 23:45.3 for 23rd place, while Diehl finished with a time of 24:13.8 for 45th place.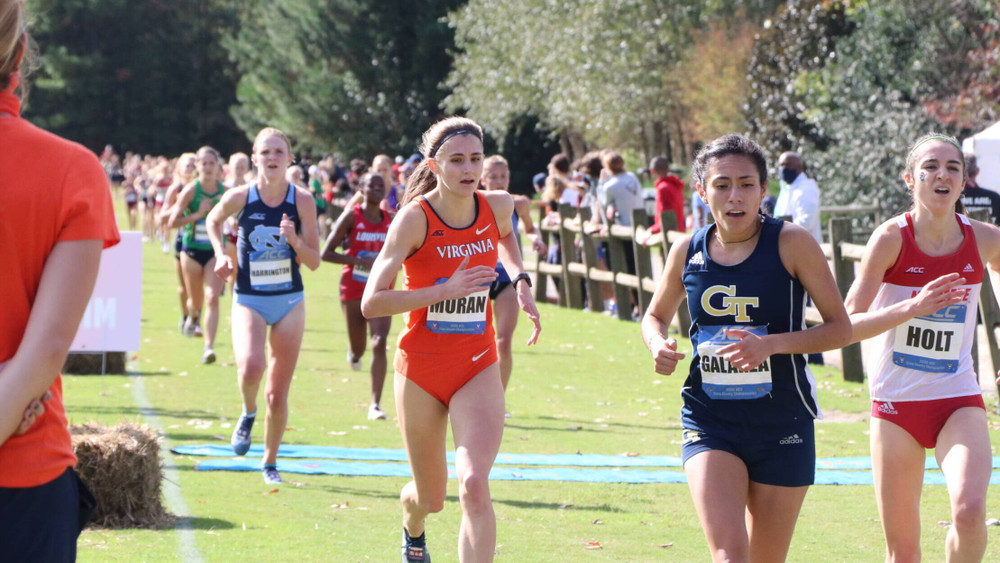 Women's Race
Moran's career-best time of 20:39.4 led the Cavaliers on the 6k course as the senior finished 18th overall and earned her first conference honor. Senior Kiera Bothwell (Springfield, Va.) finished second for the Cavaliers and 33rd overall with a career-best run of 20:58.5. Graduate student Michaela Meyer (Southbury, Conn.) finished 47th with a time of 21:13.4, while junior Abbey Green (Bethesda, Md.) finished 52nd with a time of 21:22.4. Senior Gabriella Karas (Louisville, Ky.) concluded Virginia's scoring runners, finishing with a time of 21:34.6 for 61st place.
Quote for Vin Lananna
"The watchword for the entire program is improvement," director of track & field and cross country/associate athletics director of administration Vin Lananna said. "Three guys in the top 13, which is fantastic. Twenty-five points in the three. I think it's a good example of a team that is on the improved mark. The women were piles ahead of last year. The women ran tough throughout the race and as we continue to improve, we'll see next year will be a completely different story."
Next
The Cavaliers will wait for selections to be made by the NCAA for the national championships held in Stillwater, Okla., on March 15, 2021.