UVA Game Notes | ACC Tournament Bracket | ACC Championship Central | UVA Women's Soccer on Twitter |  Jeff White on Twitter | 4TheHoos Initiative
By Jeff White (jwhite@virginia.edu)
VirginiaSports.com
CHARLOTTESVILLE –– Connections matter in recruiting, and the University of Virginia women's soccer program was fortunate to have ins with both Lia Godfrey and Samar Guidry. They were two of the top prospects in high school Class of 2020, and now they're two of the Cavaliers' most talented players.
"Both of them have made enormous contributions to our team," UVA head coach Steve Swanson said. "They've fit in really well to our style of play, and we certainly wouldn't have the success that we've had this fall without them."
Godfrey, who starts in the midfield and wears jersey No. 22, is from Fleming Island, Florida. That's also the hometown of Kaili Torres, whose outstanding career at UVA ended in 2015. In club soccer, Godfrey played for Kaili's father, Luis Torres, who previously had coached Morgan Brian, who became an All-American at UVA and is now a fixture on the U.S. Women's National Team.
"When Morgan was here, Luis kept telling me about this player," Swanson recalled. "She was only 11 at the time, but he felt very strongly about her. So we've known about Lia for a long time."
The interest was mutual.
"I grew up watching Morgan and Kaili Torres play, and Kaili is kind of like a big sister to me, because we actually grew up as neighbors," Godfrey said. "And so they were kind of my role models when I was growing up. So seeing them become the great players they became and play here at the University of Virginia, it was definitely a reason why I wanted to come here. They could tell me so many great things about this institution and the coaching staff and the team culture and the style of play, and it was really enticing based on what they had to tell me."
Guidry, a defender who wears jersey No. 19, is from Plano, Texas, and she played club soccer for FC Dallas, which is well-represented on the current UVA roster. Senior Taryn Torres and sophomores Diana Ordonez and Emma Dawson also played for the club.
"I feel like that's what got [UVA] on my radar," Guidry said.
Women's soccer isn't the only team at Virginia with student-athletes from the Dallas area. The University's mix of high-level academics and athletics is appealing, Guidry said, and "Texas has a lot of good players to pull from, just because we're so big, and it's very competitive there."
Godfrey was born in 2001 and Guidry in 2002, which meant they didn't always compete in the same age group in the United States youth national team system. Each was aware of the other, but they didn't play together until last winter, when they were selected for the U-19 national team.
They're now first-year roommates at UVA, dealing, like the rest of the student body, with the COVID-19 pandemic. If they're not at practice or a game, they're usually in their dormitory.
"It's just kind of like a huge bubble," Guidry said. "At least we're working toward something, and we're not here for nothing. That makes it a lot better to know we're trying to do something here."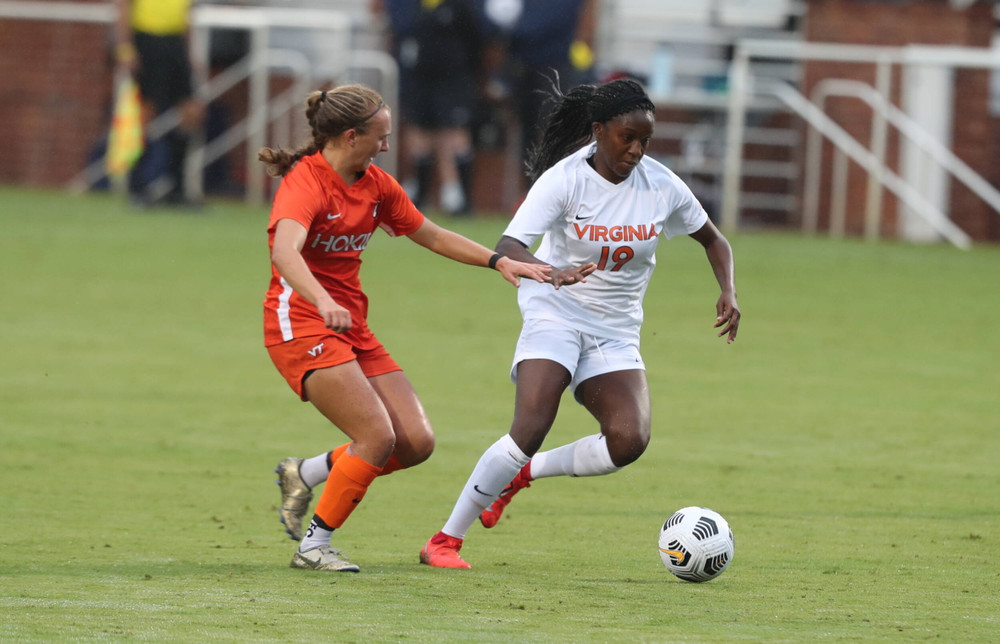 The Cavaliers' season will continue next semester, with the NCAA tournament set for the spring. Virginia's immediate goal is to win the ACC tournament. In a quarterfinal to air on ACC Network, No. 3 seed UVA (7-2-1 overall) meets No. 6 seed Louisville (4-4 overall) at 8 p.m. Tuesday in Cary, North Carolina.
The semifinals are scheduled for Friday and the championship game for Sunday.
Godfrey and Guidry figure to feature prominently for the Wahoos in Cary. The 5-4 Godfrey has appeared in every game this season, and with 11 points (three goals, five assists) she's tied with junior Alexa Spaanstra for second on the team, behind Ordonez (12).
"We didn't know initially whether we were going to play Lia somewhere up front or in the midfield," Swanson said, "but obviously we want her around the ball. She's got such a unique skill set in that she can solve pressure, she can score goals from range, she can create goals by her dribbling and her passing. And so midfield seemed like a good spot for her."
Injuries to Torres and Sydney Zandi reduced the Hoos' attacking options, and "we've needed Lia to really step up and step in and produce there," Swanson said, "and she's been fantastic. I think you can tell by the way the team responds to her. They trust her, and they're very confident in what she can do from an attacking perspective and what she gives us in terms of solving pressure in the midfield."
The 5-5 Guidry has started each of the eight games she's played this season. From its 2019 team, which entered the NCAA tournament as one of the four No. 1 seeds, Virginia lost three starting defenders, including Courtney Petersen, who was also accomplished at the other end of the field.
"Samar is a different kind of player than Courtney, but I thinks she gives us someone that can play on both sides of the ball, too," Swanson said. "With Samar's skill set, she's just really unique. When I think of how someone like [former UVA great] Emily Sonnett revolutionized the center back position, I think Samar can revolutionize the outside back position. She's got a lot of different tools that she can bring to the game. She's got a great ability to get forward to create and to help on the attack, but I also think she's a competitive, hard-nosed defender who can win balls in the air and win balls on tackles. She's a unique two-way player, and as she continues to grow and develop, I think the sky's the limit for her and Lia."
Godfrey, as a 14-year-old in 2016, played for the U.S. in FIFA's U-17 Women's World Cup. That made her the youngest U.S. player ever to compete in a World Cup. Like Guidry, Godfrey trained with the U-20 national team last November in California.
"I think what's interesting about Lia is, she's not the tallest player on the field, she's not the strongest player on the court, but she impacts the game more than most," Swanson said. "She just plays big, and she has a big impact. I've been really impressed with her competitiveness, the way she does the things that you would expect of a defender or blue-collar worker, but she has the skill set of someone who can impact the game on the attacking side as well. I'm really impressed by her ability to roll up her sleeves and really battle hard for loose balls and 50/50 balls and things like that."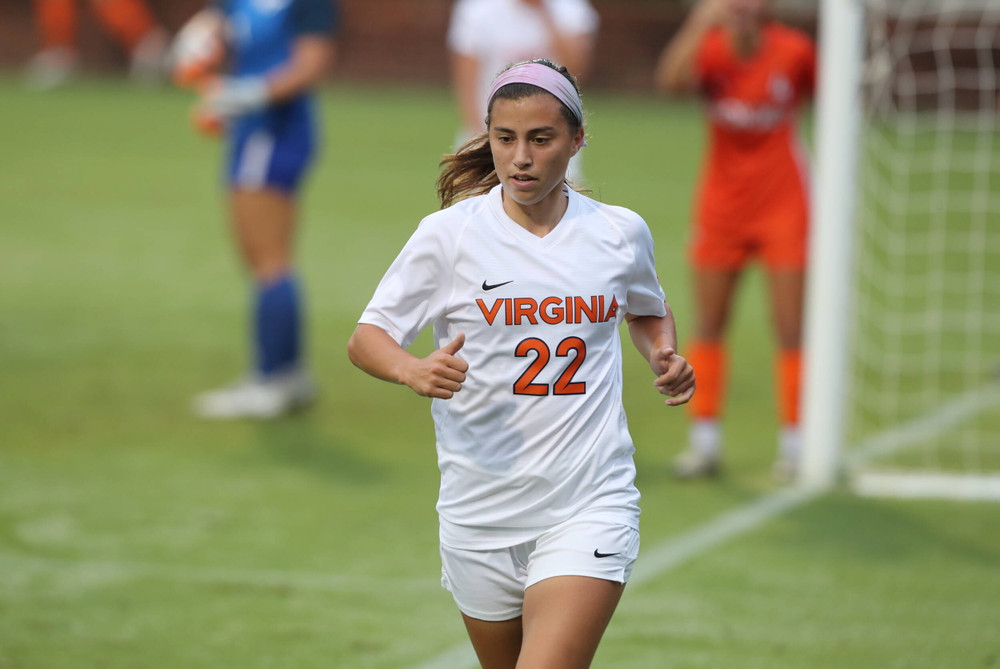 Godfrey committed to the Cavaliers as a 10th-grader, Guidry as an 11th-grader.
"Both of them have been what we would have anticipated, and I think they've done a really good job of just fitting in with the team, both on and off the field," Swanson said. "They're both very motivated in the classroom as well, and they've fit in really well to our culture and the team in general."
The roommates have made a smooth transition to college soccer, but there have been hurdles to clear, Godfrey said.
"It's definitely different," she said, "just because in terms of the time that you put forth into the program, coupled with managing school. It's a lot of hard work when you have to go to training every day for a few hours, and that's in the afternoon. So that means you have to get all your classes done in the morning, and all your homework you have to save for the nighttime. And obviously the soccer is competitive, but I think time management is a big thing you have to learn your first year."
Swanson, who's in his 21st season at UVA, is keenly aware that, because of the pandemic and the protocols to which students must adhere on Grounds, his team's freshmen are not having the college experience they expected when they committed.
"It's a very challenging time for them, and I feel for them," Swanson said. "We all feel for them, because you would not want any first-year to come into college and have the experience they're having. They can't interact as much with their team or their classmates, in terms of getting to know people. The relationship side of things and the community side of things are just completely different here, and I think that's what makes Virginia so special and so unique. I think it's been tough on all the student-athletes here at Virginia, but particularly the first-year student-athletes."
The team's older players have been supportive, Godfrey said. "They obviously know how isolating it can be in the dorms, so they're very good about wanting to hang out with us and do things with us, so that makes it a lot better."
To receive Jeff White's articles by email, click here and subscribe.