By Jeff White (jwhite@virginia.edu)
VirginiaSports.com
CHARLOTTESVILLE –– In women's soccer, the University of Virginia has made 26 consecutive appearances in the NCAA tournament and, after a strong fall season, is likely to add a 27th in the spring.
UVA has had even more prolonged success on the men's side. Under two head coaches––first Bruce Arena and, for the past quarter-century, George Gelnovatch––the Cavaliers have won seven NCAA titles. Moreover, UVA has advanced to the NCAAs in each of the past 39 seasons, a record in college soccer (men's or women's). Gelnovatch's latest team, however, has work to do in the spring to make it 40 in a row.
The COVID-19 pandemic brought about a major change for college soccer, traditionally a fall sport. In 2020-21, the NCAA will crown its national champions in May, and ACC teams will play two seasons: fall and spring.
The UVA men finished the fall with a 3-4-1 record after losing to eventual champion Clemson in the semifinals of the ACC tournament. The Wahoos went 2-3-1 during a regular season in which they played only ACC games.
The NCAA men's tournament, usually a 48-team affair, will have a field of 36 in the spring. Playing in the rugged ACC usually assures UVA an excellent strength-of-schedule ranking, and Gelnovatch believes his team will be well-positioned to reach the NCAAs if it's at least .500 coming out of its spring regular season. ACC teams are hope to be able to play some non-conference games in the spring, he said.
"We've just got to make sure that we're not giving anybody any excuses to not add us in," said Gelnovatch, who has guided the Cavaliers to two NCAA championships (2009 and 2014).
In 2019, UVA won the ACC title and advanced to the NCAA championship game before falling to Georgetown in a penalty-kick shootout. From that team, the Cavaliers lost starters Daryl Dike, Joe Bell, Henry Kessler, Robin Afamefuna and Daniel Steedman, so it's no surprise they stumbled at times this fall.
It didn't help, either, that the pandemic resulted in major schedule changes for the Hoos. Of UVA's fall teams, men's soccer was to last one to launch its season.
Gelnovatch scheduled two preseason games that ended up being canceled. Virginia finally took the field Sept. 25 for an exhibition game against Navy at Klöckner Stadium, but then had to wait two more weeks to open the season.
UVA was supposed to open Oct. 3 against Virginia Tech, but COVID-19 issues in the Hokies' program forced the postponement of that match. The Hoos didn't play their first game until Oct. 9, when they edged Louisville 2-1 at Klöckner Stadium.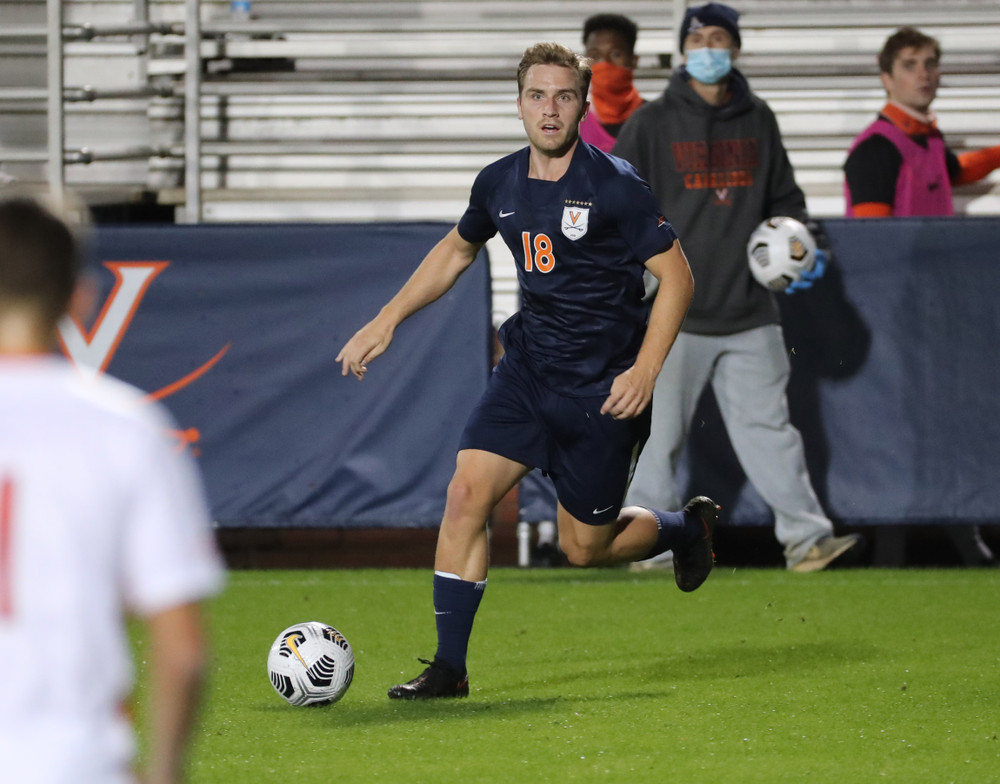 Most UVA players had returned to Grounds in mid-July to start training, and the waiting wore on them.
"In hindsight, if I knew we weren't starting until then, I would have had our team start September 1st," Gelnovatch said. "We've been here since mid-July, getting ready for our first exhibition game, which didn't happen. Then we're getting ready for the next exhibition game, which didn't happen. Then you're getting ready for your opening game of the season, which didn't happen, and now you're playing three games in nine days, and one of them is a midweek game where you're driving [to Blacksburg] and coming back the same day. It was rough."
After defeating Louisville, Virginia played to a 1-1 tie at Virginia Tech on Oct. 14, then fell at Pitt on Oct. 18. By the end of that stretch, UVA had lost several players to injuries, including Nathaniel Crofts, Cabrel Happi Kamseu, Reed Kessler and Joan Gibert Fuertes.
"We went from zero to a hundred," Gelnovatch said. "It's nobody's fault. It's just the times we're in, but we had to play three games in nine days, and with this team, young and new, it hurt."
In its eight games this fall, UVA scored 10 goals, which tied for fifth-most in the ACC. Only Axel Gunnarsson and Happi Kamseu, who had two goals each, scored more than one for the Cavaliers. Crofts, the team's top returning goal-scorer from 2019, was limited to three games this fall because of injuries and had only one goal.
Led by center back Andreas Ueland, the Hoos were solid defensively, but their struggles in the attacking third doomed them in several games.
"We need a little more firepower," Gelnovatch said. "We also know there a couple of young guys [already in the program], in particular [freshman] Leo Afonso, that haven't done anything to get any attention but we think are going to be pretty good."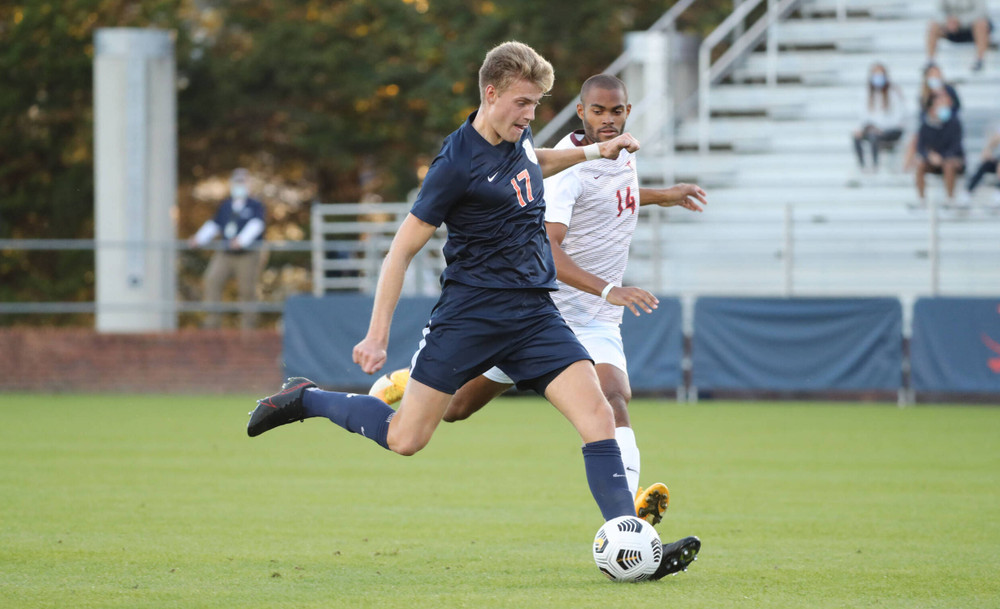 With scholarship money available for the 2021-22 school year, Gelnovatch is confident he can add reinforcements for next fall. First, however, the Cavaliers have a spring season to play, and it's unclear exactly what their roster will look like.
Virginia's seniors include Crofts, goalkeeper Colin Shutler and forward Irakoze Donasiyano. None is considered a can't-miss Major League Soccer prospect, but they could choose to pursue professional careers in the spring instead of playing at UVA.
The core of this team, though, is expected to return next semester, and Gelnovatch expects the experience UVA gained during a trying semester to pay dividends in the spring.
In all, 12 players made their UVA debuts this fall, and newcomers included Fuertes, Afonso, Kaya Ignacio, Rafael Caipo, Kevin Ogudugu, Oliver Gerbig, Alex Rando and Jules Anderson. Not only did they find themselves in a different environment, they had to deal with a pandemic that forced them to take most of their classes online and limited their access to athletics facilities.
The Cavaliers adhered to strict protocols and, unlike many ACC teams, avoided COVID-19 issues. "That gave us a chance to train as much as we could and play as many games as we could, but it took its toll, because I felt it, too," Gelnovatch said. "If the staff and I are feeling it, I know it took its toll on the players."
Challenges arose constantly. On Sept. 19, the Cavaliers were several hours into a bus trip to Syracuse, where they were scheduled to play an exhibition, when they were told to turn around and return to Charlottesville. COVID-19 issues in the Orange's program forced the cancellation of the game.
"I am mentally exhausted from this season," Gelnovatch said, "worrying all the time, testing every other day, wondering whether guys are going to come back with [positive tests], wondering if the opposition is going to call me the day before or halfway through the bus ride [to cancel]. That kind of stuff weighs on you."
To receive Jeff White's articles by email, click here and subscribe.