By Jeff White (jwhite@virginia.edu)
VirginiaSports.com
After spending most of the week in Uncasville, Connecticut, the University of Virginia men's basketball team headed home to Charlottesville with much to ponder Friday afternoon.
Two days after thrashing Towson 89-54 on Wednesday, the No. 4 Cavaliers took the court at Mohegan Sun Arena against San Francisco late Friday morning. The Dons were playing their third game in three days, but nobody watching this one would have guessed that.
After falling behind 11-3 early, USF played with more energy and more passion than UVA. With two minutes remaining, the Dons had a seven-point lead. The Wahoos rallied and had a chance to win on the game's last possession, but forward Sam Hauser's catch-and-shoot 3-point attempt was off the mark, and the Dons prevailed 61-60 in the Bubbleville event in Uncasville.
"We've got to harden up, we've got to get gritty, we've got to be tougher to score against, and be the best version of ourselves," Virginia head coach Tony Bennett said on a Zoom call afterward. "Nothing is assumed just because of what's on the front of your jersey."
Led by Bill Russell, the Dons captured NCAA titles in 1955 and '56, but rarely since then have they ranked among the nation's elite. The victory was USF's first over a top-five team since Dec. 29, 1981.
"Virginia is a program that we aspire to be like," USF head coach Todd Golden said. "I have incredible respect for Coach Bennett and his program. And so for us to be able to compete like this on a national stage, on national TV, against one of the winningest programs in the country, this is a big, big step for our program."
For the Hoos, the loss was their first since Feb. 8. They closed the abbreviated 2019-20 season with eight straight wins and then opened this season, their 12th under Bennett, with a victory over Towson.
Against the Tigers, Virginia staged a dazzling exhibition of outside shooting, hitting 15 of 29 attempts from beyond the 3-point arc. Moreover, 17 of the Cavaliers' 35 field goals were assisted.
Against the Dons (2-1), UVA bore no resemblance to the team that torched Towson. The Cavaliers made 3 of 12 shots from beyond the arc Friday and finished with only five assists (on 21 field goals).
Asked about his team's offensive woes, Bennett responded by first praising the Dons' defense. "They were physical, they were quick, and they made it hard, and they had some rim protection," Bennett said. "The times that we got to the basket, we really labored to finish, partly because of their shot-blocking, and at times we just weren't physical enough on finishes. We avoided some contact."
Also, Bennett said, his team's long-range marksmanship against Towson might not have qualified as "fool's gold, but it's never that easy."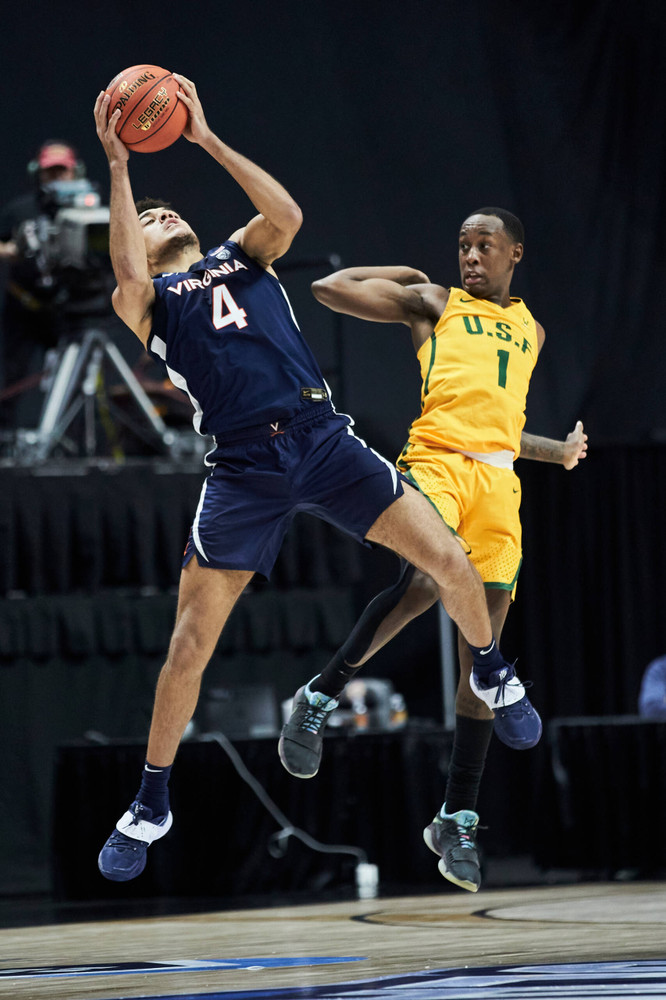 Junior forward Trey Murphy III, who hit six 3-pointers Wednesday, missed his only attempt from long range against USF. Hauser, who made three treys against Towson, was 0 for 3 from beyond the arc Friday.
Sophomore forward Justin McKoy, freshman guard Reece Beekman and senior swingman Tomas Woldetensae were the only Cavaliers to connect from 3-point range.
USF, by contrast, had three players who hit three treys apiece and two others with two each. For the game, the Dons were 13 for 28 from beyond the arc.
"Whenever we had a breakdown, they took advantage of it," Bennett said. "If we didn't help and recover, if we stayed too long, closed out with our hands low, left the ball-screen defense too soon, boom, they really made you pay. And then at times they certainly hit some tough shots."
The Dons "played hard," Bennett said. "They were scrappy." As for his team's energy level, "we didn't look like we were moving real hard and we looked a little lethargic at times," he said. "Credit to them. They space you [out], they spread you, and they have some good ball-screen actions with quick guards and shooters around them."
In the second half, USF scored 40 points and shot 51.7 percent from the floor against a team that perennially ranks among the nation's leaders in scoring defense.
"Our defense wasn't sound enough, for long enough," Bennett said. "There's going to be runs, they're going to make tough shots, but you've got to start eliminating some of the breakdowns, and that's something that this team has to keep addressing."
From its 2019-20 team, UVA lost its most versatile defenders, Mamadi Diakite and Braxton Key, and Bennett's latest team remains a work in progress at that end of the floor.
"If people are hitting contested shots and you're making them earn them, OK," Bennett said. "But if they're getting by you easily and getting layups at the rim or they're getting uncontested shots, well, that's different, and I thought [the Dons] had too many of those, partly because of their good offense, and partly because of our inability to either keep the ball in front and stop it and scramble back."
USF guard Jamaree Bouyea, a 6-2 senior, finished with 19 points, six assists and two steals in 35 minutes, all game highs. He had no turnovers.
"Just a phenomenal effort," Golden said. "I thought he was the best player on the floor."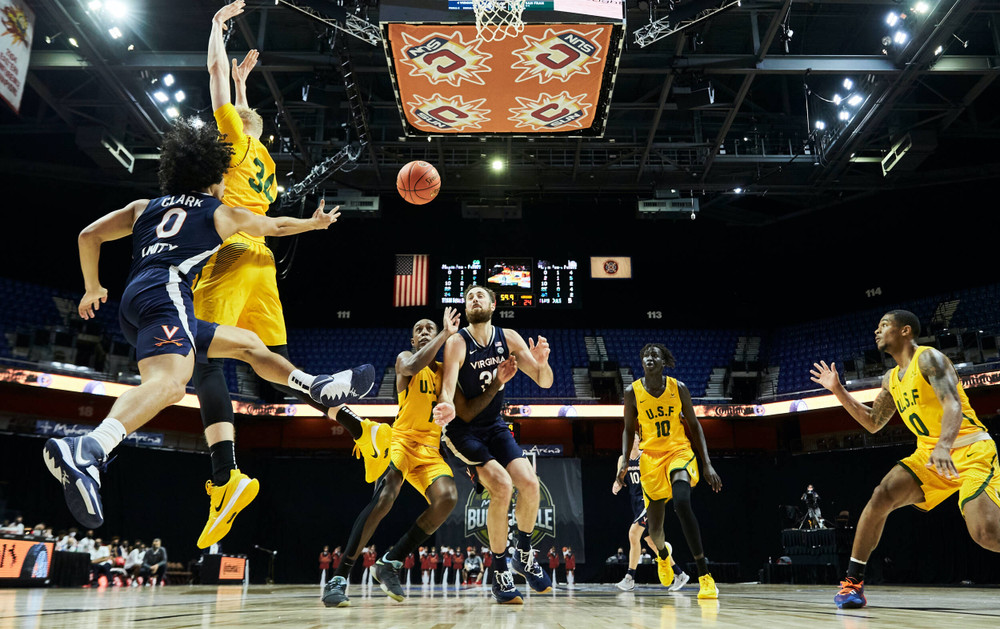 McKoy and Beekman scored 11 points apiece to lead the Cavaliers, and Hauser added 10. The 6-8 McKoy, who started for the second straight games, pulled down six rebounds in his 18 minutes. The 6-3 Beekman made 5 of 6 shots from the floor and added four rebounds and blocked shots.
Bennett singled out McKoy and Beekman as "bright spots" in the defeat.
"What I like about Justin is, he's real competitive, he's continuous, and he's assertive," Bennett said. "As he gets more experience, he's going to keep getting better. He did a good job, and I thought Reece really played well. He'll learn from certain things, but I thought he showed the makings of a heck of a player."
McKoy scored the game's final points on a driving layup with 32.1 seconds to play. At the other end, USF's Josh Kunen missed the front end of a one-and-one with 10.2 seconds remaining, giving the Cavaliers an opportunity to pull out a last-gasp victory.
The ball went from point guard Kihei Clark to big man Jay Huff to Hauser, whose shot bounced off the rim. Murphy tipped the rebound toward the rim, but the ball didn't drop, and the Dons celebrated a signature victory.
"San Francisco played a great game," McKoy said. "They definitely outhustled us and had more energy than us, and everything's a learning experience, whether it's a win or loss. This is definitely a learning experience. We take it for what it is, we move on … and accept the past for what it is and move on to the future."
Next up for Virginia is its home opener. At 4 p.m. Tuesday, in a non-conference game to air on ACC Network, UVA hosts Saint Francis (Pa.) at John Paul Jones Arena.
The Red Flash opened the season Wednesday with an 80-70 win over Pitt, one of Virginia's ACC counterparts. Saint Francis (1-0) hosts UMBC on Saturday afternoon.
The Cavaliers entered the season with several questions, "and they didn't get answered [in Uncasville]," Bennett said. "So we now go to work and say, 'OK, what can we do to get better and use this in the best way possible?' And that's all I know how to do."
To receive Jeff White's articles by email, click here and subscribe.