By Jeff White (jwhite@virginia.edu)
VirginiaSports.com
CHARLOTTESVILLE –– Long before Tony Bennett's current players arrived on Grounds, the standard was set in the University of Virginia men's basketball program. The Cavaliers rose to national prominence under Bennett on a foundation of relentless defense, tenacious rebounding and overall grit.
Bennett's latest team, his 12th as UVA's head coach, is searching for consistency in all of those areas.
"We've just got to keep working and keep improving and chipping away," Bennett said after No. 15 Virginia pulled away from Kent State in overtime for a 71-64 victory Friday night at John Paul Jones Arena.
The Golden Flashes (1-1), of the Mid-American Conference, torched the Wahoos' Pack Line defense in the second half, shooting 56 percent from the floor (and 50 percent from 3-point range). Trailing 62-59, Kent State came up with three offensive rebounds on the final possession of regulation, the last of which led to a buzzer-beating 3-pointer by Danny Pippen.
"When a guy hits a shot like that it's a little deflating,," UVA forward Sam Hauser said. "That's an area where we need to finish the game right there and seal the win. But sometimes stuff like that happens, and we just had to refocus in the huddle, and I think we did that well and came out and played a good five minutes in overtime and obviously came out on top. I was happy with our fight in overtime, but overall we got to get a lot tougher and a lot stronger on the boards."
In the extra period, Hauser scored on a left-handed drive to make it 64-62, then hit a long trey to make it a five-point game with 42 seconds left. The Flashes' only points in overtime came on a driving layup with 20 seconds left.
"You could definitely feel the intensity pick up [in OT]," junior point guard Kihei Clark said. "It shouldn't be that way. Just because it's in crunch time, it doesn't mean our effort should pick up. It should be like that throughout the game, but we definitely upped our effort at the defensive end, because we knew defense would carry us to a win, and we were able to get stops. That's something we had to do to pull out the W tonight."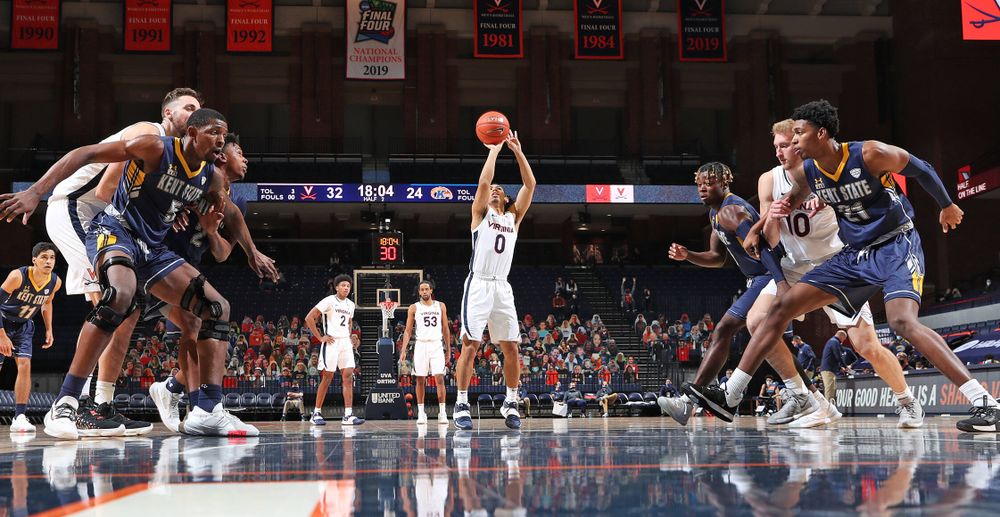 Their most experienced players saved the Wahoos (3-1) in this one. Hauser, a 6-8 redshirt senior, finished with 18 points, seven rebounds and a season-high four assists. Another redshirt senior, 7-1 Jay Huff, contributed a career-best 18 points, 11 boards and two blocked shots, and Clark added a season-high 14 points and eight assists.
Clark, who's come off the bench the past two games after starting 44 in a row, scored six points late in regulation to steady the Hoos, attacking the basket repeatedly. In overtime, he hounded Kent State guard Michael Nuga (20 points).
"He brought what he needed to bring in, and he's got to bring it nonstop," Bennett said of the 5-9 Clark. "That was important."
Bennett saluted the Flashes, too.
"They played very hard," he said. "They went at us. They were quick and they were strong, and they exploited some things at times. They hit a couple of tough or fortunate shots that were kind of back-breakers and could have been the difference. But we stayed the course and came up with enough tough shots."
From a team that closed the abbreviated 2019-20 season with eight straight victories, UVA lost its best rebounders and most versatile defenders: 6-9 Mamadi Diakite and 6-8 Braxton Key. Both contributed in ways that didn't always show up on the stat sheet, Bennett noted, and without them Virginia is still trying to forge an identity.
In tight games, the Hoos have to be able to come "up with key stops and key rebounds, and we're not there yet in those areas," Bennett said.
It starts with effort, said Clark, a key member of the UVA team that won the NCAA title in 2018-19.
"It's early, but we just have to learn how to grind it out," Clark said. "Like Coach Bennett said after the game, 'We think we're playing at our max effort, but there's a whole another level that we have to get to in order to reach the next level of play.' "
After opening the season with a one-sided win over Towson at the Bubbleville event in Uncasville, Connecticut, Virginia faltered there two days later in a 61-60 loss to San Francisco. Back home in Charlottesville, UVA rolled to a big victory at JPJ, beating Saint Francis (Pa.) 76-51 on Tuesday, then found itself in another close game Friday night. This time the Hoos prevailed.
"Hopefully, this game and the previous games will keep building us to what we need," Bennett said, "because we will need to improve, no question about it, in order to be as good as we can, because we're not there yet … It's a work in progress. That's a cliché, but it's true."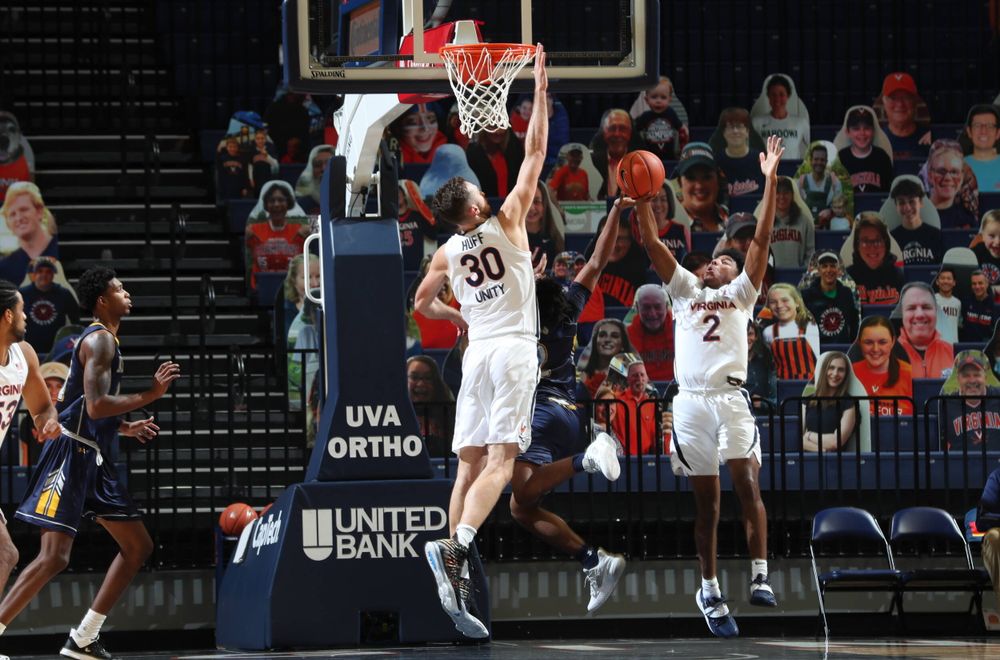 SOUND BITES: Virginia improved to 81-7 in non-conference games at JPJ during Bennett's tenure. Among the postgame comments Friday night:
* Clark on his role: "Whatever my team wants me to do to win, I'm going to do it. If coming off the bench is my role, I'm just going to come in and try to contribute."
* Clark on the Cavaliers' defensive struggles: "Losing Mamadi and Braxton, those two guys, it hurts a lot, but we got a lot of new pieces coming in. Defense takes time. They're still trying to learn a new system. But we're just going to keep plugging away and trying to chip away at it in practice."
* Bennett on his team's rebounding: "I think that's a real issue. What's coming up next"—Michigan State–– "is one of the best rebounding teams that the college basketball game has seen over the years, so we'll have to be even better. It's a five-man deal."
* Clark on his assertiveness late in the second half: "I saw that we were close to the bonus and close to the double bonus as well, so I was just trying to be aggressive. I knew I could get by my man and just try to draw fouls. I thought that the free-throw line would be the easiest way to get quick, easy points and then it also allows us to set our defense on the other end as well."
* Hauser on UVA's emotional makeup: "I'd say for the most part we're pretty calm. I think we need to get more of that fiery edge, more consistently, because I think that feeds into our energy, not only on the court, but even on the bench."
* Bennett: "You can't compete and play if there isn't a hardness or an intensity. Not just at the start – you can't rely on a crowd – it's got to be continuous. I thought [the Cavaliers] stayed tough when it looked like they could have maybe yielded, with some good plays, and they ran their offense a little harder, but that is something that every team has to do."
* Hauser: "I think our defense hit a good level in overtime, which really sealed us the victory. Throughout the game, though, our defense was leaky at times. We had a good first half, but it's kind of been a tale of two halves for us on defense this year. Our second-half defense has been poor compared to our first-half [defense], and that's on everyone. We gotta get better for that, because come Wednesday it's not going to fly against a really good team in Michigan State."
UP NEXT: The ACC/Big Ten Challenge comes to JPJ on Wednesday for a 9:15 p.m. clash between No. 15 UVA and No. 8 Michigan State (4-0).
ESPN's spotlight figures to shine early and often on the Hauser brothers: the Cavaliers' Sam and the Spartans' Joey. Former stars at Stevens Point Area High School in Wisconsin, they were later teammates at Marquette before each decided to leave after the 2018-19 season.
Joey Hauser, a 6-9 redshirt sophomore, is averaging 11.5 points and a team-high 10.0 rebounds per game for Michigan State, which on Tuesday night knocked off No. 6 Duke 75-69 at Cameron Indoor Stadium.
Sam Hauser is the Hoos' top scorer (14.5 ppg) and is tied with Huff for the team lead in rebounds (6.8 per game). He's shooting 58.5 percent from the floor.
The Spartans lead the series 5-0. Michigan State knocked UVA out of the NCAA tournament in 2014 and again '15.
"It's definitely a really exciting time for our family," Sam Hauser said, "and obviously UVA has a history with Michigan State, too. There's a lot of hype around this game. But we have a lot to learn and get better at in these next few days before that game, so we're just looking forward to focusing on ourselves a little bit, but also getting ready for a good team in Michigan State."
To receive Jeff White's articles by email, click here and subscribe.