By Jeff White (jwhite@virginia.edu)
VirginiaSports.com
CHARLOTTESVILLE –– At the University of Virginia, there's Justin McKoy and there's Justin McCoy.
The former is a sophomore who's in the frontcourt rotation for Tony Bennett's basketball team. The latter is a redshirt sophomore who starts at 157 pounds for Steve Garland's wrestling team.
"I've seen him around," McCoy said of his quasi-namesake. "I haven't met him yet, but that's kind of funny."
With the COVID-19 pandemic ongoing, student-athletes from different teams rarely have interacted in person at UVA this semester. Even within teams, the dynamic has been different.
McCoy, who lives with teammates Robby Patrick and Victor Marcelli, said he misses regularly seeing the other Cavaliers away from Memorial Gymnasium.
"I definitely took it for granted," McCoy said. "I basically see my teammates just when we're practicing with our masks on or we're lifting together, and it kind of stinks not being able to go see them whenever we want. We're basically just hanging out with our roommates now."
In a typical season, Virginia would have wrestled in several dual meets by now. The pandemic has forced a shake-up of the schedule, and the Wahoos' season won't officially start until next month. But several Cavaliers, including McCoy, competed last month at the United World Wrestling's U23 championships and Junior Nationals in Omaha, Nebraska.
McCoy placed third in the 70-kilogram division (154.3 pounds) at the Junior Nationals. He posted a 7-1 record in Omaha, where he avenged his lone loss in the tournament with a win over Michigan's Fidel Mayora in the third-place match.
For McCoy, those were his first matches since the ACC tournament, March 8 in Pittsburgh.
"It was super exciting to compete again after so long," he said. "It was almost a little weird, actually, competing at a big tournament like that after waiting for so long. But I had a lot of fun. That was my plan, to not worry about winning or losing, just going out there and having fun and doing what I love to do."
A kinesiology major, McCoy is from Fishertown, Pennsylvania, a small town about 35 miles south of Altoona. "Lots of woods, country, mountains," McCoy said. "We go hunting a lot."
Garland, laughing, said McCoy is "PA all the way."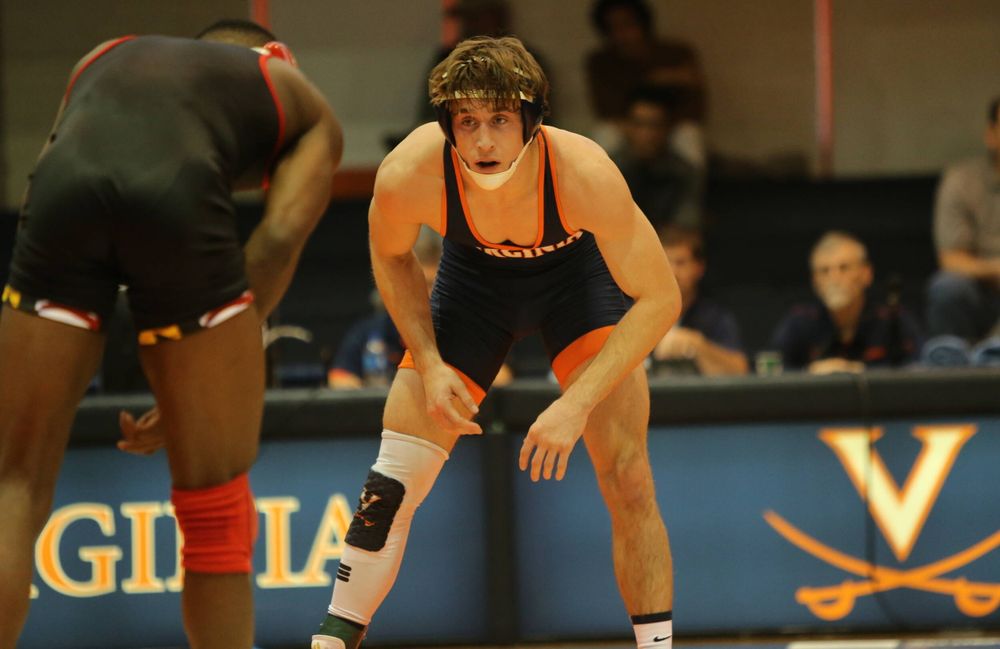 Garland compares McCoy favorably to former UVA All-American Nick Sulzer, who represented the program admirably on and off the mat.
"He's an awesome kid," Garland said of McCoy. "He's everything we want."
McCoy attended Chestnut Ridge High School in New Paris, which is about five miles from Fishertown. There were about 120 students in his graduating class, which led to some culture shock for McCoy when he arrived on Grounds in the summer of 2018. UVA has an undergraduate enrollment of about 17,000.
"I don't see that many people usually," McCoy said on a Zoom call from Fishertown. "It's like I know everyone around here. Everyone knows everyone, and everyone knows what's going on around here, so it was a little different going to UVA and seeing so many more people that I don't know."
Garland remembers traveling to Pennsylvania with assistant coach Trent Paulson and watching McCoy play football at Chestnut Ridge.
"It was like something out of the movies," Garland said. "The whole town comes out to watch the football game on Friday night."
McCoy has three sisters, two of whom played college softball. He also played baseball in high school, but wrestling was McCoy's top sport. At Chestnut Ridge, he posted a career record of 167-18. He won a state championship at 145 pounds as a junior and was state runner-up at 152 pounds as a senior.
Fishertown is about 75 miles from State College, Pennsylvania, and McCoy grew up wanting to wrestle for Penn State. When he began hearing from other schools, he said, "I started realizing maybe I wanted to go somewhere else."
Among the colleges interested in him were Virginia Tech, Michigan, Lehigh and Cornell. For McCoy, none compared to UVA.
"When I went on my official visit here, I fell in love right away," he said. "I got that feeling that I didn't get anywhere else. I could tell the coaches really cared about the wrestlers, not just as wrestlers but as people in general, and I could tell the coaches were fun. It wasn't a business to them. They didn't just care about wrestling. So that's one thing I really liked. And then just hanging out with the team, they all seemed like great people that I'd love to spend the next couple years of my life with."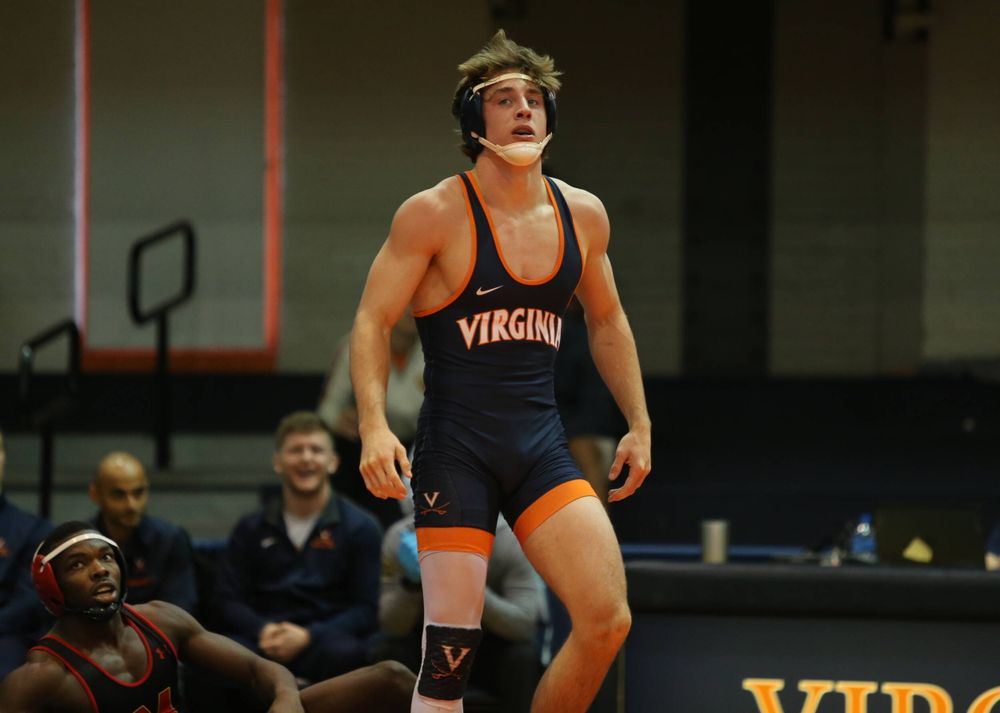 McCoy redshirted in 2018-19. Competing unattached that season, he posted a 25-3 record at 157 pounds and won three tournaments: the Hokie Open, the Wolfpack Open and the Patriots Open.
In 2019-20, he started for the Hoos at 157 pounds and compiled a 18-13 record, with wins over three nationally ranked opponents. McCoy said he learned valuable lessons as a redshirt freshman.
"Everyone was good," he said. "I had to be on the top of my game every match, and if I wasn't, there was the chance a guy that was unranked, or not supposed to beat me, could beat me. There was definitely more pressure, and I think the biggest thing I learned was to go out there and let it fly. Don't hold back. Because when I'm holding back and trying to hang on to a close win, that's when I lose. I need to keep trying to score on my opponent and have fun out there and not worry about winning or losing."
The Cavaliers' wrestling program is based at Mem Gym and typically hosts dual meets there. Last season, however, UVA took on Virginia Tech at John Paul Jones Arena, where a boisterous crowd turned out for the occasion.
The Hokies, then ranked No. 7 nationally, edged the Hoos 20-16 on a night when McCoy lost 8-5 to B.C. LaPrade. Had McCoy won the match, UVA would have prevailed in the dual meet.
"That was one I wanted back," McCoy said. "That was a great atmosphere. It was so fun wrestling in front of all those people in JPJ, and I really wanted to pull out a win there with my family [in the stands]. My little nephews came. I thought I wrestled decently in that match, but I knew that I could wrestle a lot better."
In March, McCoy got another shot at LaPrade, at the ACC tournament. This time he won, 6-3, helping the Cavaliers place fourth at in the tournament, one spot ahead of the Hokies.
McCoy went 2-2 in Pittsburgh and took fourth place at 157 pounds. That earned him a spot at the NCAA tournament, which was scheduled for March 19-21 at U.S. Bank Stadium in Minneapolis.
Growing up, McCoy had attended two NCAA tournaments with his father––one in Cleveland and the other in Pittsburgh––and he was eager to compete on that stage. But then the pandemic hit and college sports shut down in mid-March.
"I wrestled in the state tournament [in Pennsylvania], but there's nothing like NCAAs," McCoy said. "The environment is just crazy, and I can't even imagine wrestling in front of all those people.
"I was really excited to do that, especially with it being at the Minnesota Vikings' stadium. I was pretty disappointed after that, just because it was my first time going, but there's not much I could do."
The Hoos lost Jack Mueller, who was the NCAA runner-up at 125 pounds in 2018-19, but they returned a strong group that includes five wrestlers who qualified for NCAAs last season: McCoy, 133-pounder Louie Hayes, 165-pounder Cam Coy, 197-pounder Jay Aiello and heavyweight Quinn Miller.
"We feel like it's a really good lineup," said Garland, who's in his 15th season as head coach at his alma mater.
McCoy said: "I think we're ready to go." The key, he added, is "to compete in a way that you should when you're wearing a UVA singlet: just going out there and giving your best and trying to score points the whole time, not worrying about winning or losing."
The next step for McCoy, Garland said, is developing consistency, one of the program's pillars.
McCoy has shown in each of the past two seasons that he's immensely talented, Garland said, but "last year what he learned was, you can't have one great weekend and then go down the next weekend, then have one great weekend and then go down the next.
"You've got to be consistent, and that just comes through experience. So now he's seasoned and he has that experience, so we expect him to be much more consistent this year week to week."
To receive Jeff White's articles by email, click here and subscribe.