By Jeff White (jwhite@virginia.edu)
VirginiaSports.com
CHARLOTTESVILLE –– One semester into his college career, swimmer Matt Brownstead already holds two individual records at the University of Virginia, and he's part of a relay team that set another one.
Those feats have yet to be posted on the record boards in the Aquatic and Fitness Center, but that's no slight on Brownstead.
"We typically change the boards once a year," said Todd DeSorbo, head coach of UVA's swimming & diving programs. "We usually wait and do it at the very end of the season, because odds are they're going to get broken again. If he's breaking records in November, he'll be faster in February and March."
Brownstead is from Port Matilda, Pa., a small town near State College, home of Penn State. To say he grew up in a Nittany Lion-centric environment would be an understatement. His parents are Penn State alumni, and his father works there as an electrical engineer. Brownstead's older sister is a Penn State student, and he knows his way around the campus.
"I spent a lot of time there when I was growing up," said Brownstead, a graduate of State College Area High School. "A lot of the time my club teams would have meets there."
When it came time for Brownstead to choose a college, however, he looked outside State College.
"I just didn't think I would have fit in as well at Penn State as I would have here," he said. "There were a couple other schools I seriously considered, but Virginia's combination of academics and athletics is like nowhere else in the country, and it was closer to home than a lot of the other schools I considered. It was kind of the combination of academics and athletics and the closeness to home, and this coaching staff is the best in the country.
"One of the biggest things was the team environment. It was the best team environment I've seen out of any of the colleges that I visited, and any of the colleges I've seen to this day."
DeSorbo, who came to UVA in August 2017 from NC State, where he was associate head coach, was aware of Brownstead's family ties to Penn State. "I think that he just really likes our coaching staff and the direction we were headed," DeSorbo said. "Fortunately, I've had some pretty good success with sprinters prior to coming to Virginia, so I think that got him really excited."
The Cavaliers' swimming programs have storied traditions, but most of that success has come in longer events. "UVA, especially on the men's side, has really never been known for sprinting," DeSorbo said.
When Brownstead committed in late November 2018, he was already faster than any of the sprinters in the Virginia men's program at the time. His time in the 50-yard freestyle "was within a tenth of a second of our school record," DeSorbo said, "so [the commitment] was a big deal for us."
Brownstead continued to lower his times after committing to UVA, and DeSorbo expected him to contribute immediately as a freshman. "But I didn't think he'd go as fast as he did this early, that's for sure," DeSorbo said.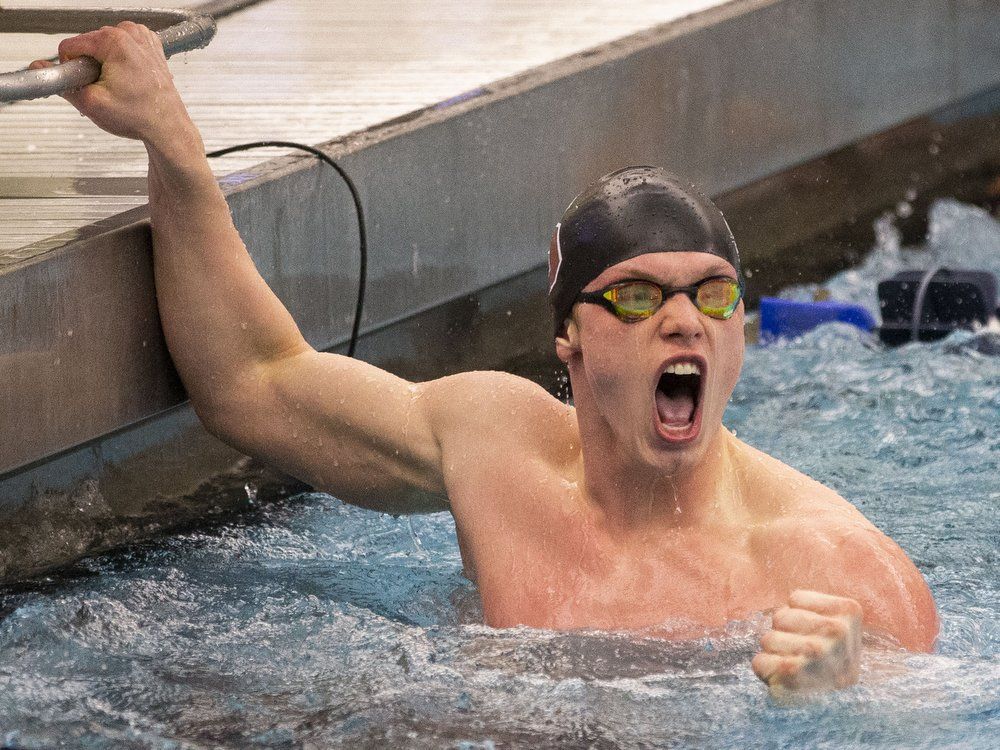 In March, Brownstead made an emphatic statement about his potential in the sport. In the 3A state final at the Pennsylvania Interscholastic Athletic Championships, he swam the 50 free in 19.24 seconds to break the national high school record of 19.29 held by Caeleb Dressel, who's now a two-time Olympic champion.
Brownstead wasted no time impressing at UVA. In a double dual meet last month in Knoxville, Tennessee, where the Wahoos swam against Alabama and Tennessee, Brownstead set school records in the 50 free (19.26) and 100 free (42.03).
Moreover, he swam the first leg on the 4×100 freestyle relay team that won in a school-record time of 2 minutes, 49.84 seconds. (His teammates were senior Sam Schilling and sophomores August Lamb and Jack Wright.)
"It was a great meet all around," Brownstead said. "It actually came down to that relay, which was the very last event. We were down by a couple points, and we won that relay, breaking the school record and winning the meet. That feeling you get when you're racing with your team and you achieve such success like that is incredible."
After the race, DeSorbo recalled, Schilling "came up to me and he was like, 'Gosh, it just makes such a difference to have a guy like Matt leading your relay off.' To be in the lead from the first swimmer, psychologically it's a big boost. It makes a huge difference.
"I think that in a relay, if you get behind, it's really hard to catch back up. So I've always put our best guy up front, and then you hope that you've got another guy that's almost as good to anchor it. I think we're kind of in that position now."
Brownstead, who's on four relays, swims freestyle in all of them. Individually, he competes in the 50 free, 100 free and 100 butterfly.
The butterfly is not his best stroke, "but he's still good," DeSorbo said. "He'll be an ACC finalist. He's just kind of done it and been pretty good at it, but I think it's an event that he'll see some pretty significant improvement in pretty quickly, just because he hasn't put much of a focus on it in the past, and now we are."
Growing up near State College, Brownstead played a variety of sports, including basketball, soccer and lacrosse. "But once I hit ninth grade, that's when I really started to focus on swimming," he said. "In eighth grade, I wasn't bad, but I wasn't that good at swimming. But once I really started to concentrate on it, I saw results, and I think that motivated me to work even harder."
Brownstead has three siblings, all accomplished swimmers, and he's been active in the sport since he was a young boy. "A lot of people said, 'You should play basketball,' but it takes more coordination than I have," Brownstead said, laughing.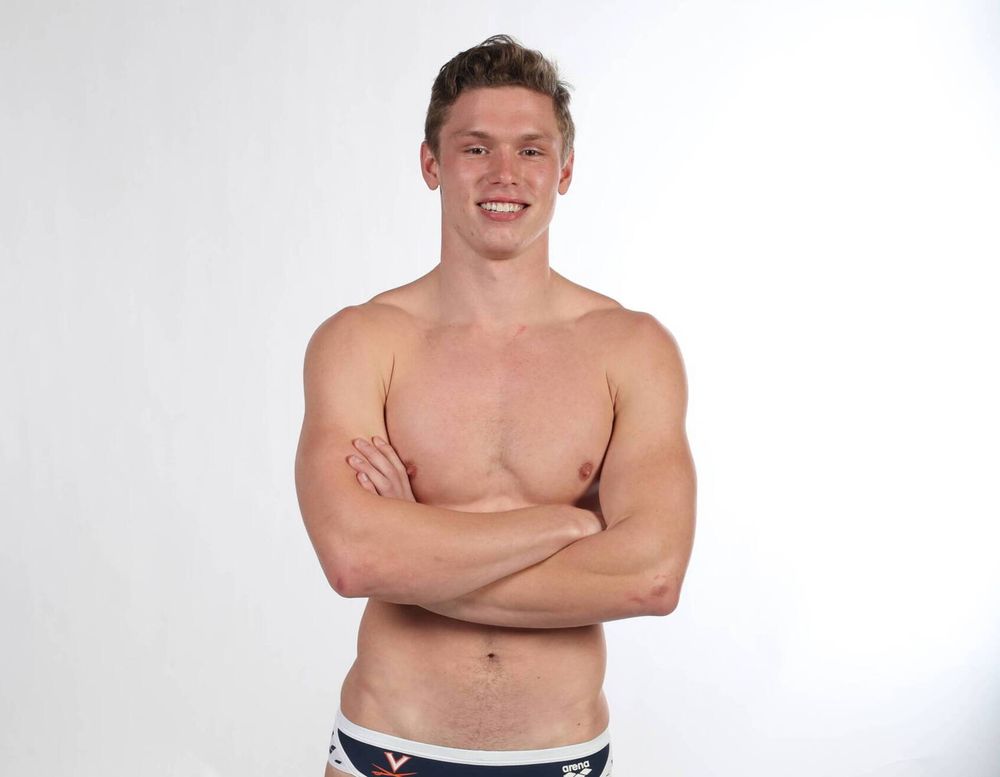 He credits his coaches at UVA and the program's structure for his seamless transition to college swimming.
"I was expecting a little more difficulty," Brownstead said. "but with all the support that we're given and the help that we have, it's very easy to be successful.
"Personally, I think I've had a lot more success than I was expecting thus far, and I attribute that to having such a great coaching staff, and the team environment. Everybody on the team is always motivating each other. It's never a dull day at practice. You love going to practice when you're here, and I think that's helped me achieve the level of success I have."
He works closely with DeSorbo, who coaches the Cavaliers' sprinters.
"It's outstanding," Brownstead said. "I can't ask for anything else. He's a great coach. Tons of energy. He's always got stuff for you to work on, and he'll always let you know [where things stand]. He's not going to sugarcoat it. He'll just tell you: 'OK, you need to work on this and this, and this is how you do it.' "
DeSorbo believes Brownstead has the potential to place in the top three in both the 50 and 100 free at the NCAA championships next semester.
"I think he's a guy that could eventually win national titles in both of those events," DeSorbo said. "He could do it this year, but he's still really, really raw, and as good as he is, he doesn't have a ton of experience. It's scary that he's that good already and still has a lot of room for improvement.
"In the past, he'd just get up and blast it and swim fast. So that's what's just kind of scary for him. When he learns how to actually swim and make some technical changes and think about some different things, he's just going to get that much better."
At the urging of DeSorbo, Brownstead tried out for and made the United States team that competed at the FINA junior world championship in Budapest, Hungary, in the summer of 2019.
"Until that point, I don't think he did any long-course, Olympic pool training," DeSorbo said, "and he hadn't done much racing at all. He's really inexperienced when it comes to that."
Brownstead plans to compete at next year's Olympic Trials. "We'll see about a spot on the [U.S. Olympic] team," he said. "That would be incredible. I'm going to give it my all, and we'll see what happens. But I'm really focused on 2024 as well. That's kind of my main goal in the future, stay motivated and keep competing till then."
For now, he's locked in on his first college season. With the COVID-19 pandemic ongoing, student-athletes follow strict protocols on Grounds, and this has not been the experience Brownstead envisioned when he chose UVA. But he remains upbeat.
"It's a different way of living, but I think it's going pretty well, honestly," said Brownstead, who rooms with teammate Jack Moore.
The Cavaliers are scheduled to start ACC competition next month. The UVA women are ranked No. 2 nationally, and the men are No. 10. Underclassmen dominate the men's roster.
"The guys are improving at a rate that I'm happy with, and they just keep getting better," DeSorbo said. "We've got a great recruiting class coming in again next year, so that'll be a big boost, and we're only graduating three [swimmers] this year. So the men are really, really young."
Brownstead said: "Every day we strive to be as successful as we can be, and we all want to win everything we can. The women are doing fantastic, and we want to be able to do just as well as they are."
To receive Jeff White's articles by email, click here and subscribe.