By Jeff White (jwhite@virginia.edu)
VirginiaSports.com
CHARLOTTESVILLE ––Bill Cole watched the recent Virginia-William & Mary men's basketball game on his computer in San Jose, Calif. At the end of the Cavaliers' one-sided victory, ACC Network cameras panned the stands at John Paul Jones Arena, showing some of the cutouts filling seats that otherwise would remain empty during the COVID-19 pandemic.
A 1987 alumnus of UVA, Cole was surprised and delighted to see a cutout of his fraternity brother Eddy Hott, and he paused the broadcast long enough to take a photo. Looking closer, Cole noticed another familiar face in the same frame: that of his great-grandfather William "King" Cole.
Bill Cole knew the cutout was among those at JPJ, because he'd supplied the black-and-white photo when he purchased the tribute to his late great-grandfather, who died in 1968. Until Tuesday, though, he hadn't seen it during a broadcast.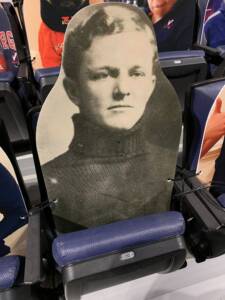 With the pandemic ongoing, attendance at JPJ is effectively limited to family members of players and team staffers this season. So when UVA Athletics gave fans an opportunity to purchase Hoos in the Crowd cutouts, for $75 each, Cole immediately decided to honor one of his many relatives with ties to the University.
King Cole compiled a record of 12-6-2 in his two seasons (1905 and '06) as the Cavaliers' head football coach.
"I just thought it would be pretty cool to have his presence in a UVA environment," said Bill Cole, whose son, Dylan, is a second-year student at the University. "The last time he was part of UVA, he was coaching football at Mad Bowl!"
Some 1,300 cutouts have been purchased, with orders from 35 states, plus the District of Columbia, and there's a story behind every one of them.
Dirk Katstra, a former UVA basketball player who's the longtime executive director of the Virginia Athletics Foundation, chose a photo of his late father, Richard Katstra.
Richard Katstra played basketball for the Wahoos in the 1960s, and his grandson Austin–the older of Dirk's two sons––is a fourth-year guard in head coach Tony Bennett's program this season.
His father never saw a game in JPJ, Dirk said, but Richard Katstra "will be there now to support the Hoos and his grandson Austin."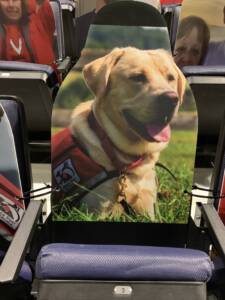 Animals are represented, too, among the cutouts, which will be in place for all home men's and women's basketball games this season. UVA head men's soccer coach George Gelnovatch and his family support Service Dogs of Virginia. So the Gelnovatches purchased two cutouts, one for Beacon and the other for Fender.
Michele Rankin and her husband, Owen, a UVA graduate, purchased a cutout of their son Kevin, who has two degrees from the University. It's a Christmas present for Kevin, who works in New York City.
"He's a huge UVA sports fan, in particular basketball," Michele Rankin said.
As an undergraduate, Kevin was a loyal member of the Hoo Crew and was a fixture at JPJ during men's games. He was the guy wearing the orange cowboy hat, and "of course be standing up the whole time," his mother said. "When we were at home and watching on TV, we could always pick him out."
When he walked the Lawn during graduation in 2013, Kevin wore his trademark cowboy hat, which features prominently in his cutout. His parents now live in Charlottesville, and "normally we would be going to the basketball games," Michele Rankin said, "but obviously not this year."
DeLisa West, a 1993 alumna of the University, purchased a cutout as an early birthday present for her father. Ronald West, a retired chief master sergeant in the U.S. Air Force,  turns 70 on Jan. 21.
A clinical psychologist in Birmingham, Ala., DeLisa West grew up in Norfolk. Her parents now live in Hampton.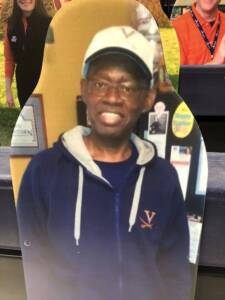 "It's so funny," West said. "We always joke and say you'd think that my father went to UVA versus me, because he's just a diehard fan. He's got on Virginia stuff all the time. He watches every game for most of the sports."
She describes her father as "truly the No. 1 fan of UVA men's basketball." When she told him about his cutout in JPJ, West said, at "first he was like, 'Wait, I'm going to be there?' I gave him the section number and the seat number, and he was like, 'Wow, this is so neat.' He's just so excited. He can't even put words to it."
All proceeds from Hoos in the Crowd cutouts will go directly to Virginia Athletics to provide funding for student-athlete support services, in such areas as academic support, strength and conditioning, sports medicine and sports nutrition.
Another option: For All Virginia cutouts. For $40, a fan may sponsor a cutout recognizing a UVA staffer who's made important contributions in the local community during the pandemic.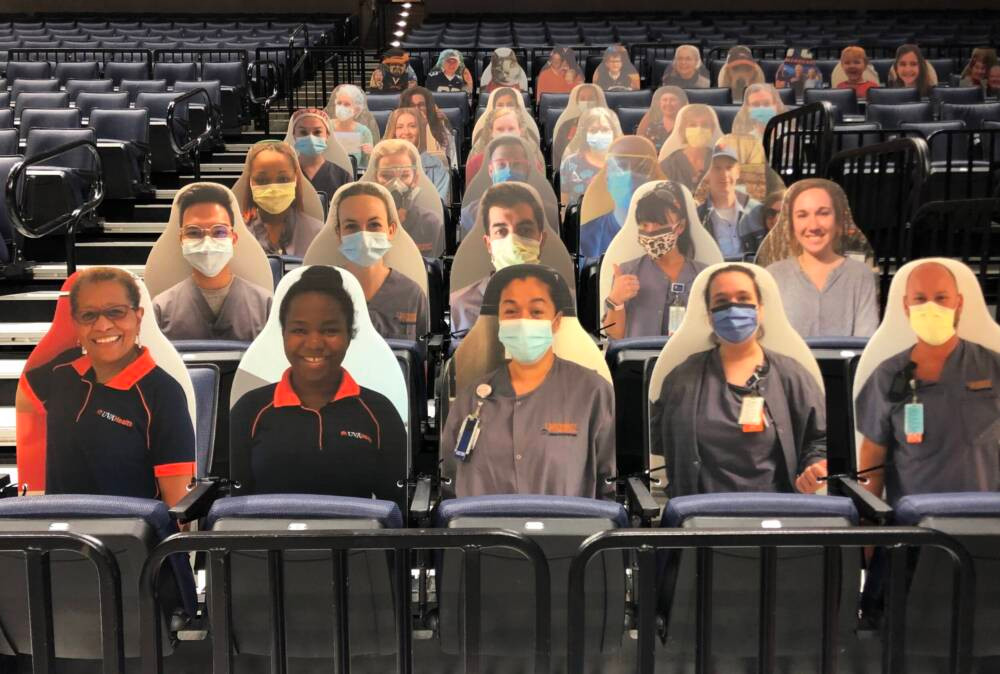 Among those who purchased Hoos in the Crowd cutouts were two former student-managers for the men's team when Terry Holland was the Cavaliers' head coach.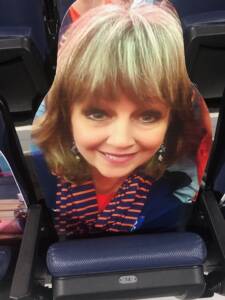 Julie Young, a 1977 alumna who lives in Richmond, was the first woman to serve as a manager on a men's basketball team in the ACC. That was in 1975-76, when the Cavaliers won the ACC tournament for the first time.
"I loved it so much," said Young, who stays in touch with players and staffers from that team.
She purchased a cutout with a photo taken of her during a UVA basketball reunion a few years ago. "I thought, 'If they're going to play in there alone this year, I want to be sure I'm sitting there stiffly watching,' " Young said, laughing. "I had to get one. I had to be in there.
"Even though the program has gotten so big and so successful and [JPJ] is huge, and it's light years from where we were in U-Hall in '76, it still feels like our family."
Paula Mooradian, whose maiden name is Hicks, graduated from UVA in 1988. Like Young, she was a manager in Holland's program. Mooradian, who lives in Louisville, Ky., with her husband, Todd, bought three cutouts, each with a photo taken in Minneapolis at the 2019 Final Four, where the UVA men won the NCAA title.
One photo shows Mooradian and her daughter, Addison, who graduated from the University this year. Another is of Holland and his wife, Ann. The third is one of Audra Hicks (no relation), another former UVA manager who is Addison Hicks' godmother.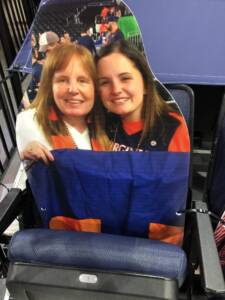 Mooradian is close with the Hollands' daughter Ann-Michael, and they decided to surprise Hicks with the cutout on her birthday. "Meanwhile, Audra and I had talked about doing a cutout for the Hollands to surprise them for Christmas," Mooradian said, "and the other cutout was one of my daughter's Christmas presents.
"It's been so fun. I hadn't told the Hollands or my daughter that we had gotten the cutouts for them, and then all of the sudden they're getting text messages from people [who saw the cutouts during a broadcast] and wanted to know, 'What is going on?' "
Mooradian laughed. "The ironic thing is, you do it all online, so I didn't know where they were going to place us. And we're right at the end of the bench, so [longtime athletic trainer] Ethan Saliba is right in front of us, which is so appropriate, because we've all known him forever. So we're all together, which makes it kind of fun."
One of several members of her family with ties to UVA, Mooradian grew up in Gloucester. When she was a high school senior, she lost her mother to cancer, and she remembers feeling overwhelmed when she arrived on Grounds.
"I was going from a small town where everybody knows you to a place you know no one," Mooradian said, but she found sanctuary with the basketball program in University Hall.
"I applied, became a manager, and it was just like divine intervention," she said. "It was just such a family experience, and for me, having lost my mom and going off to college and meeting new people, I landed where I was supposed to land. It's always been amazing."
One of the cutouts is of a handsome fellow named Bennett, but he's not the Cavaliers' head coach. His full name is William Bennett Friday, and he lives in the Richmond area with his twin sister, Mary Claire, and their parents.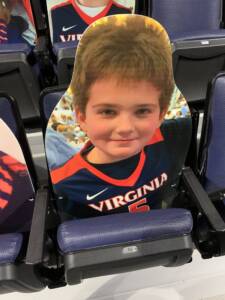 Bennett was born in 2010, about a year after UVA hired Tony Bennett, but he was named not for the coach but for his maternal grandmother, whose maiden name is Bennett. Still, said his mother, Leslie Parpart, it "was an added bonus for our family that he shared his name with our then new coach."
Parpart, a 1995 alumna of UVA, is the daughter of Larry Parpart, who had a long, successful run as the boys basketball coach at Douglas Freeman High School in Richmond. His standouts at Freeman included Colin Ducharme, who went on to play for the Cavaliers, and the elder Parpart coached against Jason Williford, then a standout at John Marshall High and now UVA's associate head coach.
The photo of young Bennett on the cutout was taken last season in Chapel Hill, N.C., where Tomas Woldetensae hit a late 3-pointer to lift UVA to victory over North Carolina.
"We are a basketball-loving family," Leslie Parpart said. "Bennett and his sister have gone to UVA events since they were very little, and my parents are basketball season ticket holders with friends … We love Coach Bennett and even have his five pillars hanging in our living room to remind the twins of what is really important as they play basketball and other sports."
For those who go way back with UVA Athletics, the cutout of Michael Colley is sure to bring a smile. Colley, a UVA graduate who worked in his alma mater's athletics media relations department, died in July 2009 at the age of 46.
Derek Leach, who works in information technology at the University, assisted Colley on the stats crew for basketball games, first at U-Hall and then at JPJ. Leach purchased the cutout in memory of his late friend.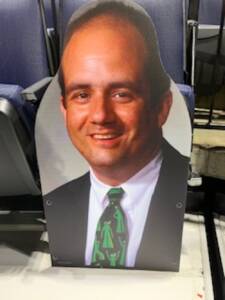 "I miss him, for all sorts of reasons," said Leach, who knows how much Colley would have enjoyed the NCAA titles won by men's lacrosse in 2011 and 2019 and men's basketball in 2019. "So, selfishly, I thought it would just be sort of fun to see him floating around there in JPJ again."
Colley loved to play the contrarian, and "knowing Mike," Leach said, "he would have thought the whole thing was completely outrageous and ridiculous and the worst idea ever, so that 100-percent motivated me to do that, because if he was here, he would give me so much grief about that."
Colley, who grew up in Charlottesville and attended Albemarle High School, was hired at UVA in 1991 as an assistant sports information director. He became an institution in the athletics department.
"Every time we would sit there in JPJ at the [scorers'] table, he'd be looking at the crowd," Leach said, "and he had been there so long that he recognized everybody, all these old football players and basketball players. I started following UVA sports when my brother went here in '88, so I knew some of the guys. But Mike Colley knew everybody. He'd say, 'Oh, yeah, that's Jim Dombrowski' or 'That's Wally Walker,' or whoever it was. So the idea of seeing Mike now being one of those people in the crowd is great."
To receive Jeff White's articles by email, click here and subscribe.